"We've Got To Show The Same Application & Attitude" – McManus
---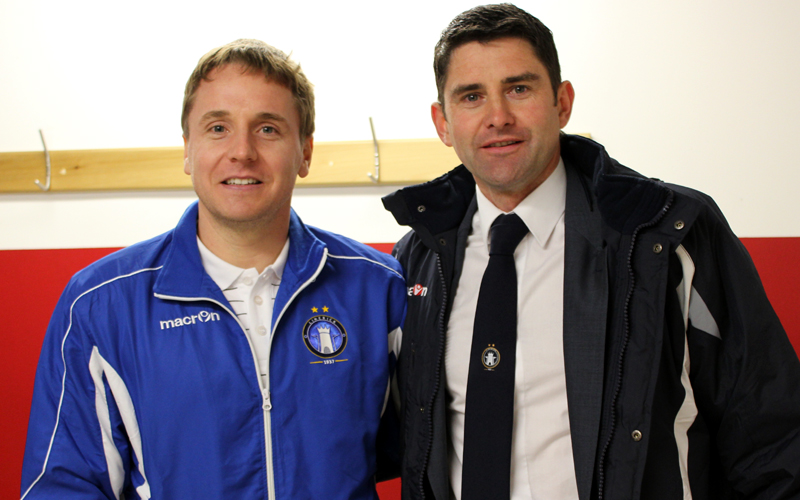 "WE'VE GOT TO SHOW THE SAME APPLICATION & ATTITUDE" – MCMANUS
Limerick striker Tam McManus says his side must show the "same application and attitude" as last week when they welcome Athlone Town to Thomond Park on Good Friday evening (kick-off 7.45pm).
Press Play To Listen
The experienced Scottish forward marked his first start for the club with a stunning 35-yard strike in the win over Rockmount in the Munster Senior Cup semi-final last Sunday where he got a full 90 minutes under his belt at Turner's Cross.
That win came two days after their first league victory of the season against Bohemians at Dalymount Park, where Rory Gaffney's early second-half goal proved the difference.
Now, Limerick prepare to entertain point-less Athlone, who have lost all seven games to date. But McManus is taking nothing for granted and insists his side must be on their game if they are to make it three straight wins in all competitions.
"I don't think we're good enough to be complacent; we can't just expect to turn up and beat anybody," Tam told LimerickFC.ie. "We're not good enough for that.
"We've got to go out and show the same application and attitude that we did against Bohemians. We've got a lot of quality in our team; we really have in our starting lineup and our bench is strong as well. We're a match for anybody but we've got to show the same application and attitude that we did last week.
"It was massive to get the win against Bohs. Obviously we hadn't won a game but there was no panic. We've been playing well in the last few games. It wasn't a pretty game but we dug out a good 1-0 win.
"Hopefully, we'll build on that on Friday and then we've got Derry City on Monday. We want to try and pick up another two wins.
"I was delighted to get 90 minutes against Rockmount on Sunday. Obviously I've been here for a while now, six or seven weeks, and there have been no reserve games, so that has kind of killed me a bit.
"I needed 90 minutes so I was glad that the Rockmount game came up. It enabled me to get a good sweat up, a good blow and get 90 minutes. To get a goal and win the game is even better."
Limerick trailed 2-1 to Rockmount at the break after a below-par first-half display, where manager Stuart Taylor included just two players over the age of 21. But McManus was pleased with the team's response after half-time.
"The first half wasn't good enough," the 33-year-old admitted. "The Gaffer went through us at half-time. We didn't move the ball quickly enough in midfield.
"It was just flat and obviously we went 2-1 down. But I thought we came out in the second half and showed a lot of character and bottle.
"They were an older team and not very naive, they claimed for everything and the game was very niggly. But we managed to come out in the second half and win the game. Fair play to the young boys as well – they came in and showed up brilliant."
McManus had scored in the first half with a stunning 35-yard goal that temporarily brought Limerick level, before the Shannonsiders gave up a poor goal right on half-time that the Scot blamed on "naivety".
"I have actually scored a couple of those in my career," he said. "From that kind of distance, I like to have a pop. I think it was just frustration. I didn't get much of the ball in the first half, it just came to me and I had a hit. I caught it sweet as a nut and it flew in.
"I'm delighted to get the goal but the most important thing for me was to get 90 minutes. It enables me to push on now and try to get myself into the team.
"Their second goal was just naivety on our part. Obviously we had a very young team out. The free-kick was given against us and usually in those situations you stand in front of the ball and don't let them take it quick or get the ball down.
"Fair play to the boy – it was a great finish. But it was a wee bit of naivety on our part. That will come with experience for the young boys and hopefully they will learn from it.
"The Gaffer was disgusted with the performance at half-time. We were second to every ball, we let them get in about us, we never moved it quickly enough and we didn't work hard enough. Everything was just poor, and then losing the goal before half-time.
"The Gaffer went through us at the break and rightly so. But we came out and showed character. We didn't hide in the second half. We played well and we deserved to win the game."
Ross Mann was Limerick's hero as he entered from the bench early in the second half and scored twice in the space of eight minutes to turn the tie around. And McManus, impressed with the 18-year-old, is hoping they can go on to claim silverware now.
"Ross is a young kid who came on and got two goals," Tam said. "He used his pace with both and finished them great. He looks a promising young player. That's the first time I've seen the boy. To come on and score two goals, you can't ask for more than that.
"I want to win every game and I'm sure the Gaffer does. We got ourselves the win and we're in a cup final. If you're in a cup, you want to win it. Hopefully, we can win it."
Asked how he has eased into life at Limerick, McManus added: "I've settled in great. As I said, I've been disappointed not to get any games to get myself fit. Now I have a good 90 under my belt.
"I've enjoyed every minute of it here so far. The boys and the staff have been excellent. I'm happy to be here and hopefully I can go and push myself into the team."
Article Date: Thursday 17 April 2014