Underage Preview: Under-15s Aim To Get Back On Track
---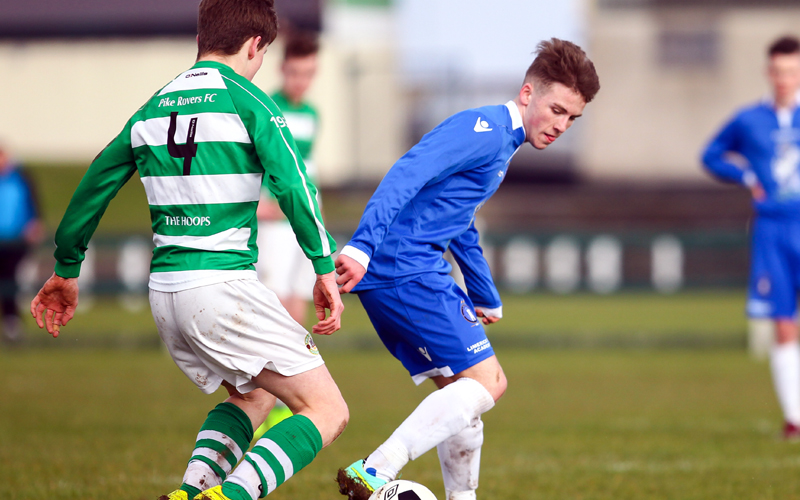 Ten of Limerick FC's underage teams are in action over the coming days, with the Under-15s aiming to get back on track on Saturday afternoon.
Ger Costelloe's team have tasted back-to-back defeats, having been on a 17-match unbeaten run in all competitions, with a setback in the Under-15 Premier League being followed by their National Cup exit last weekend.
Now, incredibly in their first league match at Hogan Park since September, the joint-top leaders welcome sixth-placed Fairview Rangers (kick-off 2pm).
They have already beaten Fairview in the league and Cup this term and another victory will at least see them keep pace with Pike Rovers, who travel to third-placed Aisling Annacotty.
Earlier in the day, fifth-placed Limerick look to extend their unbeaten run to six games in the Under-11 Division One when they travel to third-placed Newport, kick-off 12.30pm.
Robert Hogan's side have been in good form recently, with three wins and two draws, where Jake O'Riordan has continued his outstanding scoring exploits. When these teams met at Hogan Park in early October, O'Riordan bagged both in a 2-1 win.
In the Under-13 Premier League, Peter Clarke's Limerick are targeting a third straight win when they meet Geraldines at Bawnmore, kick-off 12.30pm.
The teams are closely matched in the table, where Pike Rovers have a 100 percent record and remain the title favourites. In the previous meeting this term, in the National Cup in November, Geraldines edged to a 2-1 victory.
At Under-7 level, in small-sided games, Limerick travel to Corrib Drive where Shannon Town, Regional United and Shelbourne are the opposition. Kick-off is 10.30am.
At Under-9 level, in small-sided games, the young Superblues make the trip to Newport where Newport Town, Aisling Annacotty and Bridge Celtic are in action. Again, kick-off is 10.30am.
Meanwhile, on Monday evening, there are two games scheduled. In the Under-10 Reds, Mike Moloney's side welcome Mungret Regional to Hogan Park (kick-off 6.30pm) having drawn 3-3 in their opening match at Corbally United last weekend.
In the Under-16 Premier League, Limerick will look to keep their 100 percent record intact when they meet fourth-placed Aisling Annacotty at Kilonan (kick-off 6.30pm).
On Tuesday evening, the Under-19s will win the Southern Elite Division if they overcome Cobh Ramblers at Saint Colman's Park (kick-off 6.30pm), while on Wednesday night Limerick are in action in the Under-14 and Under-12 Premier Leagues (both 6.45pm).
Wednesday 1 April
U12 Premier League
Limerick v Pike Rovers
Hogan Park
6.45pm
U14 Premier League
Corbally United v Limerick
Athlunkard 1
6.45pm
Tuesday 31 March
U19 Southern Elite Div.
Cobh Ramblers v Limerick
St. Colman's Park
6.30pm
Monday 30 March
U10 Reds
Limerick v Mungret Regional
Hogan Park
6.30pm
U16 Premier League
Aisling Annacotty v Limerick
Kilonan
6.30pm
Saturday 28 March
U11 Division One
Newport v Limerick
Newport
12.30pm
U13 Premier League
Geraldines v Limerick
Bawnmore
12.30pm
U15 Premier League
Limerick v Fairview Rangers
Hogan Park
2pm
Date: Friday 27 March 2015