U19s: Road To The Semi-Final: Limerick & Saint Patrick's Athletic
---
Limerick face the most difficult opponent at this level when long-unbeaten Saint Patrick's Athletic visit for the Under-19 National League semi-final at the University of Limerick on Saturday evening (kick-off 6.30pm).
Last season's Champions are bidding to retain their title in some style as they went through Section Two of the league unbeaten, winning ten and drawing two of their 12 games while keeping an impressive eight clean-sheets in a row at one stage.
Having conceded in their final three games, St. Pat's bagged another clean-sheet in their quarter-final win over Dundalk in Dublin on Wednesday night, where they set up a repeat of last April's last-four tie on Shannonside.
On that occasion, quick-fire goals either side of the hour-mark swung it in the Saints' favour as they eventually ran out 3-0 winners at Hogan Park, before going on to win the competition by defeating Derry City 3-2 at Maginn Park.
Limerick – last season's Southern Elite Division Champions – have taken a different route this time, as they secured one of the two third-best place slots alongside Dundalk.
They had a difficult start to the league campaign, losing four of their first seven games, but by winning four of their final five they made it through to the quarter-finals, where they travelled to Sligo Rovers last weekend.
It proved a dramatic tie as Limerick fell behind before going 4-2 in front at one point, only to lose captain Paudie O'Connor to a red card and then concede a 94th-minute equaliser. Sligo went 5-4 ahead in extra-time thanks to a penalty but Seán McSweeney's wonder goal ensured a shootout where Limerick were perfect from five in a 5-4 win.
Below, we look at each team's road to this weekend's semi-final.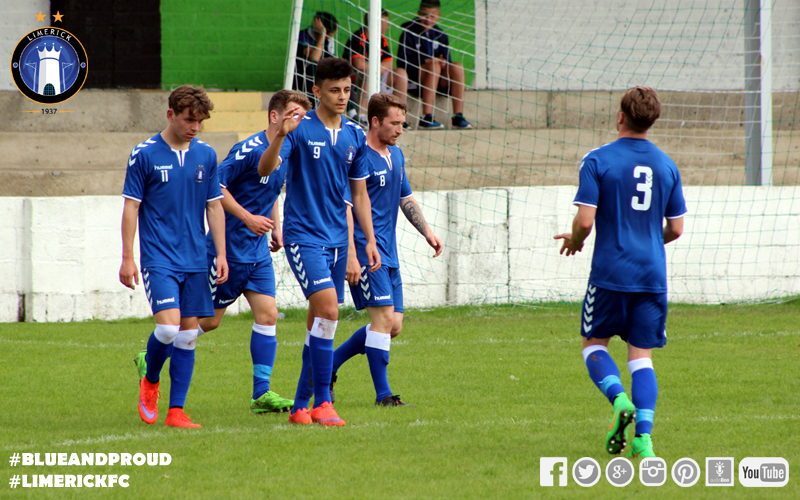 Yoyo Mahdy (No9) is Limerick's top scorer so far this season with six
Limerick: Limerick kicked off their season in Cobh on 23 August and found themselves behind inside 12 minutes after Rob Hughes' stunner. But Yoyo Mahdy turned the game on its head with two goals in as many minutes late in the first half before substitute Declan Cusack completed the job in the second period.
Three days later, against Waterford United on a Wednesday night at Hogan Park, Limerick dominated proceedings and should have had the lead from the penalty spot but McSweeney's effort was saved. Waterford snatched a 1-0 victory at the death.
The following weekend, the young Superblues bounced back in style with a 4-0 home win over Wexford Youths, the goals coming from Madhy, Oisín Kelly, Evan Cusack and a Clyde O'Connell penalty.
Then came a 2-0 home loss to Cork City who netted twice from set-pieces in the first half. But again Limerick recovered well, beating Bray Wanderers 3-0 at the Carlisle Grounds thanks to Declan Cusack, Killian Brouder and McSweeney.
Limerick were unlucky to lose back-to-back games to UCD in a five-day spell in September, but then came a run of three wins in October. The first was 1-0 in Waterford thanks to Brouder before they edged past Cobh 3-2 at Hogan Park, Madhy, O'Connor and an own-goal doing the damage.
Their third victory in that sequence came at Wexford, where Ross Mann netted a hat-trick to add to Mahdy's penalty and an own-goal in a 5-2 success. The following week in Cork, Val Feeney gave Limerick a third-minute lead but they ultimately went down 3-1.
Still, they sealed qualification for the last eight in their final game as they won 2-1 at home to Bray, O'Connell's penalty and another goal from McSweeney seeing them over the line.
In their quarter-final tie last Saturday, in a rain and windswept Sligo, they fell behind inside two minutes but battled back to lead 3-1 through McSweeney, Mahdy and Liam McCartan. Sligo reduced that advantage through Brian Morley but Brouder restored it past the hour.
Sligo again pulled it back, to 4-3, through Paul Doyle, and after O'Connor saw a straight red, the hosts equalised deep in injury-time through Morley. Gary Armstrong then gave them the lead from the spot in extra-time but Limerick levelled through a stunning long-range effort from McSweeney which went in off the bar to set up a shootout, although not before Feeney also saw red.
Both teams converted their first two penalties – McSweeney and Kelly for the Blues – before Tommy Holland saved from Ross Taheny. Mann and Shane Lowth then made no mistake, leaving it to Brouder to win it and he did so in style to seal Limerick's passage.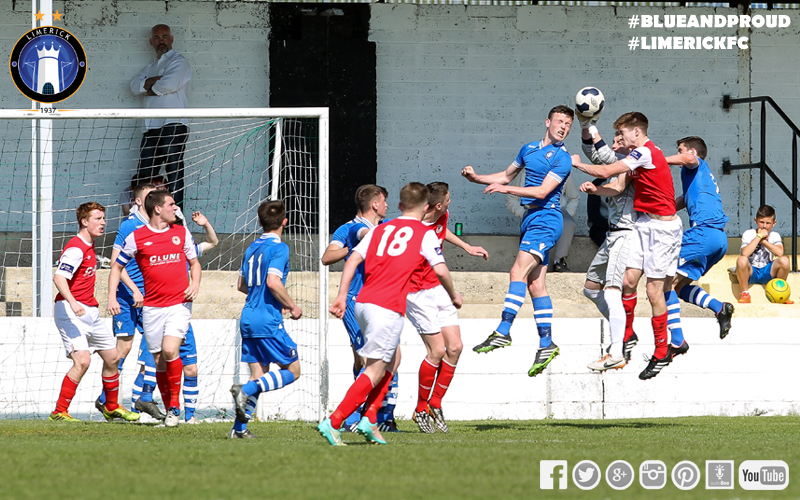 In last season's semi-final, Saint Patrick's Athletic won 3-0 at Hogan Park in April
Saint Patrick's Athletic: The Saints kicked off their Section Two campaign with a 2-1 win in Athlone on 22 August, their goals both coming in the first half through Jamie Aherne and a Paul Rooney penalty.
In midweek, they added a 2-0 home win over Bohemians, Paul Bracken twice on the mark, in the first minute and again early in the second half.
Four days later, Bracken netted in the fifth minute in a 1-0 victory over Longford Town. A third home game on the trot secured yet another clean-sheet but this time they were unable to find a way past Shamrock Rovers as it finished scoreless.
They rediscovered their scoring boots away to Shelbourne the following weekend as Darragh Markey's first-half opener was added to by goals after the break from Aherne, Ethan Farrell and Steven Ball in a 4-0 success.
A fortnight later, at home to Galway United, Aherne, Markey and Ball were all on the mark again, all in the first half, as they ran out 3-0 winners. Then came another away win, 3-0 at Bohemians on 10 October thanks to goals from Rooney – again from the spot – Mark Slater and Bracken, as they netted a sixth straight clean-sheet.
Their seventh was secured at home to Athlone the following week, with Rory Feely and Rooney scoring at the other end, in either half, in a 2-0 win.
They faced three games in the final week of October and came out with nine points, the first a 3-0 win at Galway thanks to a double from Aherne either side of Markey's goal.
Two days later, they won 3-1 at Longford – thanks to goals from Feely, Rooney with another penalty and Ball – before overcoming Rovers 3-2. Rooney with another spot-kick, Ball and Aherne scored that day, to leave them in total control before two late goals from the Hoops.
On 7 November, they drew 1-1 with Shels, the visitors' Jayson Groves cancelling out Aherne's late opener deep in injury-time, although the Saints were later awarded the game 3-0.
In their quarter-final tie on Wednesday this week, they beat Dundalk – who had finished third in Section Three – 2-0 at Richmond Park thanks to goals in either half, Willo McAdams in the first period before Georgie Poynton put through his own net after the break. 
Limerick

Date
Opponent

V

Score

Res.

Scorers
23 August
Cobh Ramblers

A

3-1

W

Mahdy (2), D Cusack
26 August
Waterford United

H

0-1

L

30 August
Wexford Youths

H

4-0

W

Mahdy, Kelly, E Cusack, O'Connell (pen)
6 September
Cork City

H

0-2

L

13 September
Bray Wanderers

A

3-0

W

D Cusack, Brouder, McSweeney
22 September
UCD

A

0-2

L

27 September
UCD

H

1-2

L

O'Connell
10 October
Waterford United

A

1-0

W

Brouder
18 October
Cobh Ramblers

H

3-2

W

Mahdy, O'Connor, Own-Goal
24 October
Wexford Youths

A

5-2

W

Mahdy (pen), Mann (3), Own-Goal
31 October
Cork City

A

1-3

L

Feeney
8 November
Bray Wanderers

H

2-1

W

O'Connell (pen), McSweeney
28 November
Sligo Rovers (QF)

A

5-5*

D

McSweeney (2), Mahdy, McCartan, Brouder
Limerick's Scorers (Total: 28): 6: Yoyo Mahdy; 4: Seán McSweeney; 3: Killian Brouder, Ross Mann, Clyde O'Connell (2 pens); 2: Declan Cusack, Own-Goal; 1: Oisín Kelly, Evan Cusack, Paudie O'Connor, Val Feeney, Liam McCartan.
*Limerick won 5-4 on penalties. 
Saint Patrick's Athletic

Date
Opponent

V

Score

Res.

Scorers
22 August
Athlone Town

A

2-1

W

Aherne, Rooney (pen)
25 August
Bohemians

H

2-0

W

Bracken (2)
29 August
Longford Town

H

1-0

W

Bracken
6 September
Shamrock Rovers

H

0-0

D

13 September
Shelbourne

A

4-0

W

Markey, Aherne, Farrell, Ball
27 September
Galway United

H

3-0

W

Aherne, Markey, Ball
10 October
Bohemians

A

3-0

W

Rooney (pen), Slater, Bracken
17 October
Athlone Town

H

2-0

W

Feely, Rooney
24 October
Galway United

A

3-0

W

Aherne (2), Markey
26 October
Longford Town

A

3-1

W

Feely, Rooney (pen), Ball
31 October
Shamrock Rovers

A

3-2

W

Rooney (pen), Ball, Aherne
7 November
Shelbourne

H

1-1*

D

Aherne
2 December
Dundalk (QF)

H

2-0

W

McAdams, Own-Goal
St. Pat's Scorers (Total: 29): 7: Jamie Aherne; 5: Paul Rooney (4 pens); 4: Paul Bracken, Steven Ball; 3: Darragh Markey; 2: Rory Feely; 1: Ethan Farrell, Mark Slater, Willo McAdams, Own-Goal.
*St. Pat's were awarded the game 3-0.
Date: Friday 4 December 2015