U19s: "It's Only Ammunition For The Boys" – Barrett
---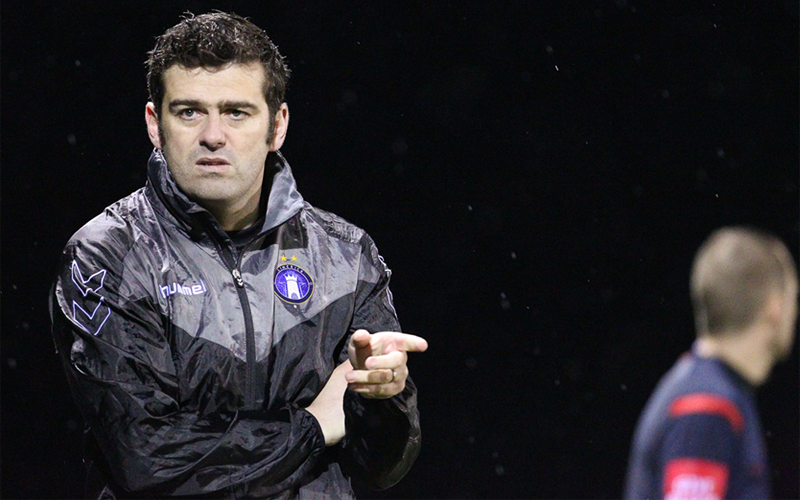 Limerick Under-19 manager Tommy Barrett says being written off by so many only provided "ammunition" for his players, who ended Saint Patrick's Athletic's reign and long unbeaten run in the National League semi-final at UL on Saturday night.
Press Play To Listen
St. Pat's had been undefeated since last March, having won the competition last season before going through the current campaign with 11 wins and two draws in 13 outings along with nine clean-sheets.
However, Limerick gained revenge for their defeat by the Saints in last April's last-four clash on Shannonside with an early second-half own-goal and Clyde O'Connell's late penalty enough to edge them to a 2-1 win.
In difficult conditions at a wet and windy University of Limerick, Darragh Markey's 71st-minute equaliser appeared to put the Dubliners in control of the tie. But Barrett insists there is always belief within his squad.
The former Blues captain also admitted his players will be "buzzing" to play the final – against either Cork City or UCD – at the Markets Field, after last Saturday's match was moved to an astro surface because of a waterlogged pitch in Garryowen.
"We're delighted to be in the final, at the Markets Field," Barrett told LimerickFC.ie. "The lads are looking forward to playing there; none of them have really played there but they're going to be buzzing.
"They were a bit disappointed when the game was moved but I told them the final would be on in the Markets Field so that cheered them up again. We're always confident that we're going to win.
"We tried to stay as positive as possible. A lot of people wrote us off; there was a poll done on a couple of websites and they were writing us off as well so that's only ammunition for the boys. It's great."
The three teams remaining in the competition all came from Section One, where Cork and UCD beat Limerick each time in a total of four meetings. "We don't fear anyone," Tommy insisted. "We'll go to win it, we'll be positive and hopefully we win."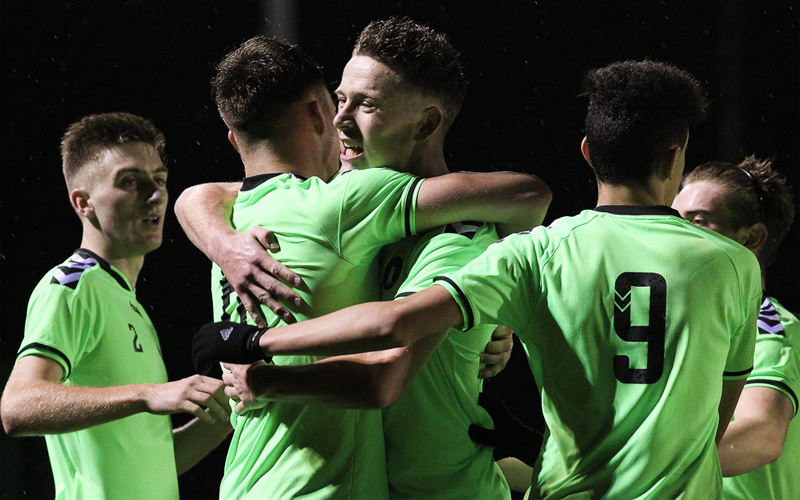 Killian Brouder (centre) congratulates Clyde O'Connell after he netted what proved to be the winner; Shane Lowth (No2), Yoyo Mahdy (No9) and Alan Murphy (far right) are also pictured
Reflecting on their semi-final display, the 36-year-old added: "It was a good performance. Conditions were a bit poor. St. Pat's are a really good side; they tried to stop us playing in the first half when we had the wind and we did the same to them in the second half.
"They were two lucky goals. We got a lucky goal, an own-goal after a good delivery by Declan (Cusack). They got a lucky goal just floated into the box. But they didn't create much after that.
"I thought we were going to win. I always think we're going to win, and I said that to the boys at half-time as well. Sometimes, it's harder to play with the wind because the ball keeps going out; you tend to go long. You can play more when you're against the wind.
"We're a good side and we try to play as well. We played a bit more. At 1-1, they started to play and nip balls in around. They're good little players, in fairness. But they didn't really create a whole pile; the big centre-half probably should have done better near the end when he hit it over the bar.
"But I can't remember them really testing Tommy (Holland). In saying that, we didn't create a whole lot either bar Yoyo's (Mahdy) shot on target near the end as well. I think it was a fairly even game. We were glad to get out of it with a win."
While under pressure at 1-1, Limerick caught St. Pat's with six minutes remaining as Ross Mann broke into the box where he was fouled by fellow captain Paul Rooney, with O'Connell coolly converting from the spot.
"That's the bit of composure that we showed in the second half," Barrett said. "Killian (Brouder) played it into Seán (McSweeney), it was a good chest-down by him to put Ross away and the one time he got beyond them they took him out. It was a good penalty by Clyde, in fairness.
"You can see St. Pat's are a good side. Garrett (Dodrill) and Jason (Donoghue) are doing a great job with the lads. You can see they're well drilled and they're very good defensively, and offensively obviously too."
Read Saturday's Match Report here.
Date: Monday 7 December 2015
Photos thanks to Conor Wyse Photography.