U17 Fixtures Announced: Cabinteely Trip First Up For Limerick
---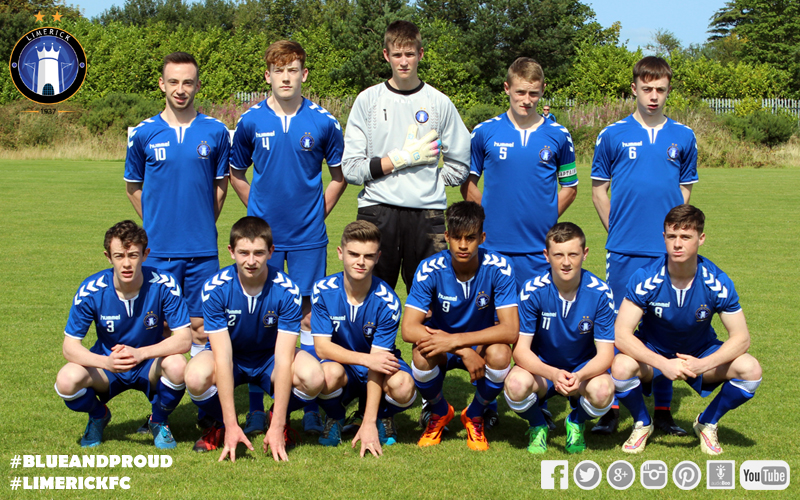 Limerick face a difficult test with a trip to Cabinteely on the opening day of the SSE Airtricity Under-17 Southern Elite Division season in March, after the fixtures were announced on Friday afternoon.
The young Shannonsiders finished seventh in the inaugural season last year, which included two heavy defeats by the League of Ireland newcomers, but they will hope to learn from that experience with a positive first-day showing.
In a 12-team division, Limerick will play 22 matches, 11 home and 11 away against Cabinteely, Cobh Ramblers, Salthill Devon, Cork City, Waterford United, UCD, Bray Wanderers, Shamrock Rovers, Wexford Youths, Mervue United and Kerry.
While they head to the capital for their first game on the week-ending 20 March, Limerick's opening home match comes a fortnight later against Cobh. On the final day, they are back on the road when they make the trip to Kerry.
The League Cup will be played on a knockout basis on midweek dates which have yet to be announced, while the League quarter-finals are on the week-ending 16 October. The League final is listed for the week-ending 30 October.
You can see the full SSE Airtricity Under-17 Southern Elite Division fixture list HERE with Limerick's matches listed below.
| | | | | | |
| --- | --- | --- | --- | --- | --- |
| Week-ending 20 March | Southern Elite | Cabinteely | v | Limerick | |
| Week-ending 3 April | Southern Elite | Limerick | v | Cobh Ramblers | |
| Week-ending 10 April | Southern Elite | Salthill Devon | v | Limerick | |
| Week-ending 17 April | Southern Elite | Limerick | v | Cork City | |
| Week-ending 24 April | Southern Elite | Waterford United | v | Limerick | |
| Week-ending 8 May | Southern Elite | Limerick | v | UCD | |
| Week-ending 15 May | Southern Elite | Limerick | v | Bray Wanderers | |
| Week-ending 22 May | Southern Elite | Shamrock Rovers | v | Limerick | |
| Week-ending 29 May | Southern Elite | Limerick | v | Wexford Youths | |
| Week-ending 26 June | Southern Elite | Mervue United | v | Limerick | |
| Week-ending 3 July | Southern Elite | Limerick | v | Kerry | |
| Week-ending 10 July | Southern Elite | Limerick | v | Cabinteely | |
| Week-ending 17 July | Southern Elite | Cobh Ramblers | v | Limerick | |
| Week-ending 24 July | Southern Elite | Limerick | v | Salthill Devon | |
| Week-ending 7 August | Southern Elite | Cork City | v | Limerick | |
| Week-ending 14 August | Southern Elite | Limerick | v | Waterford United | |
| Week-ending 21 August | Southern Elite | UCD | v | Limerick | |
| Week-ending 28 August | Southern Elite | Bray Wanderers | v | Limerick | |
| Week-ending 4 September | Southern Elite | Limerick | v | Shamrock Rovers | |
| Week-ending 11 September | Southern Elite | Wexford Youths | v | Limerick | |
| Week-ending 18 September | Southern Elite | Limerick | v | Mervue United | |
| Week-ending 2 October | Southern Elite | Kerry | v | Limerick | |
Date: Friday 29 January 2016