U14 B: Six-Goal Show From Clarke's Boys
---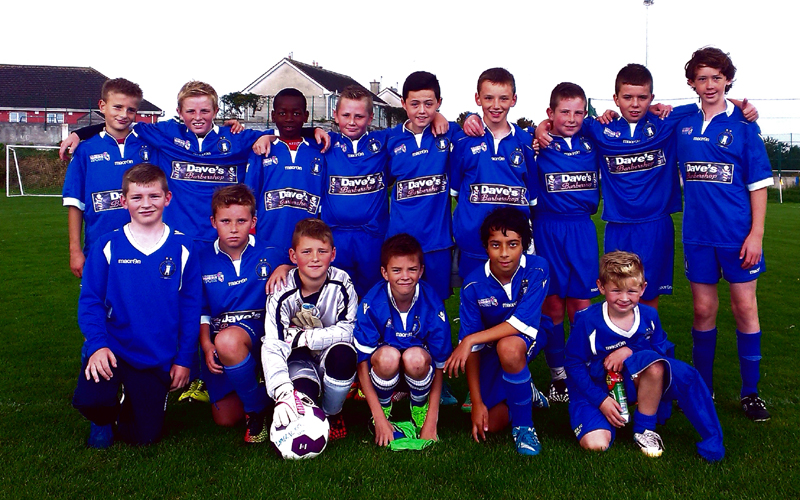 U14 B: SIX-GOAL SHOW FROM CLARKE'S BOYS
A brace apiece from Patrick Daly and Ben O'Shaughnessy-Tobin and goals from Ryan Wallace-Hartnett and PJ Molloy gave Limerick a 6-3 victory over Aisling Annacotty in the Under-14 Division One in Kilonan on Saturday afternoon.
Limerick winger Molloy gave his side the lead after nine minutes. Great interplay between Cian MacNamara and O'Shaughnessy-Tobin saw the ball end up at Molloy's feet and the quick-thinking youngster lobbed the Aisling 'keeper.
That advantage was doubled past the quarter-hour when great work down the left-hand side saw the ball end up with O'Shaughnessy-Tobin just outside the six-yard box. His shot was saved but the oncoming Daly finished with ease.
On 19 minutes, the young Superblues were further ahead. A wonderful through-ball by the once again impressive MacNamara found O'Shaughnessy-Tobin who scored with another fine finish to make it 3-0.
To Annacotty's credit, they refused to give up and on 22 minutes they were given a great opportunity to get back in the game when a Limerick player was adjudged to have handled in the box.
However, despite a very well-struck penalty, Josh Moloney made an outstanding save to push the ball over the bar. Annacotty continued to threaten Limerick and they pulled one back on 34 minutes with their ever-threatening No9 finishing off a great move by them.
Three minutes into the second half, Limerick went 4-1 up. The ball spun out to Ryan Wallace-Hartnett and he connected sweetly with it to land it in the top corner.
A minute later and Peter Clarke's side made it five. A mistake by the Aisling goalkeeper allowed O'Shaughnessy-Tobin to pounce as he kept up his impressive strike-rate this season.
Patrick Daly grabbed his second eight minutes later. A lovely through-ball by Daniel Daly – once again getting through an unbelievable amount of work in midfield – made it to his namesake who finished sweetly.
Limerick took their foot off the pedal in the last 20 minutes and it was Aisling who finished the stronger, scoring two goals in the closing stages – the first a great finish from 12-yards out and the second from the penalty spot to make it 6-3 – a lesson for Limerick to keep focussed until the final whistle.
Limerick: Josh Moloney, Patrick Nathan, Adam Ingle, Jay O'Loughlin, Tadgh Judge, Daniel Daly, Ryan Wallace-Hartnett, Cian MacNamara, PJ Molloy, Ben O'Shaughnessy-Tobin, Patrick Daly. Subs: Finn Brady, Jamie Kelly. Goals: Patrick Daly (2), Ben O'Shaughnessy-Tobin (2), Ryan Wallace-Hartnett, PJ Molloy.
Report Date: Saturday 27 September 2014