U14 B: O'Shaughnessy-Tobin In Four-Goal Haul
---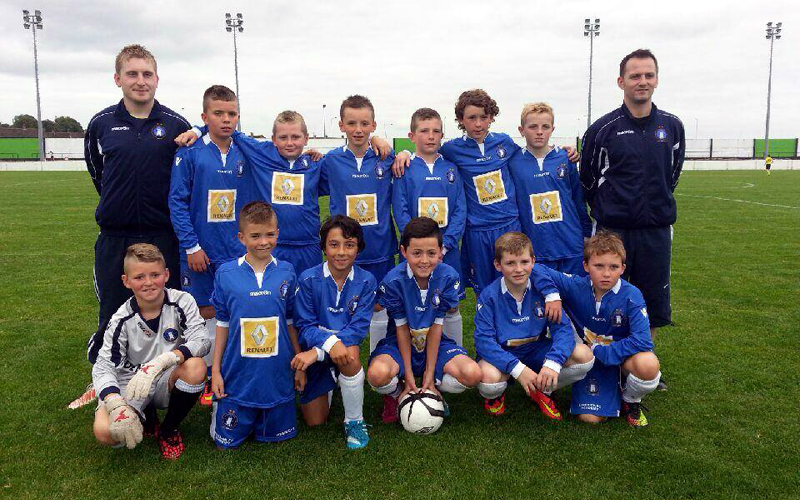 U14 B: O'SHAUGHNESSY-TOBIN IN FOUR-GOAL HAUL
Four goals from Ben O'Shaughnessy-Tobin shot Limerick to an emphatic 8-1 win over Corbally United in the Under-14 Division One at Hogan Park on Saturday morning, as they made it three straight victories at this level.
With Limerick missing the services of Jay O'Loughlin, Daniel Daly, Kurt Ryan, Andrei Haxhiaj and Samir Attanda, they played the entire first half with ten men before having a full complement for the second period.
Nonetheless, they started strongly, playing quick attacking football in the opening minutes. Debutant Fillip Mostowy caused the visiting defence problems early on and he saw two chances go the wrong side of the post.
On the flanks, Ryan Wallace-Hartnett and PJ Molloy were causing havoc and it was this bright opening spell that saw Limerick score three goals in eight minutes.
The breakthrough came when a Corbally goal-kick was intercepted by the lively O'Shaughnessy-Tobin and he finished smartly. Two minutes later, Mostowy found himself out on the right flank and a cross-cum-shot looped high over the 'keeper to make it 2-0.
By the quarter-hour mark, Limerick were three goals to the good. O'Shaughnessy-Tobin sent across a beautiful angled corner and the skilful Molloy volleyed home a superb effort from eight-yards.
Limerick piled on the pressure and on 17 minutes they almost increased their advantage. Great work on the right saw the ball make its way into O'Shaughnessy-Tobin and his shot rattled the crossbar.
Within the space of 30 seconds, the bar was shaken again, this time Mostowy with an outstanding effort. More chances came Limerick's way but shots from O'Shaughnessy-Tobin, Molloy and the energetic Cian McNamara failed to ripple the net.
On 21 minutes, O'Shaughnessy-Tobin deservedly added another with a sumptuous lob. Then McNamara latched onto a ball just outside the 18-yard box and produced a great effort which found the net.
With Limerick in flying form, it could have been more before the break, with chances falling to the in-form Wallace-Hartnett, O'Shaughnessy-Tobin and Mostowy.
Patrick Daly was introduced at half-time to even up the numbers and he had an early opportunity to make it 6-0. A great delivery from the left skimmed just in front of him and flashed wide.
But Limerick went further in front shortly after that. The industrious McNamara worked hard to win possession and then sent a fine through-ball for O'Shaughnessy-Tobin who grabbed his first hat-trick of the new season in style.
Limerick kept their high tempo up and great combination work between the tireless Molloy and O'Shaughnessy-Tobin led to a couple of chances. Eventually, the clever Molloy played a perfect through-ball for O'Shaughnessy-Tobin who made no mistake.
Limerick's backline was rarely troubled but when they were, Adam Ingle, Patrick Nathan, Tadgh Judge and Finn Brady were solid as a unit.
To their credit, Corbally never gave up and battled hard to regain some pride and they did just that. A looping ball into the ball was adjudged to have been handled and the referee pointed to the spot.
Up stepped the Corbally player and he drilled a hard shot high down the middle which crashed in off the underside of the bar, with 'keeper Josh Moloney not getting quite enough on the ball to keep it out.
Any hopes of a comeback were dashed when Wallace-Hartnett's low free-kick from the right found its way to McNamara who finished smartly for his second of the game to cap a fine all-round performance.
Limerick played attractive, pacey, attacking football throughout but perhaps the most satisfying thing to see was that Peter Clarke's boys kept up their high tempo for the whole match and were dogged in their determination to win back possession quickly at every opportunity.
Limerick: Josh Moloney, Patrick Nathan, Tadgh Judge, Finn Brady, Adam Ingle, Cian McNamara, Patrick Daly, Ryan Wallace-Hartnett, PJ Molloy, Fillip Mostowy, Ben O'Shaughnessy-Tobin. Goals: Ben O'Shaughnessy-Tobin (4), Cian McNamara (2), PJ Molloy, Filip Mostowy.
Report Date: Saturday 25 October 2014