U14 B: Limerick Well Beaten By Strong Star
---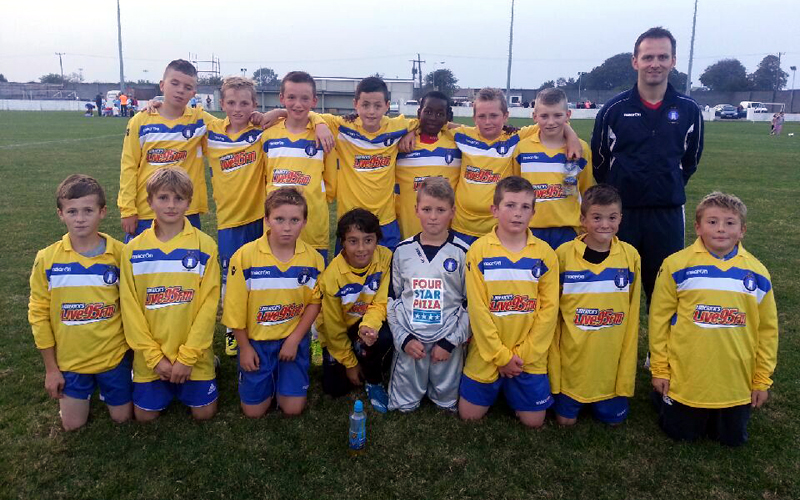 U14 B: LIMERICK WELL BEATEN BY STRONG STAR
Limerick were well beaten by a strong Star Rovers side in the Under-14 Division One at Hogan Park on Saturday as they went down to a 6-2 loss.
Star started the brighter, pinning Limerick into their own half and they broke the deadlock inside seven minutes.
Limerick levelled through PJ Molloy on the quarter-hour but it was Star who were having the upper-hand and they scored two goals in quick succession to gain control of the game.
The young Superblues began to come back into it and they were rewarded with a penalty a minute before the break. The prolific Ben O'Shaughnessy-Tobin stepped up and calmly stroked the ball home to leave Limerick within one.
Home stopper Josh Moloney was forced off with an injury at half-time and without any other 'keeper on the bench, right-back Patrick Nathan donned the gloves for the second half. Kurt Ryan replaced Moloney and took Nathan's place on the right side of defence.
Limerick started the second half with gusto but it was Star who soon regained their two-goal cushion. Ten minutes later and the visitors made certain of the points as they struck a fifth.
Limerick then made a change, with Ryan Wallace-Hartnett making way for Jay O'Loughlin and it was his galvanising effect in midfield that led to Limerick getting on top.
With several Star players going down with cramp, Limerick racked up the pressure. Chance after chance went abegging as O'Shaughnessy-Tobin, Molloy, Samir Attanda and Andrei Haxhiaj just could not breach the Star goal.
With the last kick of the game, Star countered and scored a sixth to leave it a very disappointing result for Limerick, but certainly one in which they will have learnt a few lessons from for next week.
Limerick: Josh Moloney, Patrick Nathan, Adam Ingle, Finn Brady, Tadgh Judge, Daniel Daly, Ryan Wallace-Hartnett, Samir Attanda, PJ Molloy, Ben O'Shaughnessy-Tobin, Adrian Haxhiaj. Subs: Jay O'Loughlin. Goals: PJ Molloy & Ben O'Shaughnessy-Tobin.
Report Date: Saturday 20 September 2014