U13s: Young Superblues Maintain 100 Percent Start
---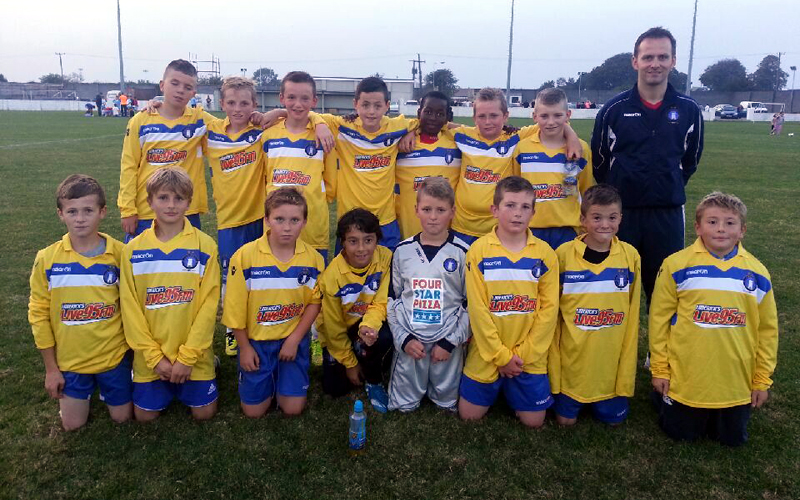 U13S: YOUNG SUPERBLUES MAINTAIN 100 PERCENT START
Braces from PJ Molloy and Ben O'Shaughnessy-Tobin saw Limerick maintain their 100 percent start to the Under-13 Premier League with a 5-1 win over Shannon Town at Hogan Park on Monday evening.
Limerick – with two wins from two going into the game – began brightly and created chances through the ever-dangerous duo of Molloy and O'Shaughnessy-Tobin.
Ryan Wallace-Hartnett was pulling the strings in midfield and playing some excellent passes to his teammates, and the young Superblues took the lead in the seventh minute following a lovely team build-up.
Andrei Haxhiaj supplied a good cross to Molloy who in turn played a clever pass into O'Shaughnessy-Tobin who finished well to the corner of the net.
Limerick continued to push forward and they doubled their advantage shortly after when the hard-working Molloy broke through on goal and finished with a rocket past the 'keeper.
Molloy grabbed his second of the game on 20 minutes when he showed excellent close-control to take the ball away from two defenders and find the corner of net to give the 'keeper no chance.
Shannon, to their credit, battled hard and got a goal back a minute before half-time when a dangerous free-kick into the box was hit home through an acrobatic finish past Josh Moloney.
That goal seemed to spur the visitors on and they had Limerick under pressure at the start of the second half, with Moloney producing an excellent save to keep his side's two-goal cushion intact.
The game opened up as both teams pressed forward in attack, with some excellent opportunities at each end.
Limerick made changes in the second half, bringing in Patrick Daly, Kurt Ryan and Samir Attanda and they played a massive role in settling the game once and for all in the home side's favour.
A further goal from O'Shaughnessy-Tobin following great work from Cian McNamara and Daniel Daly in midfield took the steam out of Shannon, and Patrick Daly tacked on the fifth goal in the last minute following a mesmerising run from O'Shaughnessy-Tobin.
It was another excellent all-round team display and is a testament to how hard the team has been working on the training ground and on the pitch.
Limerick: Josh Moloney, Patrick Nathan, Tadgh Judge, Jay O'Loughlin, Adam Ingle, Daniel Daly, Cian McNamara, Ryan Wallace-Hartnett, PJ Molloy, Ben O'Shaughnessy-Tobin, Andri Haxhiaj. Subs: Patrick Daly, Kurt Ryan, Samir Attanda. Goals: PJ Molloy (2), Ben O'Shaughnessy-Tobin (2), Patrick Daly.
Report Date: Monday 15 September 2014