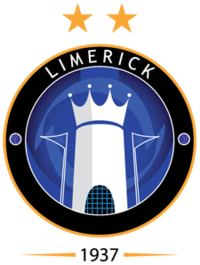 U11s: Rush Rifles Limerick To Victory
Leon Rush fired the decisive strike as Limerick got off the mark in the Under-11 Division One with a 2-1 win over Janesboro at Pearse Stadium on Wednesday night.
The young Superblues entered having narrowly lost their first outing the previous week, and here it started at a frantic pace as both teams attempted to create openings in a bid to get a foothold in the game.
It was Limerick that broke the deadlock when a through-ball from Jack Horan was latched onto by Jake O'Riordan who took it around the 'keeper and slotted to the net.
The second half began as the first had ended, with Robert Hogan's side trying to get the ball down and play passing football. However, while they were putting pressure on the 'Boro goal, the home side broke quickly and levelled the match.
To the young Superblues' credit, they didn't panic and they kept playing their game, waiting for opportunities to present themselves.
And when that opening came, Limerick capitalised. Scott Grant, playing at right-back, took the ball inside his marker and went on a direct run through the centre of the Janesboro midfield.
When it seemed like nothing was on, Grant flicked the ball over the top onto the on-running Rush who coolly slotted under the home 'keeper to give Limerick all three points.
Limerick: Sebastian Rodriguez, Kyle Foley, Daniel Quaid, Anthony Wlodarczyk, Scott Grant, Leon Rush, Jack Horan, Jake O'Riordan, Jack Koyce, Jack Hannon, Nikodem Brzeskwiniewicz. Goals: Jake O'Riordan, Leon Rush.
Report Date: Wednesday 17 September 2014