U11 Report: Encore Of Cup Classic Does Not Disappoint
---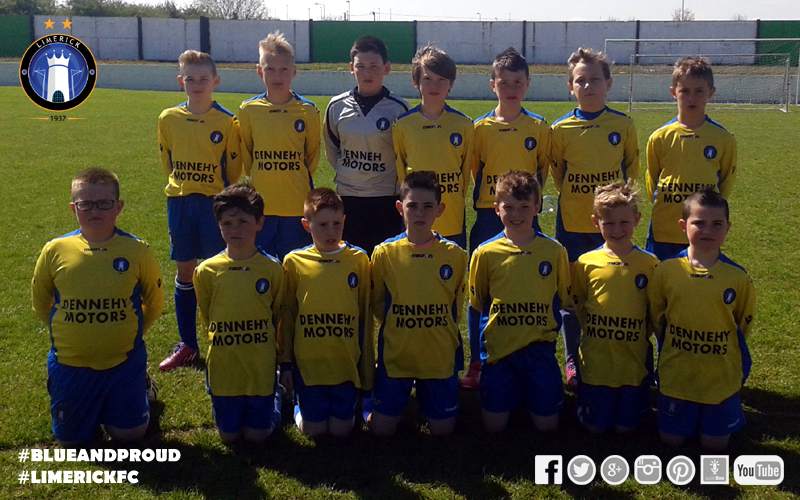 Jack Koyce rescued a point for Limerick as they played out another entertaining 1-1 draw with Carew Park at Hogan Park on Saturday afternoon, in this Under-11 Division One mid-table clash.
The teams were facing each other for the second time in the space of five days, after Robert Hogan's side edged through their Cup tie in a penalty shootout at the same venue last Monday.
Here, it was Carew that took the initial hold of the game but the Limerick defence of Kyle Foley, Igor Czarnacki, Daniel Quaid and Oisín Brady-Halmschlaag held firm and restricted the visitors' chances.
However, Carew did take the lead when some quick thinking left them one-on-one with Eugene Hurley, as they took a narrow advantage into the break. Limerick, though, were playing well, with Jake O'Riordan and Scott Grant creating good opportunities.
In the second half, Limerick put their foot on the gas and took control. Some nice passing between Jack Horan, Jake Sheehy and Grant created chances for Koyce, Nikodem Brzeskwiniewicz and O'Riordan.
But it was the quick thinking of Foley, with a quickly taken throw-in, and Sheehy with a terrific cross into the box that lead to the equaliser. A ball too high for Tony Carroll and Brzeskwiniewicz was latched onto at the back post by Koyce to poke in from close range.
The diminutive winger could have won it with virtually the last kick when his half-volley from all of 40-yards cannoned off the post, beating the Carew 'keeper but not the woodwork. It was another fine game played by both teams.
Limerick: Eugene Hurley, Kyle Foley, Igor Czarnacki, Daniel Quaid, Oisin Brady Halmschlaag, Jack Horan, Jake Sheehy, Jake O'Riordan, Scott Grant, Anthony Wlodarczyk, Kevin Devevey. Goal: Jack Koyce. Subs: Tony Carroll, Jack Koyce, Nikodem Brzeskwiniewicz.
Report Date: Saturday 18 April 2015