Tosi Loving Life With "Clever" O'Flynn
---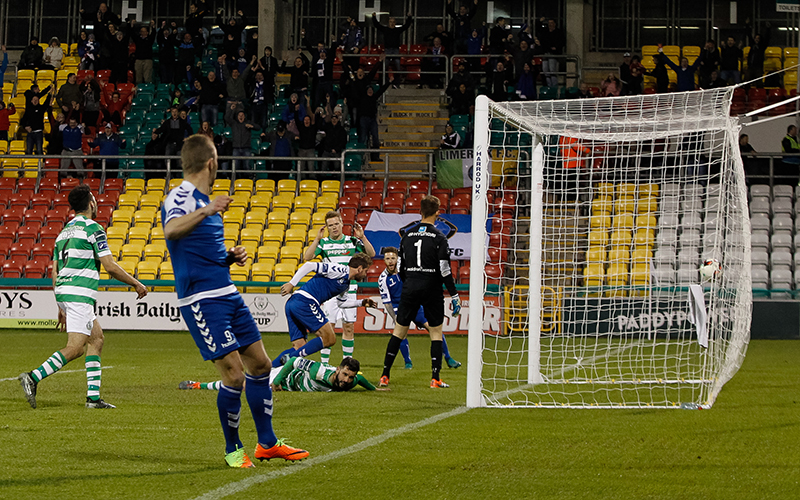 Six-goal Rodrigo Tosi says he enjoys playing alongside "clever" John O'Flynn after his strike partner played a key role in Limerick's late equaliser against Shamrock Rovers at Tallaght Stadium on Friday night.
Audio: Listen to Rodrigo's interview, below.
O'Flynn's neat knockdown had set up the Brazilian four minutes from time and while he failed to finish off that move, there was no denying him on the 90 as he shot in at the back post after O'Fynn dummied Chiedozie Ogbene's low cross.
For Tosi it was a first goal on the road for the club and his first in three league outings, with the 34-year-old praising O'Flynn's smart play.
"It was a good cross. John O'Flynn dummied the ball – it was really good. I was happy to be in the right position to score," 'Roddy' told LimerickFC.ie. "I'm really enjoying playing with John. He's a real clever guy – a clever striker. We can play together; he can assist you and he can score goals. It's really good – he's a really smart guy to play with."
The Curitiba native was also delighted to make up for his miss moments earlier, which at the time seemed to end Limerick's hopes of taking a result away from the capital.
"It feels good, getting the result in the last minute," Tosi said. "We were behind and we missed some chances but in the last minute we got the point that we needed. I missed a chance but that's football. One chance I missed, the other I got. That's what I'm here for. I try to be in the box and try to believe in every ball.
"I think we played better in the second half because we had to get a little bit higher because we needed a result. We tried to play football and it paid off. We got the goal and the result, even if it was one point."
Asked if he was pleased with a return of six goals to date, he concluded: "I'm happy. To be honest, I could score even more. I missed some chances but it happens – sometimes the ball goes in and sometimes not, but it's okay."
Date: Saturday 29 April 2017