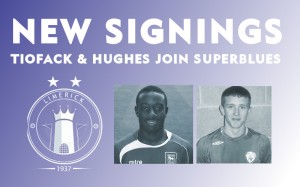 Tiofack and Hughes join Superblues
Limerick FC are delighted to announce the signing of Carel Tiofack and Jason Hughes.
Carel Tiofack
Born in Cameroon Cameroon, Carel has represented Ireland at a number of levels underage and played the bulk of his football in Ireland having spent most of his life in Ballincollig, Co.Cork. As a young player he attracted a significant amount of attention from cross channel, notably from Arsenal but he chose to move to Ipswich in 2010 and played there for two years before joining Spanish outfit Cadiz for the 2012/13 season. Looking for a move home over the summer, he attracted the attention of a number of Airtricity league clubs, but ultimately chose to join the Superblues following discussions with manager Stuart Taylor.
Taylor expressed his happiness at the signing, indicating his belief that Carel will bring real quality to the squad."Young Carel is someone that we knew about and through some contacts over in Spain, where he's played the past year we know about his talent. We tried to get him over a short while ago, but another Airtricity League club had spoken to him first to get him over. They were able to offer him the lure of European football, but we managed to persuade him to come down, see the club and meet the people involved. He watched our game on Sunday and played in a training game on Monday night. He's going to be a good addition.
"He'll please the supporters, he's got a lot of quality on the ball and he's got something a little different to add to the squad, he has that little bit of quality in the final third of the pitch he can spot a pass and it's something that we're looking to add to the team."
Jason Hughes
Local lad Jason Hughes is returning to Limerick, having previously played with the club before moving to Athlone in the 2010, staying with the Westmeath until 2012. Like Carl, Jason represented Ireland at underage level. Identified by Stuart Taylor for trial from Junior football this summer he's impressed when given the opportunity "Jason has come in on trial with others from the Junior level and he stood out head and shoulders above the others on trial in terms of his effort, commitment, fitness level, hunger, desire and passion to play and prove himself." Said Taylor, speaking after Jason's signing, "He also had the quality on the ball and we felt he was someone who could add to the squad and we're delighted to get him in.