An Audience With Martin O'Neill
---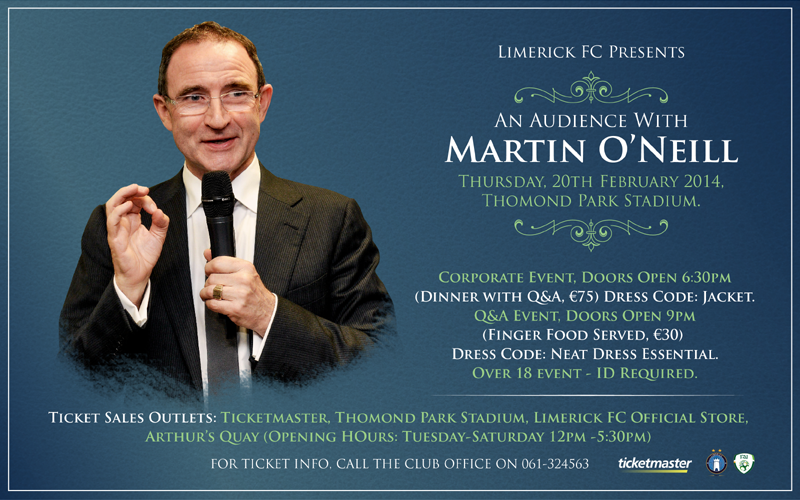 Thomond Park Set To Host Irish Boss: Tickets On Sale!
Limerick FC will host 'An Audience with Martin O'Neill' at Thomond Park Stadium on Thursday 20 February, with the Republic of Ireland manager to take part in a Q&A with supporters.
NOTE: The Corporate Event is now sold out. General Q&A tickets are available for €30, through Ticketmaster, Thomond Park Stadium and our Club Store up to 5pm.
The former Celtic treble-winning boss was appointed as Giovanni Trapattoni's successor in early November and opened his tenure with a 3-0 win over Latvia at the Aviva Stadium before a scoreless draw in Poland.
O'Neill will travel to the Treaty City on 20 February to reveal his squad for the upcoming home friendly against Serbia, and later in the evening he will take part in a two-tiered event for Limerick FC.
"We are delighted that Martin will come to our city to announce his squad for the March friendly with Serbia and even more so that he has kindly agreed to join us for a fundraising event in the evening," Limerick FC Chairman Pat O'Sullivan said.
"It is the dawn of a new era for Irish football and already everyone is looking forward to the Euro 2016 qualifiers.
"Martin is a proud Derry man and has enjoyed many memorable moments in his football career, from playing for Northern Ireland at the 1982 World Cup to leading Celtic to the domestic treble in 2001.
"Martin will have many great stories to tell and we hope we have structured the evening in a way which will give everyone a chance to come along and listen to them."
The Corporate Event, including a three-course meal and Q&A, will get underway at 7pm (doors open 6.30pm) with tickets priced €75 per person. Tickets for this can be purchased here.
Doors for the Q&A will open at 9pm with tickets priced €30, which includes finger food. Tickets can be purchased here.
Tickets are also on sale at Thomond Park Stadium and our Official Club Store in Arthur's Quay. Our new opening hours are Tuesday-Friday 12pm-5.30pm and Saturday 10am-5.30pm.
For any enquiries, call the Limerick FC office on 061-324563.
Article Update: Thursday 13 February 2014