Taylor Looking At "Bigger Picture" After Sore Score In Derry
---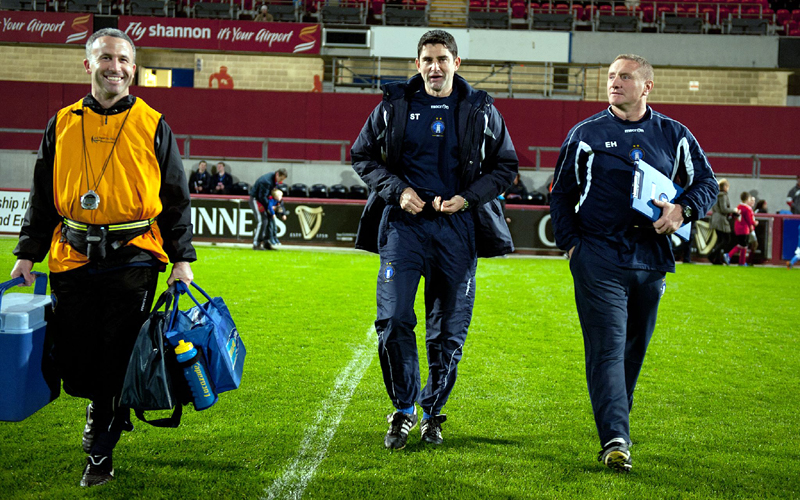 TAYLOR LOOKING AT "BIGGER PICTURE" AFTER SORE SCORE IN DERRY
Limerick manager Stuart Taylor kept focussed on the "bigger picture" as he reflected on a "good season", despite going down 6-0 to Derry City in their final outing of the year at The Brandywell on Friday night.
Michael Rafter's sixth-minute header set the Candystripes on their way but Limerick responded well to that early setback and dominated large periods of the first half.
However, David McDaid's goal shortly after the break made it an uphill task and the 22-year-old went on to grab a hat-trick while full-backs Dean Jarvis and Simon Madden also netted.
It was by far Limerick's biggest defeat of the league campaign, but the 14 players that took part for the Superblues averaged an age of just 20.5 years, with half of them teenagers.
That was in contrast to a Derry team that had an average age of 23.36 years and consisted of no teenagers.
And having enjoyed four wins in their previous five games as they finished the season past the 40-point mark in seventh place, Taylor was upbeat as he looked ahead positively to 2014.
"The result was obviously a huge disappointment, but at half-time I was reasonably happy although we had lost a goal. It was a very cheap goal," Taylor told LimerickFC.ie as he reflected on the display in Derry.
"I actually thought we did very well in the game and I thought that we had controlled huge spells. That was shown by their supporters getting very frustrated towards the end of the first half.
"We dominated the first half and I was looking forward to the second half. Unfortunately, we lost a second goal right at the very start of it and that made it very difficult for us to respond.
"We had a young team and The Brandywell is a very difficult place to go. Unfortunately, we found it tough and Derry got a huge lift out of it. Going into it, they knew they were going to be in for a very difficult game.
"They certainly took confidence out of getting a goal very early in each half and you could see the confidence was oozing out of them.
"They smelt a little bit of blood and they went for it and they came away with more goals.
"It was a disappointing way to lose especially in the last game because there's no come back for us now. We can't make amends so we've got to live with it throughout the close season.
"But let's look at the bigger picture and look at the whole season. I said to the players look at the whole season because it has been fantastic and a really successful season.
"We shouldn't be hanging on this game too much. We have to learn from it, definitely, and we have to make sure that we remember the bad points and learn from them.
"But every single player can hold their head up high after a very, very successful season.
"I'm very disappointed again with the result but also for the travelling supporters. I've been encouraging them to go to all the home games of late but I'm really happy that I didn't encourage them to go to the game all the way up there!
"It was a long, long distance to travel and certainly not a good result.
"The supporters that travelled were great and it's unfortunate that they had a long journey back and that they don't have a game to go to just around the corner so they can get over that performance.
"Derry are a good side, a very experienced side. They have got an experienced back four, apart from the younger lad who played left-back.
"They have got experience throughout their team and a lot of boys who have got experience from playing over in the UK.
"We were by far the better team in the first half. I thought that the players did very, very well and they were very brave in the way that they went and passed the ball.
"We spoke about it before the game, to be switched on at set-pieces and make sure that we were concentrating all the time. The first one was a sore one but it was a great response the way we went and played.
"At the start of the second half, we switched off again. They got their early goal, it gave them a huge lift and it gave us a little mountain to climb."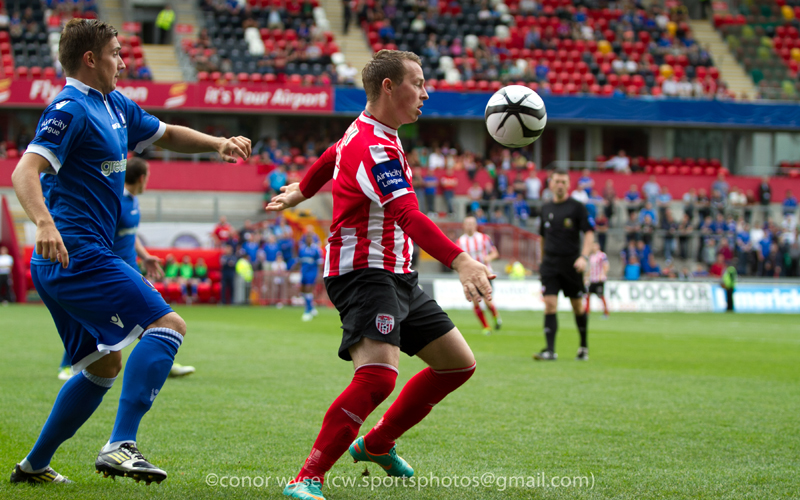 Michael Rafter (right) opened the scoring in Derry where Shaun Kelly (left) captained Limerick for the first time
Still, Taylor believes that the defeat will be a huge lesson for the players in the future.
"It's a great experience for the young lads and it has given them a huge lesson very, very quickly," he said.
"From the highs of having a great performance and huge result against Shelbourne to now seeing the other side of football, which is to go and take on a heavy defeat, albeit at a very difficult place to go.
"They've had a hard lesson where if you make mistakes you'll be punished for them.
"Young players will make mistakes and experienced players will make mistakes. Every single one of them will learn from the mistakes that they made in Derry.
"It doesn't change the league position or anything but certainly it's a hard one to take because it's the biggest margin we've lost by all season. It's a disappointing one for the players and the club.
"It's a valuable night for the likes of Tony (Whitehead) and Colm (Murphy). I don't think it will damage their confidence because of the characters they've got. You need to be strong characters to go and play at this level.
"They played in Derry because of how well they did against Shelbourne and I thought they did fine again. There are little bits and pieces that we can work on.
"The type of characters that they are, they will want to do something about it. It's a good learning curve for them.
"We were hoping to finish sixth this season and above Cork. I said to the players before the game 'look after your own result and your own jobs and do a professional job; if we go and win our game and Cork win their game, then we've done things right'.
"The way it worked out, Cork won their game so we couldn't have finished above them. Overall, it has been a fantastic season and it's something to build on."
Focussing on next season, Taylor stated that plans are already underway.
"We're a club that is always looking ahead and always looking to progress," he said.
"You always have to keep an eye on the future because if you don't know where you're going, you're not going to know how to get there. We know where we want to go and we know how to get there.
"We know the mistakes that we've made and we'll learn from those. Everything is good at the club.
"We're a little bit sore right now – we're hurting – but in the grand scheme of things and looking at the bigger picture, it has been a very good season.
"We're in negotiations with the players that we want to keep at the club. We have one player tied up from outside the club and we have another couple that we've been talking to and I don't think we're too far away from them.
"We're always looking to improve and progress and at this moment in time we're in a good position."