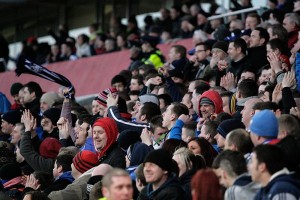 Limerick Football Club would like to thank those who travelled to Shelbourne FC on Friday night and supported the team for ninety minutes, helping to create a fantastic atmosphere at the game. The support for the Superblues at home and away this season has been wonderful and players, management and staff are hugely appreciative of the effort and expense undertaken by our supporters .
Following Friday's game we unfortunately find it necessary to remind supporters that the club has a zero tolerance policy with respect to flares and smoke cannisters, both at Thomond Park and at opposition grounds we visit. The use of these items can result in injury and may result in significant fines for the club.
Any individual who's behaviour results in their ejection from an away ground, or who has been identified as using [or supporting the use of] a flare or smoke bomb will be subsequently treated as though they had been ejected, by Limerick FC Security, from Thomond Park. Such behaviour shall result in bans from future home games with immediate effect. Furthermore, the club will identify banned individuals to clubs where we are guests, which may also result in those clubs refusing entry.
Limerick Football Club strives to create a fun, safe and vibrant environment at matches and we support other clubs in their efforts to do the same. We thank those that add to the excellent atmosphere created by our supporters each week, and ask others to remember that certain actions and activity undermines our growing reputation.