REACTION: "You Have To Believe" – Barrett
---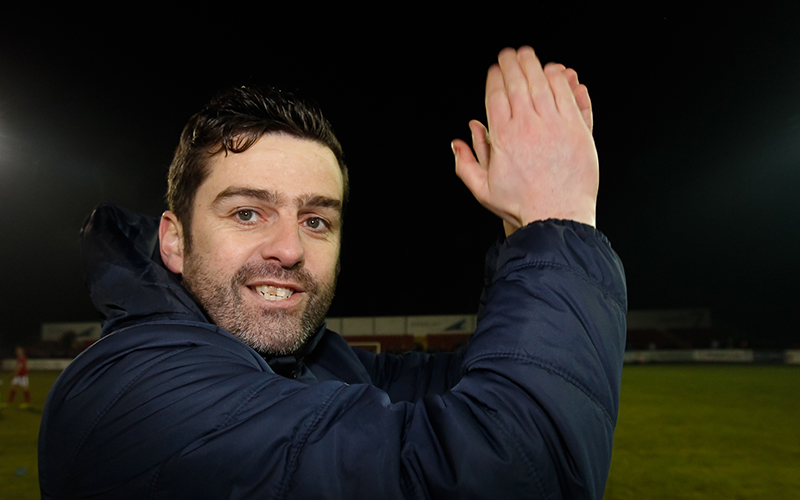 Tommy Barrett says belief within the group was a key component in Limerick kicking off their 2018 SSE Airtricity League Premier Division season in winning style, as the manager dismissed outside negativity surrounding his team.
Listen to Tommy's post-match interview, below.
Darren Dennehy's 62nd-minute header gave Barrett the perfect start to life in charge of his hometown club as the Shannonsiders deservedly overcame Sligo Rovers 1-0 in front of a packed Showgrounds on Saturday evening.
Part of the 3,056 crowd was a strong travelling support from Limerick who backed their team all the way. And Barrett wants a big Markets Field turnout next weekend where he hopes his players can "feed off the energy" that their vocal backing creates.
"It hasn't affected me and I don't think it should affect anyone," Tommy told LimerickFC.ie, asked if outside predictions of a poor season for his side had played on their minds.
"You have to go out and try to win every game, you have to be confident, you have to believe in yourself, you have to believe in your teammates, you have to believe in your game-plan, and I speak like that all the time. Some people probably think it's a bit too positive or too confident.
"Sometimes, players and people can feed into negativity and that can affect you and put doubt in your mind – but you can't have doubt going out on to the pitch. That's the most important thing. You have to believe you can win, and I think the lads believed they could win tonight."
Looking ahead to the visit of Bohemians on Saturday (6.30pm), Barrett added: "We want the supporters to create a good positive mindset and a good positive energy about the place.
"The fans tonight were fantastic; it was a great crowd again and they were vocal. They quietened the Sligo crowd, I felt. It was a good atmosphere. I think we can feed off that energy and that atmosphere next week that our home crowd will generate."
The 1-0 win in Sligo saw Limerick record a fifth clean-sheet in Barrett's fifth match at the helm, and on that, he said: "That's down to the lads – they work hard. We're trying to get them as organised as possible. The group is still forming and I think we can only get better.
"Hopefully, we can get better and look more solid, going forward. It's always great to get a clean-sheet and it builds confidence."
Date: Sunday 18 February 2018