"It's The Best Dressing-Room I've Worked In" – Taylor
---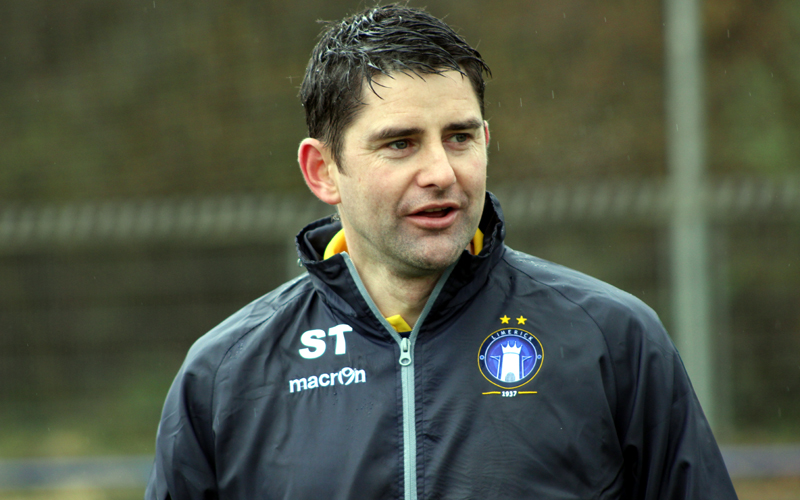 "IT'S THE BEST DRESSING-ROOM I'VE WORKED IN" – TAYLOR
Limerick manager Stuart Taylor says he is in "the best dressing-room" he has worked in, after he praised his players for a battling display which earned them their first league win of the season against Bohemians on Friday night.
Press Play To Listen
The Superblues secured a precious 1-0 win at Dalymount Park thanks to Rory Gaffney's early second-half strike, which moved them onto six points after six games and saw them jump back above Sligo Rovers in the table.
The boss was happy with the "qualities and character" that his team showed, and he wants the same fighting spirit going forward, with point-less Athlone Town next up at Thomond Park on Good Friday night.
"It was a great win," Taylor told LimerickFC.ie. "To go to Dalymount Park and win shows the qualities and the characters that we've got.
"We've always said there are players out injured and we've been waiting for them to come back in. I think we showed our qualities, not just in terms of getting the ball down and moving it about, but we're a lot more physical this season.
"But we need to keep it going. It's fine and well to come up and get your result, but we need to realise how we got the result. It's down to the basis of working hard and everybody fighting together for each other.
"We've got a great squad here. We've got a very, very good dressing-room and that definitely saw us through. I don't think Bohs caused us any problems in the second half and we were comfortable in the game."
Limerick's first win of the Premier Division campaign came at the six attempt, after they had drawn three and lost two – both by one-goal margins to Louth duo Dundalk and Drogheda United – in their opening five outings.
But the 39-year-old Scot insisted: "There were never any panic stations. We should have won the game last week against UCD. We got an offside goal which was clearly onside; I think there were four players keeping us onside.
"Those wee things weren't going for us. We had players coming back from illnesses and injuries. There was never any panic. We've got a very good team. We've got a good squad of players. It was just a case of getting that rub of the green.
"Against Bohs, we had six bookings where I wouldn't say any one of them was a booking. Bohs went away without any bookings. These things happen and we're not going to make any excuses. Hopefully, things will turn on that side of things.
"We just need to make sure that we're doing our job properly, we're playing and doing our job right and we're picking up points along the way.
"I'm absolutely over the moon with the win and I'm absolutely delighted for the players. I think the character that we've got in the dressing-room, the will to win and the desire to go and win is second to none.
"It's probably the best bunch of players that I've worked with and it's probably the best dressing-room I've worked in as well. We'll go and kick on from here."
The victory came in a week where the club received good news on centre-half Michael Leahy – who is set to make his debut in the Munster Senior Cup on Sunday – and Scottish winger Danny Galbraith who is improving steadily from a hamstring injury.
Taylor was also delighted to see the commitment shown by defenders Samuel Oji and Shaun Kelly as both played the full game despite being rated highly doubtful during the week.
"We've got good news on all the injuries this week," Stuart revealed. "We were delighted to have Sami back on board for the game. Big credit goes to him and Shaun Kelly because we didn't think they had any possibility of playing.
"But they're the same as everyone in the dressing-room – they want to go and play for the club and the jersey and they showed that. I thought they were superb."
Commenting on his side's performance at Dalymount Park, the boss added: "We always try to go and win games of football by passing the ball, moving it about and being pretty. I think we showed again another side of our qualities and our strengths by going and winning games ugly.
"I thought we battled away and we earned the three points. I'm absolutely delighted for the players because it was a great performance and it was a fantastic goal by Rory. The win has been coming for a while now.
"Last week against UCD, I thought the players were superb and we deserved the win there.
"We didn't get it, with the offside goal that was never offside, but we've shown a great mental strength by getting through last week and getting through Friday. I was over the moon with their attitude and their will to win against Bohs – it was great."
Taylor was also happy with another "solid" defensive display. "I don't think Barry Ryan had a save to make in the second half," the boss pointed out. "That's all credit to him and obviously the four players in front of him.
"I thought the back five was superb. I thought they were solid, considering Sami has not done anything since last week – that was his first outing since UCD. It's probably Shaun Kelly's second outing for a couple of weeks; he trained once during the week and then played. They were superb.
"I don't want to start singling out people. You've got Rory's finish and the work-rate he did defensively after his goal was second to none. It was great to have Craig Curran back; it was his first start of the season. We were absolutely delighted with the performance that he put in."
Midfielder Prince Agyemang was withdrawn past the hour mark and replaced by James McGrath, moments before captain Shane Duggan was forced off with injury.
"We felt that we had to move things about a little in there," Stuart explained, "and once we got the goal we changed formation and we made it harder for Bohs to try to break us down.
"James McGrath has been superb this season and he came on and did a great job for us. We looked comfortable from thereon in. In the second half, I thought we were comfortable in the game."
Looking ahead of Friday's visit of Athlone – who have lost all seven of their league games – Taylor concluded: "We'll go and build on the win no matter who we're playing against. It's important that we go and win the game.
"It's going to be difficult, because Mick Cooke always has his teams well organised. They'll be dogged and they'll work hard.
"We've got to make sure that we get the ball down and pass it. It will be difficult. We need to see how the pitch is. But we're going to have to go and work really hard next Friday because it won't be easy."
Interview Date: Friday 11 April 2014