Reaction: "It's The Least We Deserved" – Boland
---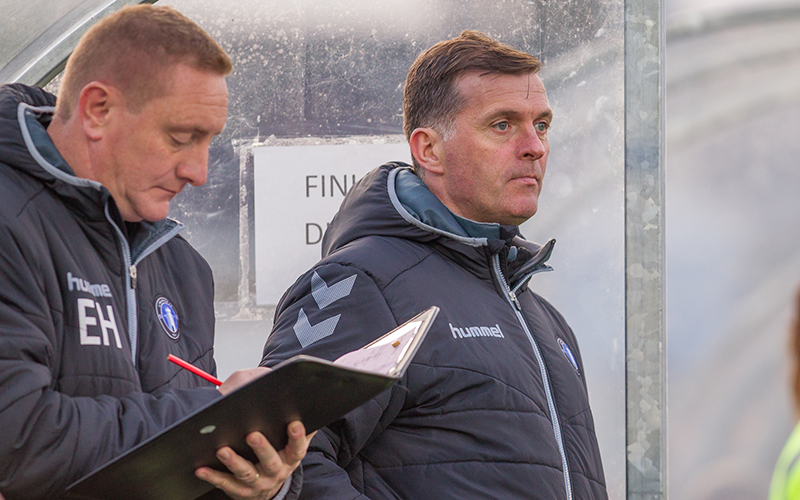 Willie Boland felt a point was "the least we deserved" after Limerick extended their unbeaten run under his guidance to five games with a last-minute equaliser against Shamrock Rovers at Tallaght Stadium on Friday night.
Audio: Listen to Willie's interview, below.
The Shannonsiders were behind early on to Roberto Lopes' header and could have had a mountain to climb had Gary Shaw not spurned a chance from close in shortly after. But from there Boland's side took over, with the final 20 minutes in particular seeing Rovers pinned in their own half.
John O'Flynn's introduction added to their threat and his knockdown four minutes from time should have been finished off by Rodrigo Tosi, before the Brazilian made up for that at the death with a back-post finish following a clever dummy by his strike partner.
And Boland, 41, was pleased with the outcome after the pressure his side applied. "I'm happy with the result in the end. I thought the boys were excellent; in the second half of the first half and the whole second half I thought they put Rovers under a lot of pressure. I thought we were by far the better side," Willie told LimerickFC.ie.
"We went one down which we hadn't done in a while and they showed great resilience and great perseverance, bearing in mind they had a game during the week up at Derry as well. They showed great fitness levels and I think it's the least we deserved.
"It's encouraging, the fact we went behind and got a result in the end. But also, I thought the lads were superb in the second half. They dominated the game. They kept the ball very well and were patient on occasions. We got the ball into the box when we needed to.
"There could have been a little bit more quality in the final third on occasions. But we kept going, our heads didn't drop, we didn't get disappointed and we got our just rewards when Roddy scored the goal."
The goal was Tosi's sixth of the season – which includes an opening-night hat-trick in February – and Boland admitted: "It is a good boost for him. He made a great start to the season. If you score a hat-trick in the first game of the season people will be looking at it. But he has picked up a goal here and there. He's good in the air; he's dangerous for us at set-pieces, defensively and attacking wise.
"I thought he put a good shift in and he could have maybe had another goal – the defender, to be fair to him, made a great block. But he kept going and he got the goal in the end.
"To come away, being 1-0 down and to get a result away to Rovers which keeps us up there in fourth place – we have to be pleased."
Boland took charge of the team at the beginning of April and has overseen two wins and three draws in his five league outings. And on the back of a long trip to Donegal just 72 hours before their outing in Tallaght, the interim manager says it has been a positive period.
He said: "I'm delighted for the lads. They put a decent amount of effort in tonight. This is the third game in a week. It has been a busy period for us and to come out of it in the position that we're in, and to remain unbeaten as well, is a plus point. I'm pleased. If you look at it, it's three draws but we're unbeaten and there have been decent performances there."
Date: Saturday 29 April 2017