Pro Deal: "You Dream Of Something Like This" – McSweeney
---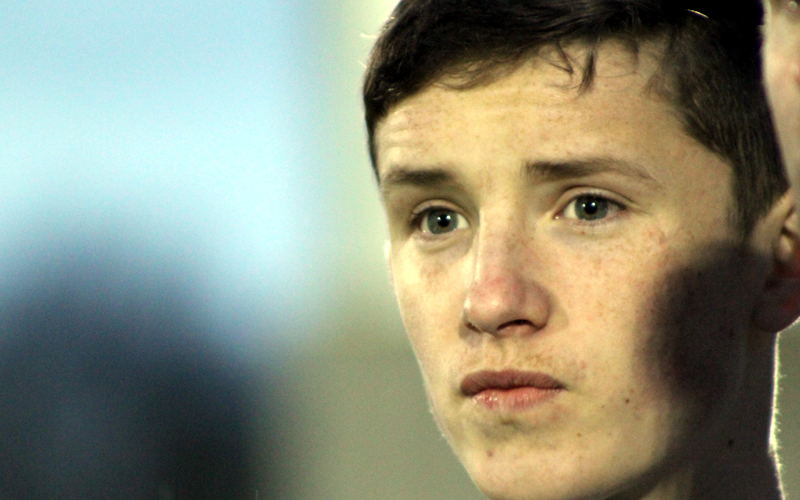 Limerick forward Seán McSweeney says signing a professional deal is something "you dream of as a young fella", after the 17-year-old put pen to paper with the club.
Press Play To Listen
The former Shannonside youngster has caught the eye in the Under-19 team over the past two years and was involved in the first-team squad's pre-season trip to Spain last February.
Last month, he made his competitive debut when coming off the bench in the Munster Senior Cup, and now – alongside teammates Paudie O'Connor and Killian Brouder – he has been rewarded with professional terms.
McSweeney admits he was "surprised" to be involved in Martin Russell's plans this early but he is relishing the opportunity as he looks to "progress" further.
"It's something that you would always want. You dream of something like this since you're a young fella so I was very happy with it," McSweeney told LimerickFC.ie.
"I've had a good season with the Under-19s so far but I still wouldn't have been expecting it. I was even surprised to go up to the first team, but to get the contract is just brilliant. I'm delighted.
"I love it. It's what you want. You want to go up from the Under-19s to the first team as quick as you can. I'm delighted to be up there. Training with better players, you improve a lot quicker."
McSweeney is hopeful of earning his league debut in the coming season and is ready to take it all in his stride.
"There is a small squad there so you would be hoping to get a few appearances," he said. "I'll be happy with that, really, because I'm only 17 and I wouldn't be expecting too much more. Maybe nine or ten appearances off the bench or something, I'd be happy with that.
"It would probably be tough going out in front of a big crowd for the first time but I suppose you get used to it after a while. But I'm looking forward to it.
"I've progressed a lot since I've come in so I couldn't be happier with that. I'm glad to get up to the first team now; I'll just keep working hard and try to progress again."
Limerick are currently on a four-match unbeaten run in the Under-19 Southern Elite Division and are well placed to finish in the top four, with a tough trip to Bray Wanderers coming up on Sunday.
"We're doing very well, up from the lower division," Seán said. "We've a load of young players as well so this is a very good season. We'll keep pushing on and try to catch Waterford. It's doable.
"But we'll keep working hard and hopefully get into the top four anyway. That would be a good achievement for this season.
"Bray are very hard to break down and going up there I think they're really good defensively, so we'll have to be patient. Hopefully we'll get three points, but I suppose you'd take a point away from home against a team like that.
"We've been doing very well as a team since coming back from Christmas and I've played good enough in the games. I could probably do better at the same time but I'm happy with how it's going so far. I've had a decent enough season already. I'll keep pushing on and try to do better."
Last week, McSweeney was part of the Irish Schools Under-18 squad that recorded two wins in Athlone, and he would welcome a place in next month's Centenary Shield.
"It went alright. I played okay. I'd be hoping to get into the squad but you never know," he said. "I'll keep working hard and hopefully I'll get in there at some stage.
"It would be great to get my first cap. I've been up there a few times now but I've never really got into the squad. It would be great to get a cap but sure we'll see where it goes."
Date: Wednesday 25 February 2015