Pro Deal: "Keep Improving Is What I'm Aiming For" – O'Connor
---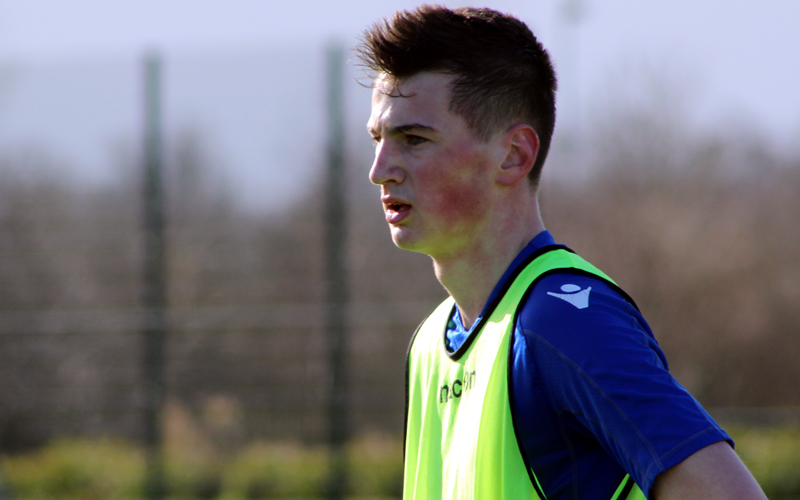 Limerick defender Paudie O'Connor is aiming to "keep improving" in the coming months, after the 17-year-old signed a professional deal with the club.
Press Play To Listen
The former Kilcornan, Breska Rovers and Regional United youngster is almost two years into his time with the Superblues and last April he made his competitive first-team debut in the Munster Senior Cup.
O'Connor has continued to impress in the current Under-19 season and last month was handed his full senior bow by Martin Russell. Now, he has been rewarded with a pro contract, joining teammates Killian Brouder and Seán McSweeney who have also penned deals.
The centre-half admitted he "wasn't really expecting it". But he is determined to "keep taking the chances" that are "coming quickly".
"I'm delighted. When I got the news I was happy to get a pro contract and just to keep improving is really what I'm aiming for this year," O'Connor told LimerickFC.ie.
"I wasn't really expecting it. The squad is going to be small enough this year; I was surprised when I got the call off Martin but happy all the same. I didn't think it would kind of go this fast but the step-ups are coming quickly so you've got to keep taking your chances.
"I want to stay in around the squad and keep learning off the lads, like Robbie Williams and Seán Harding who are up there – they're good defenders. It's a step-up but one I'm looking forward to. It improves you when you're up there. It improves your all-round game as well."
O'Connor insists he is not fazed by the possibility of tasting league action this year and he says he has enjoyed first-team training.
"You'll be testing yourself against better players in the League of Ireland so every step-up is an important one so you try to keep improving," he said.
"Training has been great. There are different drills obviously with a different manager and a different way of playing the game. Three at the back this year is looking like what it's going to be. It's a new way of playing for us at the back so I'm looking forward to it."
Last weekend, Limerick continued their good recent form in the Under-19 Southern Elite Division, coming from behind to down Athlone Town at the Fairgreen and remain in second.
This Sunday, they make the trip to Bray Wanderers, who still harbour outside hopes of a top-four finish and who have lost just once at home this season.
"It was a super result on Saturday and another three points in the bag," Paudie said. "It wouldn't really have meant much if we lost to Athlone after getting a good point down in Cork last week.
"We've got an away trip to Bray now on Sunday; another three points there and we should be looking good.
"It's a long trip. They're always strong at home. They showed that against Waterford; they held them to a draw. It will be a tricky game but hopefully we can pull it out of the bag."
Date: Wednesday 25 February 2015