Prince Settling Into Life In Limerick
---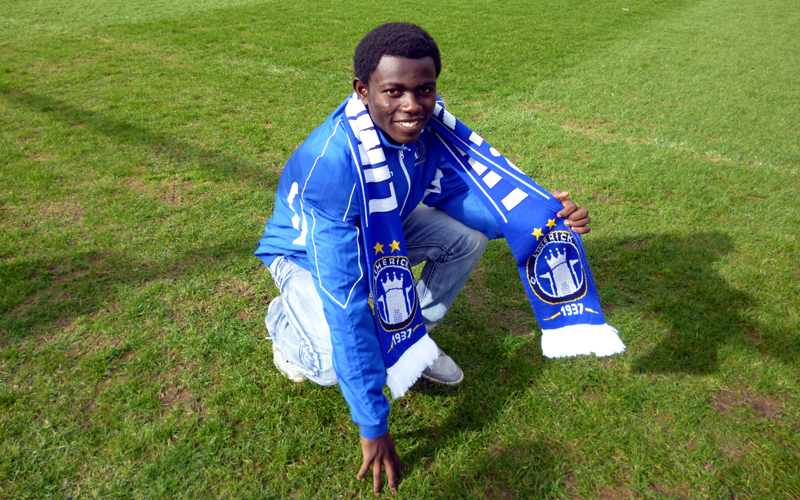 PRINCE SETTLING INTO LIFE IN LIMERICK
Limerick midfielder Prince Agyemang says he is "happy with how it has gone" after his opening seven weeks in Ireland, with the youngster's first four starts coinciding with an unbeaten league run for the Superblues.
The 19-year-old Ghanaian arrived at Limerick in early March along with goalkeeper Ali Abass from the 'Right to Dream' Academy in his home country.
Having made his debut from the bench in Dundalk, Prince has slowly built his way into the team and manager Stuart Taylor has shown faith in him by starting him in the side's recent good run.
His full bow came in the draw at UCD three weeks ago before he helped them to wins over Bohemians and Athlone Town as well as Easter Monday's draw at Derry City.
And Prince is hoping that Limerick can add another victory when FAI Cup holders Sligo Rovers visit Thomond Park on Friday evening (kick-off 7.45pm), with the midfielder saying he has full "belief" in his manager and teammates.
"So far, so good," Prince told LimerickFC.ie when asked how he is enjoying life in Ireland. "We are in good shape.
"I am trying to do my best for the team, which I always try to do because football is what I love doing. I look to improve and learn every single day. So far, I have been happy with my performance.
"I think we played well in Derry. It was a long journey to make from Limerick. I think a point is not a bad result but I felt our performance deserved three points.
"It has been good in the last few games. I have played four games and I have been pleased with how they have gone. Every day I go out to improve on my skills.
"Our coach, I don't call him that because he is a father to me. He is helping me a lot and guiding me in what I should do on and off the pitch. Duggy and Shane Tracy always help me, coach me and direct me on the field of play. I give credit to them.
"I have been happy with how I've settled into the team and the city. I think the team is getting stronger with every single match that we play. We move a step forward all the time.
"We played last Friday and got our first home win. To go to Derry and get one point is positive.
"I'm happy with how it has gone. I am trying to get used to the culture around here with the people.
"It has been difficult to get used to it, moving from Africa to a new culture, but it is part of life. I think if I do well in the games then people will begin to know me."
Prince feels the standard of League of Ireland football is "good", with the Ghanaian slowly building his way to full fitness.
"In Ireland, I think the standard of football is good," he said. "The tempo of the game is high and I believe even if the standard is not good then you can make it good and make it better. I try to do my best. I don't worry too much about the standard.
"Every single day, I'm getting fitter and improving. I'm looking to play as many games as I can to get to 100 percent fitness.
"We are looking forward to the game on Friday against Sligo and hopefully we can get three points. It doesn't matter who we're playing. With the players we have, I believe in them, my coach and everyone."
There is a feature with Prince in Friday's Irish Mirror where he speaks about the valuable advice he received from Manchester City star Yaya Touré.
Article Date: Friday 25 April 2014