President: "There Are Very Exciting Times Ahead" – Ward
---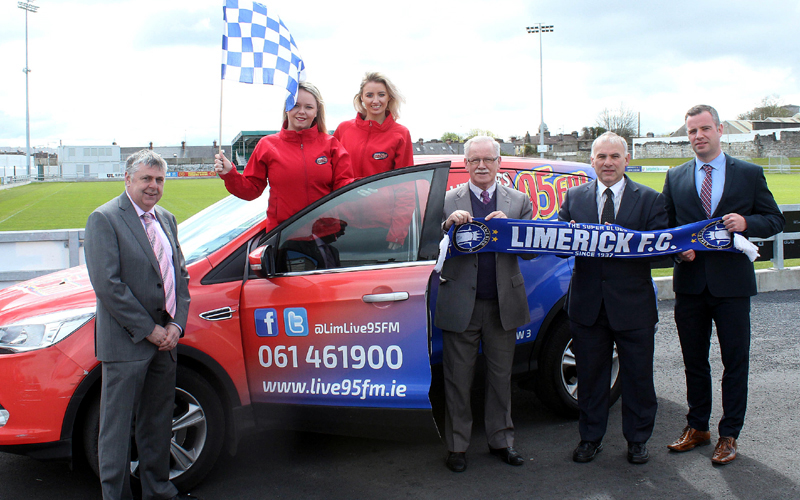 Tony Ward has been named Honorary President of Limerick FC, with the 1982 FAI Cup winner expecting "very exciting times ahead" for the club.
Ward has taken on the new role having been approached by club Chairman Pat O'Sullivan and Limerick Chamber Chief Executive James Ring, who hope that his involvement can draw the support of Corporate Limerick.
Ward, now 61, was part of the Shannonsiders' Cup-winning squad during what he described as "a golden era", and he hopes that the current generation can enjoy similar success going forward.
Ward said: "I deem it an honour and a privilege to be asked to be involved. What I love about it is it's integrating the old with the new.
"For me to be bridging the gap, so to speak, between the class of '80 and '82 which was the golden era of Limerick football, certainly up to now, I was only too delighted. I will do anything I can to promote the city and to promote Limerick Football Club.
"I think there are very exciting times ahead off the field with the move back to the Markets Field and also with what's happening on the field. I was in UCD last Friday night and I was really impressed with what I saw against a very good UCD side.
"In relation to football, I'd love to see young players in Limerick who are with junior clubs really aspiring to play in what is a one-club city with that club, which is Limerick FC.
"But put the whole package together – it's to encourage positivity, help young lads in the community, to integrate sport where possible, and to take it forward in the most positive light and way we can."
Chairman Pat O'Sullivan said: "Over the past few years we have been trying to build the credibility around the club. We have been doing a lot of work in the community and I think everybody is very much aware of that even though we haven't been talking too much about it.
"We felt it was important that we tried to tie the old with the new, and the old has given huge, huge positivity to this city, going back 40 years ago for me. We wanted to add a layer of credibility to what we were doing.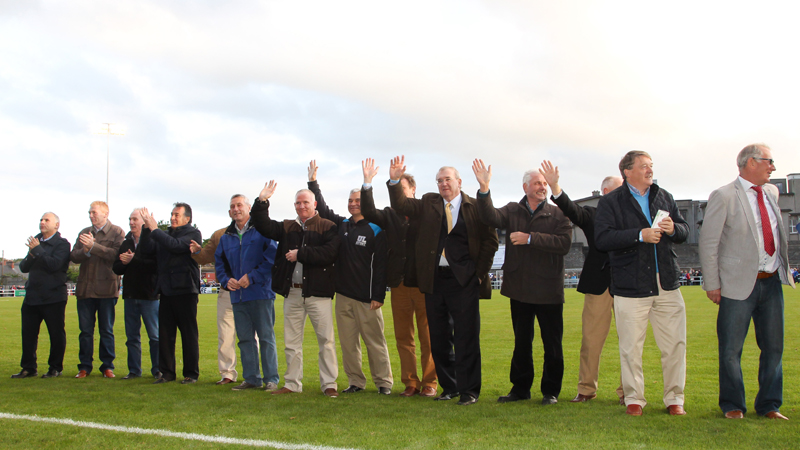 Some players from Limerick's "golden era" presented to the crowd at half-time on the club's return to the Markets Field after a 31-year absence last June. Tony Ward is pictured far left.
"This is a sporting city – it's one of its great assets. I have to give credit to James Ring who came up with this suggestion of Tony Ward. Tony loves Limerick and he has played soccer for Limerick. He was basically reared in Limerick through sport in his relationship with rugby and soccer.
"When we want to sell something to Corporate Limerick, having someone like Tony Ward at the top adds that extra layer of credibility."
James Ring, Chief Executive of Limerick Chamber, added: "What got Limerick's corporate body thinking we should get behind Pat is the amount of work they actually do behind the scenes.
"What goes on behind the scenes isn't really known. Pat and Limerick FC do a huge amount of work around the regeneration areas, and not just regeneration areas but with kids across the city. Pat gives them an outlet through sport. That has to be supported."
The Chamber has made a donation of €10,000 to Limerick FC for use in the club's community work, with Ring stating there has been "a good response" to their corporate call. Limerick's Live 95FM, Thomond Asset Management and Holmes O'Malley Sexton Solicitors are among those to lend their support.
Ring added: "I want to make a call to Corporate Limerick to try to get behind what Pat is doing and try to get behind Limerick FC. This is more than just on the football field.
"That is obviously a huge part of it and that's the flagship, but we also need to get behind what they're doing behind the scenes to build a sustainable club. Everyone wants to see a successful Limerick FC.
"The fact that you now see Limerick top of the league, unbeaten, it's creating a huge pride right across the city. Whether you like it or not you're getting bitten by this buzz of what's going on at Limerick FC and we should back it."
MORE: Listen to the announcement of Tony's new role which was announced on Live 95FM's Limerick Today programme with Joe Nash on Thursday morning; PLAY HERE.
Date: Thursday 28 April 2016