Playoff: "It's About Being Patient On & Off The Pitch" – Kelly
---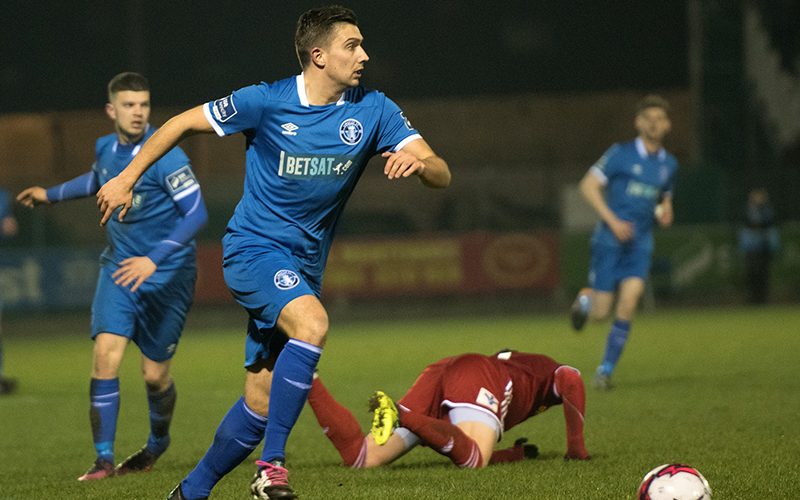 Shaun Kelly says Limerick must remain cool "on and off the pitch" when they go on a retrieval mission in their SSE Airtricity League Relegation / Promotion playoff against Finn Harps, who they trail 1-0 to after the first leg, at the Markets Field on Friday night (kick-off 7.45pm).
Despite performing well in the opening encounter on Monday, Limerick fell behind in the tie to Paddy McCourt's 36th-minute penalty and – like Finn Harps did against them three years ago – they must now come from behind at home to secure a Premier Division place for 2019.
It was on 2 November 2015 that Limerick won that playoff first leg against their Donegal opponents 1-0 thanks to Kelly's rocket.
That was the club's best night since returning to the Markets Field that season, and while crowds have been down this year, the right-back says the team have not given supporters enough to cheer about. He is hoping that changes on the third anniversary of his thunderbolt.
The 29-year-old said: "We can't complain (about low attendances). We haven't played well enough in the league and our results haven't been there. It has been a hard few months for everybody on the pitch – when results aren't there, obviously morale is low and it's hard to pick people up.
"Judging by how we played on Monday, I think it has picked a few people up. Going into this leg now, if we can have the crowd behind us it's going to be huge.
"People are going to be coming up to see us win and supporting us, so I think they will know that themselves that it's going to be one of those games that maybe if Finn Harps are sitting in, it's going to take patience. We're going to have to not do anything drastic early, and get hit on the break.
"It's about being patient on and off the pitch. If we get a goal then it's going to open things up – that would lift the crowd and it would be a huge factor in it. Tommy (Barrett) is right – at times we are going to have to be patient with the way Finn Harps play. But I think if we play to our maximum and give everything then hopefully we can get a result."
Reflecting on last Monday, Shaun said: "It was déjà vu from the last time up there, losing 1-0 in the 90 minutes, playing well and having chances but just not putting the ball in the back of the net. Overall, I think we were happy with how we played – but it doesn't matter how you played, you need to get a result.
"1-0 down going into the second leg we know that we have to come out and win the game. We went up there to try to win the match too – it's no different for us going into this one.
"The mood has been good this week because we were happy enough with how we played and we know now what they're about. We know we missed chances, hitting the post, having one cleared off the line and their goalkeeper made a couple of saves.
"It's about putting the ball in the net now. If we can get an early goal that will help a lot, and hopefully we can come out on the right side of the result this time.
"We always knew Monday was going to be a tough task. The way they play, they don't mind if we have a lot of the ball, and that's the way it was. At the same time, we have to take our opportunities. They will be looking to hit us on the counter too, but we can't really think too much about them this time. We have to concentrate on ourselves and make sure that we go and win the game."
In the opposite boat to that of three years ago, Limerick now have the deciding leg on home turf, to which Kelly said: "Being 1-0 down, we're happier now we have our home fans behind us – hopefully, there is a big crowd and as many people as possible will come up and get behind us.
"It's important to have your home fans pushing you on when you need to win the match. Hopefully people will come out to support us, even if they haven't been to games before. Any bit of support would be appreciated. Being at home is an advantage in the second leg."
All you need to know for Friday:
Tommmy Barrett Interview Part 1 (being creative): Here.
Tommy Barrett Interview Part 2 (passionate support): Here.
Important Matchnight Information: Here.