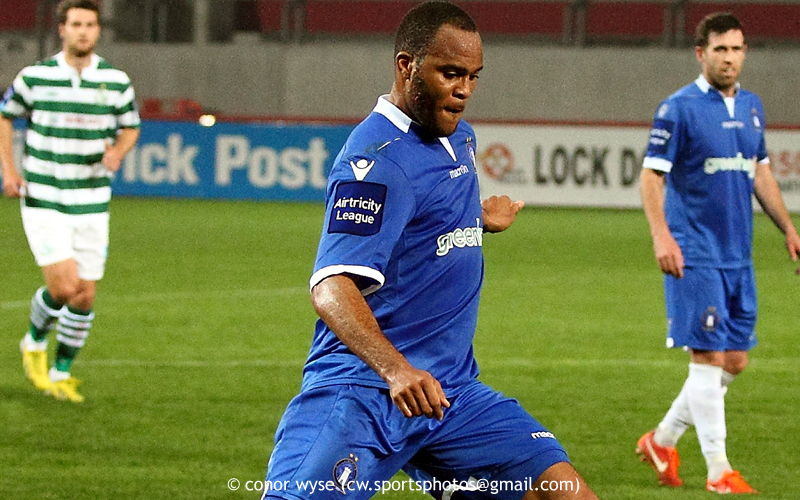 Player View: "There's More To Come" – Oji
Limerick defender Samuel Oji says "there's more to come" as he continues to find his feet and fitness in the League of Ireland, having made a huge impression in his first four appearances for the club.
The centre-half arrived towards the end of August and made his debut in the 2-0 defeat at reigning champions Sligo Rovers, but they remain the only goals he has seen conceded from open play.
In Oji's subsequent outings against title favourites Saint Patrick's Athletic, double cup winners Shamrock Rovers and at the time second-placed Dundalk, Richie Towell's penalty in the latter is the only occasion where the defence has been breached.
The 27-year-old has built up a strong partnership with Stephen Folan, while full-backs Patrick Nzuzi and Robbie Williams have also performed well in a back four that has stayed the same for four games running.
But the former Arsenal youngster, who departed Conference club Tamworth at the end of the English season, says he is still working his way towards his best form, with the Londoner hopeful of getting there by the end of the campaign.
"I haven't had a pre-season and I haven't really had a full preparation," Samuel told LimerickFC.ie when asked where he was fitness wise in terms of percentage.
"I came in and was playing catch-up, and I still am. But obviously with every training session and game, I'm getting better.
"Friday was a bit hard with regards to the surface and injuries with my knee.
"I had to use my head a little bit more and try to read the game and get myself into positions rather than rely on running, and try to get away with doing as little as possible!
"I couldn't give you a percentage. Is there more to come? Yes, there's more to come. Hopefully, I'll get there before the end of the season so everyone can see it before we crack on again."
Asked if he was happy with his form since coming in, he added: "I almost surprised myself a little bit because I hadn't played a competitive game since April so that was a long time out of action.
"I've been working hard on my fitness without playing games, but I've come in and the coaches put on good sessions to get not just myself but everybody sharp.
"We did defensive drills to help me to get used to it all over again, and Stevie has done brilliant beside me and he has helped me as much as I've helped him.
"I think we've done quite well. Once you get a good vein of form, it's sort of like momentum and you take it on to the next game, so long may it continue.
"Stevie is a good young player and he has got good attributes. We complement each other well and there's a good balance because he's left-footed whereas I'm right-footed. A lot of the time in England, I played on the left side, so here it's more balanced.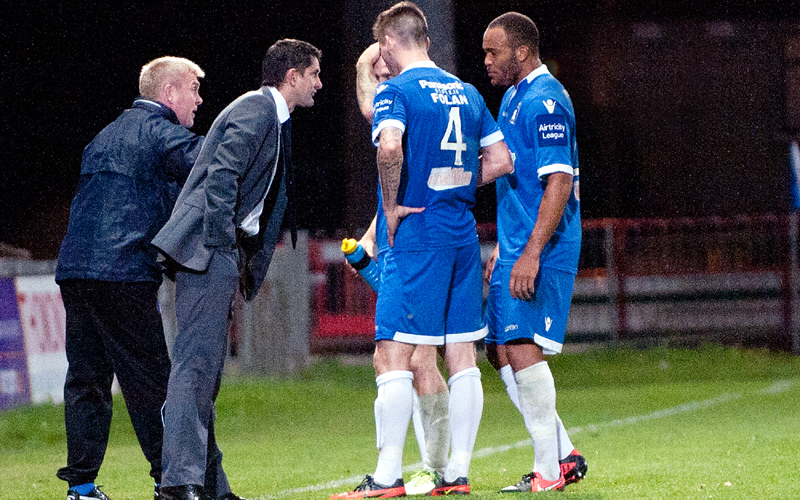 "I've settled in well to the club. The lads have been top quality. Stevie has helped me out since coming in and knowing Stephen Bradley was also good.
"It all helps when you're winning because you have a good spirit amongst the camp. The last couple of games we've had some good success which is great, as you have a good spirit, a laugh and good camaraderie, which you need."
Limerick's latest win came on Friday night as Dundalk's eight-match winning run at Oriel Park ended after Rory Gaffney struck a first-half brace.
"I thought the team did really well. We had a game-plan to get about them and I think we executed it well," Oji said.
"Obviously, it was hard changing from grass to AstroTurf, so that was a factor we had to overcome, but I thought in general we did well and got rewarded fully with what we got.
"Rory has done really well since the St. Pat's game, which was the first game he played since I came in, and he took his goals well in Dundalk. He puts in a good shift and shows a good work-rate and good endeavour.
"We defended quite well and they got a somewhat fortuitous penalty kick – I gave him a chance! – but we stuck it out well and got the result we deserved.
"I thought in the first half especially we kept them really quiet and the whole team defended really well.
"The goal gave them that second wind and they pressed and pressed. Obviously, a goal gives a lift to the players and the crowd, but we had a good game-plan and we stuck to it.
"It was important for us as a team to stay focussed and see out the ten minutes after that. I think once we did that that we were home and dry."
Oji's entrance to Irish football has been somewhat a baptism of fire as he has been faced with four of the top five teams in his first four outings for the club.
Asked what he made of the standard of the league so far, he said: "I think each team have their own style.
"Dundalk were a bit more direct and pressed us high up, whereas for instance, Shamrock Rovers and St. Pat's probably wanted to play it around a little bit more.
"But I think we're more than a match for them as we've shown in the last few games, so I don't think we're far off the teams that I've mentioned.
"I think collectively it's a strong league. Obviously, if we can finish the season well then it will give us a solid base to build on for next year.
"Good results breed confidence – that's football. We've bounced back really well from the Sligo defeat to the St. Pat's performance and then that momentum carried on into the Shamrock Rovers game, which was a brilliant performance.
"I think it was more of a fully-rounded performance from defence all the way to attack, and then again on Friday, we showed our resilience when we had to, but we also showed our cutting edge and attacking threat with the goals that we got."