Player View: "The Performances Are Getting Better" – Turner
---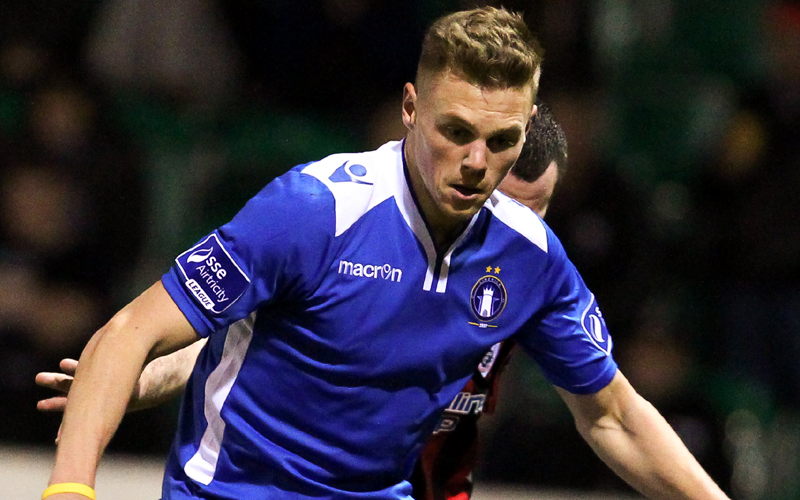 Winger Ian Turner believes Limerick's performances are "getting better" as he focussed on the "positives" following their narrow defeat by Saint Patrick's Athletic on Saturday evening.
Press Play To Listen
The FAI Cup holders edged to a 2-1 win at Jackman Park thanks to Aaron Greene's brace, with Martin Russell's team unable to complete a brave fightback after Turner's free-kick had reduced the deficit with 15 minutes remaining.
The former Cork City man struck his second goal of the week – having also been on the mark from the penalty spot in Tuesday's draw at Drogheda United – but Limerick fell just short as their search for a first league win of the season continued.
Turner believes a change in fortunes is not far away but he knows they will have to "tighten up" at the back having conceded another set-piece goal at the weekend.
"We're going away a bit disappointed because we've lost the game, but we've competed an awful lot better than what we did in the first home game," Ian told LimerickFC.ie. "We'll be looking to improve on that again.
"We're getting there; we'll pick up results as we go along because the performances are getting better. You have to look at the positives, but we are disappointed about not picking up anything.
"That is something we've got to work on again; we've conceded a lot from corners and set-pieces now. We've got to tighten up on them because that's all that's in the game, really.
"At half-time if you go in 0-0 it's a different game. We had as many chances as they did. It was the same in the second half. That's something we're going to have to work on even harder and we'll improve.
"I think it tells you how far we've come so far that we're going away disappointed that we didn't pick up something. It's encouraging but obviously we're disappointed and we know we're going to have to pick up points as well.
"The first game against Bohs, we didn't perform well and conceded two goals from set-pieces, and again one here. As I said, if we stop conceding those basic goals then we're not a million miles off."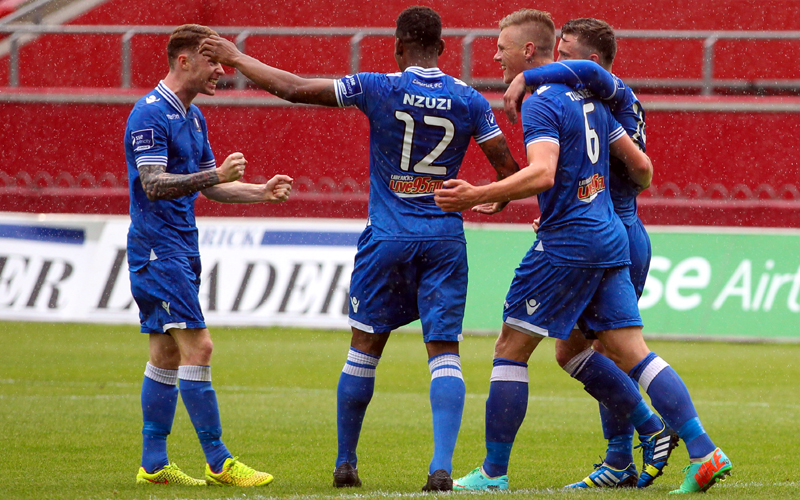 Turner brought his tally for the club to four goals with his free-kick against St. Pat's at the weekend
Turner netted twice during a loan spell with the club last term and already he has equalled that tally. The 25-year-old kept his goals target close to his chest but admitted relief at getting "off the mark early".
"It was probably too far to go up and over the wall. The 'keeper gave me a big gap on his side so I've gone for it and thankfully it's gone in," the Douglas native said on Saturday's strike.
"I have a target but I'm not going to tell you what it is. Obviously, I set myself targets at the start of the season and it's nice to get off the mark early.
"Once you get the first one then you're not as apprehensive about getting them, because once the first one goes in that's the monkey off the back. I've got my targets and I'll stick to them."
Limerick now prepare for the visit of reigning League Champions Dundalk, who have started with five wins from five and have yet to concede. But Turner hopes his side can use the tag of underdog to their own benefit.
"It's going to be a huge game for us," he said, looking ahead to the Easter Saturday fixture. "But we're going to have to approach it as best we can. People aren't going to expect us to get something out of the game but we can use that to our advantage.
"Hopefully if we can put in a performance similar to the one we put in on Saturday but fix those little problems that we have then we won't be far off.
"The first series of games is always teams figuring each other out. Teams think that certain teams are going to be favourites but you like to put a marker down in the first series of games. I think the next time we go play Pat's they know they're going to be in for a tough game."
Date: Monday 30 March 2015