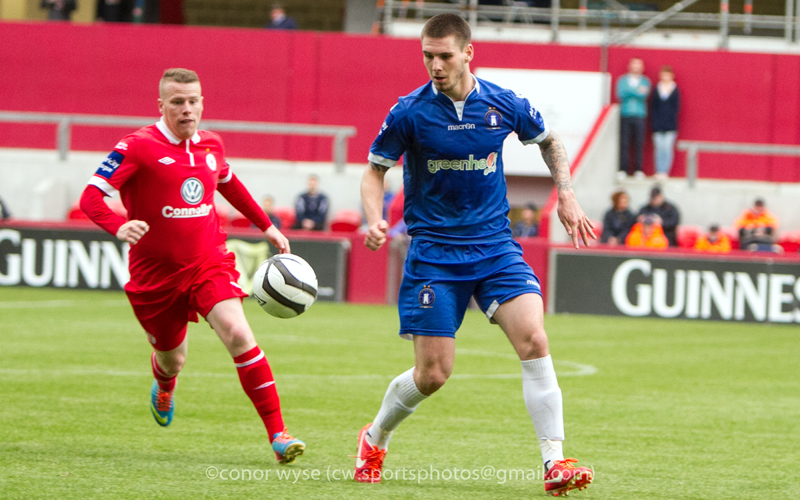 Player View: Folan Enjoying "New Lease Of Life" At Limerick
Limerick defender Stephen Folan has thanked Stuart Taylor and Malky Thomson for giving him the chance to prove himself at League of Ireland level, with the young Galway man enjoying a "new lease of life" at the club.
The 21-year-old centre-half returned home in July 2012 following a four-year spell at Newcastle United, where his stay was ruined by injury.
The former Mervue United, Galway Hibernians and Salthill Devon youngster arrived at Limerick ahead of this their first season back in the Premier Division and has so far played in 33 of their 34 competitive games.
Folan – who missed only the visit of Derry City in late July through suspension – has become accustomed to an unfamiliar central defensive role during the year, and he says the whole campaign has been a valuable learning curve for him.
He also says that his self-belief has grown, with the addition of Samuel Oji at the end of August helping him to develop further as a player over the past month.
"When I was over in England, I used to play left-back and as a holding midfielder, and I'd play centre-back sometimes as well," Folan explained to LimerickFC.ie.
"But I'm just grateful to the manager and assistant for bringing me in and playing me at such an early stage, especially not having much experience, even though I was over in England.
"I didn't play a lot of football over there because I was injured. A lot of it was down to myself.
"I was very unhappy with where I was and what I was doing, so to come here and get a new lease of life, I'm thankful everything has worked out for me.
"I've played over 30 games and I haven't done that in about four years. I think that's because I'm living right and I have the right people around me.
"The assistant manager (Malky Thomson) loves me – he's like my Dad! – Stuart (Taylor) has looked after me really well and Eddie Hickey has been brilliant for me.
"I think I've improved an awful lot as a player. I think the mistakes I made at the start of the season have stood to me.
"In the last couple of games, I've been very consistent in my play and I haven't made many mistakes in general – just little ones.
"I've cut them out of my game now, and playing with Sammy gives me so much more confidence in myself. Things before that I mightn't do I don't even think about now – I just do it because I have that belief in myself."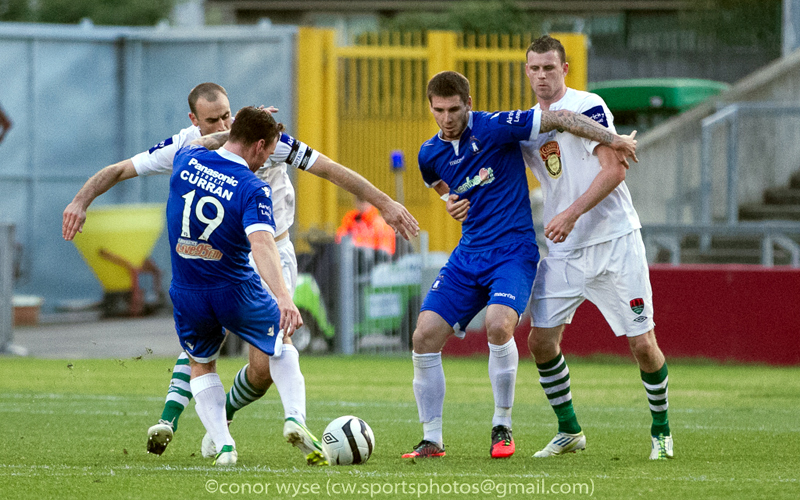 Asked how he found the standard of the League of Ireland, Folan added: "Just before I left Newcastle, I had a chance to come back and play in the league but I was trying to hold out and wait and see if there was an option to stay in England.
"There wasn't going to be one and then I ended up getting injured so I said I may as well come back and start again. I didn't know much about the league when I was over there even though I'm from here because it wasn't on TV.
"But there are some cracking players in this league that are good enough to play at a higher level, but whatever the reason is, they're here."
Limerick have picked up form over recent weeks, with a draw against Saint Patrick's Athletic followed by eye-catching wins over Shamrock Rovers and Dundalk.
And Folan says that the 17-day break between the visits of the Saints and Hoops was used well by the management team who he praised for the side's upturn in fortunes.
"We've got seven points from nine against St. Pat's, Shamrock Rovers and Dundalk, and that's a credit to the manager and staff for getting us organised," he said. "We all know what we're doing.
"There were times when some of us didn't know what we were doing, myself included, and it's just a lack of concentration and switching off. I feel in the last couple of games everyone knows what they're doing.
"The time off, where we had a break of 17 days, gave us a lot of time on the training ground to iron out things that we weren't doing well, and it has been great for us. I think it will stand us in good stead for the rest of the season.
"With Sammy coming in for the Sligo game, it has given everyone a new lease of life and a freshness, and straight away everyone started getting that little bit more confident, even myself.
"I feel like since he's come in I've been able to just worry about myself and be more confident, because he's a natural right-footer and he's comfortable on the ball, he gives good cover, he's quick and good in the air.
"The rest of the boys that played there this season, we just haven't clicked as a back four, but because we have a balanced defence now, it helps massively.
"You look at St. Pat's, who I think are going to win the league now, and their back four has been the same pretty much throughout. I think that reflects a lot on how your season goes. Having a settled back four is the most important thing, I'd say."