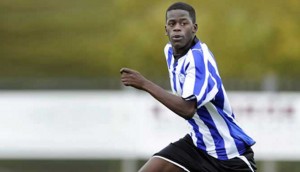 Limerick manager Stuart Taylor has been dealt a blow with the news that promising young defender Cecil Nyoni has been denied clearance and will have to return home.
The 20-year-old Zimbabwean Sheffield-based centre-half arrived at the club earlier this month, but Taylor revealed on Tuesday that the Superblues have been unable to process his registration.
Speaking to the local media at his weekly press conference in the Clarion Hotel, the boss explained: "Cecil has not been able to get clearance and unfortunately he will have to go back home.
"It's a situation where we were looking to bring someone else in in that position and unfortunately we've not been able to do it.
"The problem was Cecil's last club and the registration form that he signed was outside of our transfer window, therefore we couldn't do anything – it was just impossible for us to sign him.
"I only broke the news to Cecil last night after training. In all honesty, we knew about 4-5 days ago, but we tried everything to make it happen.
"But we just got to the stage last night where we just couldn't do it any longer and we have to look after him and send him back home so he can get a club and continue his footballing career somewhere else.
"It's a huge disappointment, but it's something we can't mope about on. We have to get on and deal with it and move on from here."
Taylor can still sign free agents between now and the end of August, but the 38-year-old stated: "The problem is are players going to come from now until the end of October and then be out of contract in November and December and not get paid?
"That's where we are at this moment in time. But I'm actively speaking to people and I have been doing that for quite a while."
Everyone at Limerick FC wishes Cecil the best in his future career.