Mulhall Re-Signs: "A Happy Footballer Is A Good Footballer"
---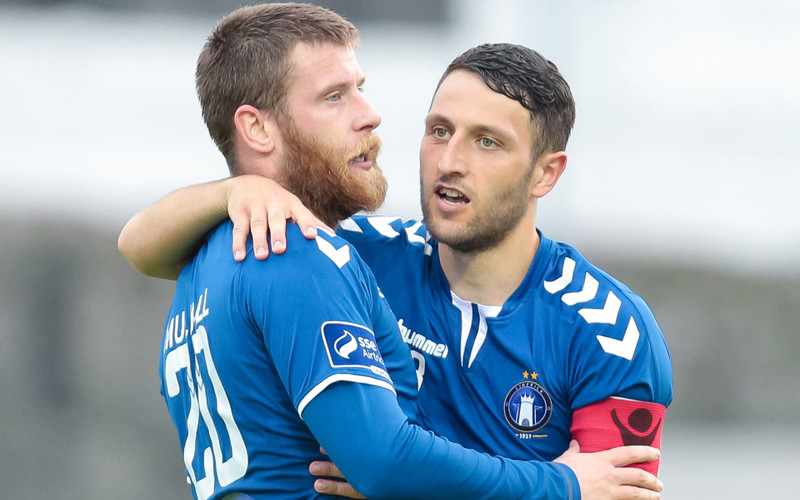 Limerick FC are pleased to confirm that our 2016 Players' Player of the Year Chris Mulhall has penned a deal for our return to the Premier Division, where he hopes to continue to excel having "loved everything about the place" in his first season at the club.
The 28-year-old was a key figure in the Shannonsiders' impressive SSE Airtricity League First Division title triumph, featuring in all but one of the 28 games and finishing alongside John O'Flynn as the club's top scorer on 12 goals.
Mulhall was popular with supporters, teammates and opposing players, winning Limerick's Players' Player of the Year award and ending up only second to his captain Shane Duggan in the PFAI Player of the Year voting. And he believes there is "still a lot of improvement" to come from him.
"I'm delighted to be signed back; since I finished up in October all I wanted to do was sign back," Chris said. "I was happy to get the call to have talks and it was done within 2-3 days. It was easy; both sides wanted the same.
"I really enjoyed last season. I loved everything about the place. A happy footballer is a good footballer. I'd like to think I was important to the squad. The dressing-room is brilliant there – I probably made friends for life with the boys down there.
"I said it before, I play my best football under Martin (Russell) and I think it proved again this year that he gets the best out of me. Everything about the Markets Field, I love it, the supporters are good to me – I love everything about the place, I really do. I'm really enjoying my football at the moment.
"I was very proud of the award with my own lads down in Limerick, for them to vote me Players' Player of the Year – that really meant a lot to me. I was really happy with that one. It was a great honour to get nominated for PFAI Player of the Year. Again, that's by your peers so it's the best accolade you can get, really, as individual awards go. Once one of us won it I was happy – I was delighted for Duggy on the night.
"Martin knew from before that I could play in a few positions. I started the first game of the season up front and got my goal. I think my best position is up front.
"Most of my career I've been playing out on the wing but I feel I've only been doing a job out on the wing rather than playing to my potential as a striker. I think it proved this year that my best position is a striker and I think I delivered the goods. But there is a lot hard work to be done and I think there is still a lot of improvement in me and I'm really looking forward to the challenge of the Premier Division next year."
Limerick eased to the First Division, finishing 23 points in front of Drogheda United who also went on to seal promotion through the playoffs, while the Blues made it to September's EA Sports Cup final where they were defeated by Saint Patrick's Athletic.
And Mulhall is relishing the top-flight tests that lie ahead. "That's where you want to be," he said. "That's why we wanted to wrap up the First Division as quick as we could and start planning towards the Premier Division straight away, because it's a whole different ball game as everybody knows.
"It won't be as rosy as it was last season. There are going to be real tests next year and there is going to be pressure on us. We had the disappointment of the Cup final alright and losing the unbeaten run but we didn't go through a rough time.
"In the Premier you're going to have a few weeks where you're probably not at your best and results might go against you. Nobody really goes through the season without any pressure. It's a big test for the club but it's one that we're ready for and one that we're going to prepare well for.
"There is huge potential at Limerick. The attendances we pulled in for First Division games, first of all, we got over the 1,000 mark for most of our games, and then you saw the occasion of the League Cup final. It was a massive occasion.
"You're looking at all the top teams coming down next year and they'll probably bring good support, the likes of Cork, Dundalk, Rovers. The Markets Field is in for a lot of good games, good atmospheres and good attendances next year, and with the way we play football most games are going to be entertaining.
"You have to start the league well and if we can get that good start you would like to think the fans will come through the turnstiles and we'll just go from there."
Birmingham-born, Portlaoise-based Mulhall joined Limerick last December following a second spell at UCD – his first included a First Division title success under Martin Russell in 2009 – while he also had two stints at Shelbourne either side of time at Shamrock Rovers.
Date: Friday 18 November 2016