McDonald: "We've Still Got Plenty Of Time"
---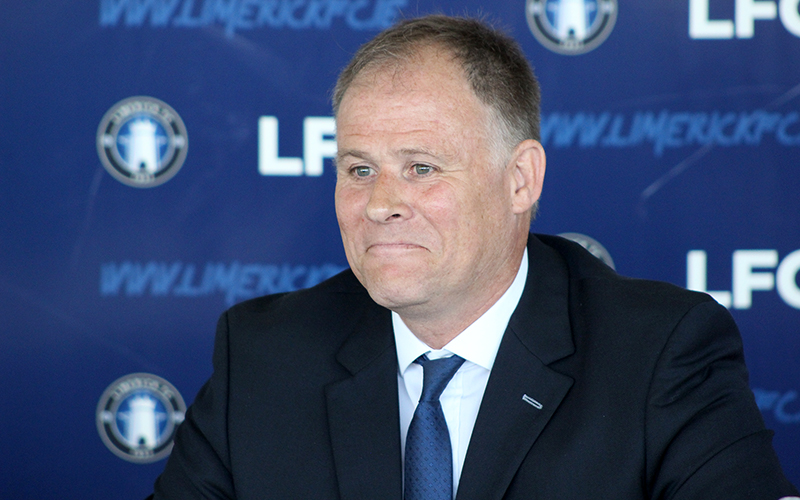 Neil McDonald insists Limerick will not rush into unwanted signings, with "plenty of time" to secure targets, two of which he is hopeful of confirming in the coming days.
The club currently have 11 players on first-team contracts, with new faces midfielder Cian Coleman and striker Danny Morrissey set to arrive on Shannonside when the squad return for pre-season training in the first week of January.
McDonald – who is currently in his native England – is working hard behind the scenes as he assembles a team for the New Year, and he is hopeful that Limerick will be in a position to announce some fruits of that shortly.
Speaking to Limerick's Live 95FM's Mike Aherne on the Saturday Sports Show, McDonald said: "We're trying to do everything, to be fair. Even though I'm back in England I'm in constant phone contact with the club making sure that we get players to come in. We've spoken to a lot of players; we're still waiting to hear back from some of them. Some of them said they don't want to come and obviously they've gone elsewhere.
"We've signed a couple of players, which is good, to add to the squad that we've got, and hopefully in the next 3-4 days we can announce another couple.
"We've still got plenty of time. The thing is not to panic and not to sign somebody that we don't really need to sign. We're trying to get a good balance of experience as well as that youthfulness, where they're going to push each other and have a little bit of a competition with each other. If we do that then we'll have a good chance of progressing from where we finished last season.
"The ones that we're going to announce in the next couple of days will make the squad a lot stronger, a lot more dynamic, a lot younger, more drive and more mobile – we're looking forward to those players in the next few days hopefully saying yes. That will add to the squad and make us very competitive.
"We have been speaking to 5-6 which we haven't got over the line, because they have gone elsewhere or they have kept their options open. If we can get a deal over the line then fantastic – if not then we'll just move on to the next target.
"Cork and Dundalk are always going to be first on the list for players, because they're playing European football along with Shamrock Rovers and Derry. They have got a head-start on us because if they're trying to recruit they'll just say come and play some European football.
"Some players that we have already spoken to have gone to those clubs actually, so at least we're in the ballpark, we're talking to them and trying to sell the club to every player and show them how we're going to try to progress."
McDonald spoke on the acquisitions of Coleman and Morrissey along with the welcome renewals of captain Shane Duggan and experienced defender Shane Tracy. The manager is particularly pleased to have tied down his skipper for another year.
"The biggest one is Shane," Neil said. "Shane is a fantastic player. He's our captain and we're really pleased that what we said and how we want to progress the football club, he has taken that all on board and he wants to be part of it."
On the departure of fellow midfielder Bastien Héry, the manager added: "Bastien wasn't in the team when I first came over. He got into the team and didn't really get to the top where he wanted to get to. Eventually, he got there, and then just dropped off towards the end.
"He said there were a couple of clubs; one in France and one in Ireland that he wanted to talk to, and obviously he decided to go to Waterford so we wish him all the best."
Commenting on players from the past season who have been offered contract renewals but have yet to accept, McDonald said: "They haven't committed. We haven't heard anything back from them.
"I get the impression talking to a lot of people that Irish players try to play their cards close to their chest and wait, not so much until the last minute but see if anything else comes up. That gives me a chance to try to recruit other players, and if we get them then the ones who are dithering might just run out of time."
McDonald is also looking at possible loan signings from the UK, stating: "I've been to watch games and been speaking to managers to see what they're doing, and trying to explain how we're going to push the club forward.
"I think if we can get someone like Joe Crowe again, who wants to play first-team football, they can come across, play games and get vital experience – some of the managers I've been talking to, that's what they want for their young players.
"Towards the end of the season we were quite consistent. We competed against the top teams, and if we can add the players with a little bit of experience as well as drive and determination – whatever level they have been playing at – that will give us a good chance to carry on what we finished off last season."
Limerick are preparing to return to pre-season training early in the New Year, and before that commences they should be aware of who awaits them in their opening fixture, which McDonald is looking forward to discovering.
He said: "Coming home to see the family is excellent. Obviously, I'm nonstop on the phone trying to recruit, and making sure that all the players have had their little bit of rest and they're back into their routine of trying to get fit and making sure that when we come in in early January that we're ready and raring to go.
"The next thing to look forward to is when the fixtures come out to see who we're playing – that will be good and we can get our head around where we start. It's vitally important that we get off to a very good start. We'll keep on trying to get players over the line; we're speaking to plenty and, fingers crossed, we can get a couple more done."
Keep an eye on LimerickFC.ie, 'Like' us on Facebook and Follow us on Twitter to keep up-to-date with all the latest news.
Want to watch Limerick FC for the best price in 2018? Then purchase a Season Ticket for unbeatable value – Buy Here!
Date: Saturday 25 November 2017