Match Preview: "The Pressure Is All On Cork" – McDonald
---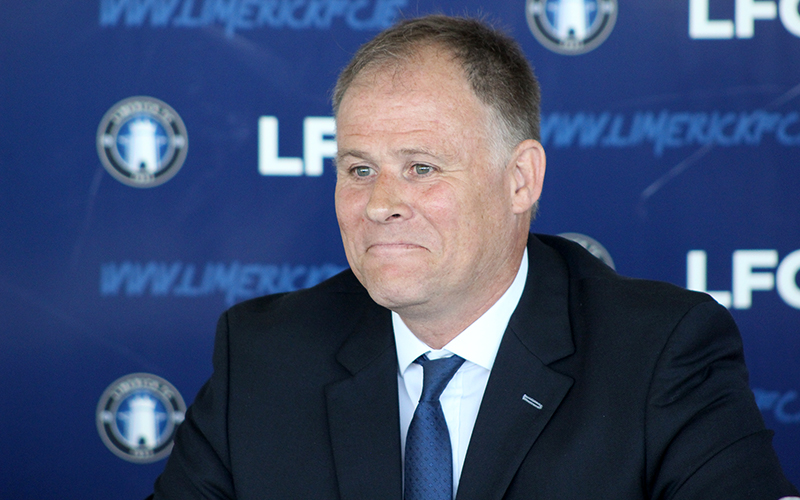 Limerick manager Neil McDonald says "the pressure is all on Cork" as he prepares for his first Munster Derby in charge at Turner's Cross on Friday night, kick-off 8pm (live on eir Sport).
Audio: Listen to Neil McDonald's thoughts on the Derby, below.
The sixth-placed Shannonsiders return from the midseason break with the most difficult fixture in the SSE Airtricity League Premier Division as they face unbeaten leaders Cork City, who have dropped just two points from 51 while they have won all eight outings at home.
With that, McDonald knows a "very, very difficult" challenge awaits, but at the same time an opportunity presents itself for his players to "feel really good about themselves" if they can claim a result against the odds.
"We're certainly looking forward to it. It's really good to go and play the elect Champions, undefeated this season. It's going to be a very, very difficult game for us to play away from home. But we're not going in with a defeatist attitude. We're going to try to upset, try to create and try to win the game," McDonald told LimerickFC.ie.
"The pressure is all on Cork. When you've won 16 out of your 17 games, you're expected to win. We'll try to surprise Cork on how we go about it – how we try to stop them but how we get at them as well.
"Everyone keeps on telling me this is a Munster Derby, so it's important that we try to perform well against the top team in the league, and if we can get some points that would be fantastic. We would only be the second team to do that and that will make us feel good about ourselves and give us huge confidence for the rest of the season."
Limerick go into the game boosted after beating Bray Wanderers 5-3 in their last outing at the Markets Field a fortnight ago, where two late goals saw them move to within four points of fourth position.
"There are two ways of looking at that," Neil said, asked if the midseason break had helped or hindered them. "If we've had a few injuries hopefully they will come back fit, but at the same time I wanted to work with the players. Some of them had a little bit of a break which is good – they've come back and trained really well this week. I'm happy with that.
"Ideally, it wasn't a good break but, on the other side, with them having a little bit of a rest themselves after a good victory and a good performance against Bray, they're still in good fettle and they're really looking forward to the game.
"It has been good this week. We've trained well and we've had a little bit of feedback on the video as well, so it hasn't always been physical – it's been mental preparation as well as tactical preparation. We're on the grass today at the Markets Field so we're really pleased with that and we'll look forward to travelling down to Cork tomorrow."
The teams have already met twice this season, in the league (March) and League Cup (April), with Cork recording two 3-0 wins at the Markets Field. On Limerick's last trip to Turner's Cross in August 2015, they bagged a 3-2 victory with the winner coming from then 18-year-old Paudie O'Connor.
Team News: Limerick have a number of fitness concerns but those will be given every opportunity to make it. The Shannonsiders have no suspensions.
Officials: Referee for the game is Rob Rogers, his assistants are Robert Clarke and Darragh Keegan with the fourth official David Keeler.
Preview Date: Thursday 15 June 2017