Match Preview: Taylor Eyes First Win Against Former Club
---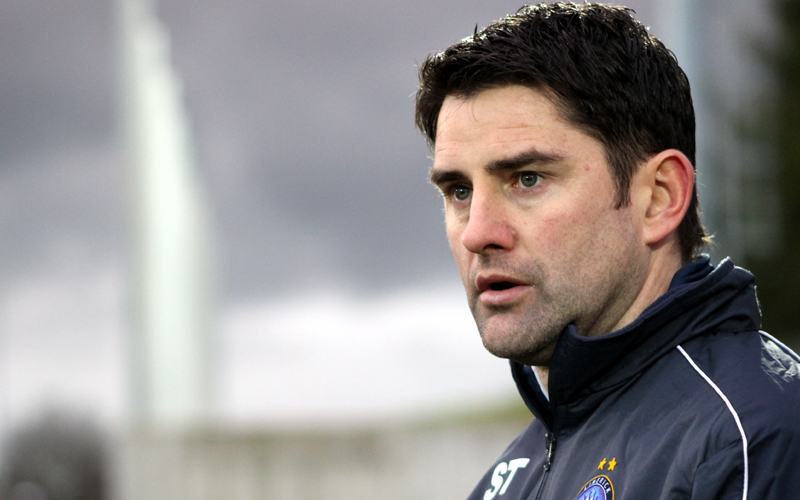 MATCH PREVIEW: TAYLOR EYES FIRST WIN AGAINST FORMER CLUB
Limerick manager Stuart Taylor is hoping to finally secure a win against his former club Drogheda United when they visit Thomond Park in the SSE Airtricity League Premier Division on Friday night (kick-off 7.45pm), as his players return home after three away games.
The Superblues were on the road for their EA Sports Cup tie against Cork City before league trips to Dundalk and Saint Patrick's Athletic, the top two from last season.
Taylor's side failed to win in those three games but the performances in their last two outings will have given them much confidence, after they were unlucky to go down to a late goal in Oriel Park before earning a draw at the reigning champions last Saturday.
Nineteen-year-old midfielder James McGrath was the hero for Limerick as the Tipperary man struck 13 minutes from time, the exact same stage of the game where Kurtis Byrne had broken their hearts in the border town eight days earlier.
Now, they return to the iconic Munster venue where they played out a dull scoreless draw with Bray Wanderers on the opening day of the campaign.
And on the back of such encouraging displays against top-quality opposition, Taylor is eyeing a win at the fourth attempt against the club for which he played in the interim 2002/03 season.
"I was really happy with how we played and the end result against St. Pat's," Taylor, whose team took just one point from three meetings with Drogheda last term, told LimerickFC.ie.
"I felt that the players definitely deserved to get something out of the game. They stuck to their task and I thought that the effort that they put in was fantastic. They thoroughly deserved to get the point out of the game. We deserved to get something out of the Dundalk game as well, but that's the cruel side of football. Last Saturday, the players got their rewards and all credit to them.
"Being champions, St. Pat's were always going to have a spell in the game where they were on top. I felt the only time they had that spell was when they got the confidence after scoring early in the second half when we made an error.
"In the first half, we were very comfortable and I don't think Barry Ryan made one save. They were on the ascendancy after their goal but that's normal.
"Credit to our team for the way that they defended throughout that spell and I think the turning point came with Barry's save from Chris Forrester. We managed to get back in about things after that and it was a fantastic pass from Shane Duggan to find James McGrath who finished really well for the equaliser.
"I think as a back five we looked solid. I thought young Shane Costelloe did great before he had to go off with injury, but when Patrick Nzuzi went in there it was still a solid unit.
"We start our defending from the front and it was a hard shift for Rory Gaffney up top. There was some pressure in the second half but our defence did well with everything that came their way, and even with the pressure that St. Pat's had we looked comfortable.
"There were never any worrying times for us as a backroom team staff thinking that we had to go and change things around or do anything drastic. We always felt confident and assured that we wouldn't lose any goals.
"We are looking forward to Friday's game now as we hope to build on that draw. We're starting to get a few players back in about the squad after injury and illness.
"One of those that has come back in is Barry Ryan who got a late call-up to the starting team last Saturday as Shane Cusack was feeling unwell before kick-off. Barry had a couple of training sessions in the build-up to the game after missing all of our pre-season matches, but he did nothing like a game situation.
"To be called on at the last minute typifies the ability that he's got and proves why he's one of the top goalkeepers in the country.
"Drogheda are classed as a Premier Division side; they have been in the top flight for years now. They've got great experience of it and they know what it's all about. They've got a good, strong squad and it will be a tough game for us. I enjoyed my time with Drogheda. But it's not what other teams do, it's what we do.
"I hope our supporters turn out in numbers and get behind the boys. I know through the experience of last year that when they do turn up they are very vocal. That means a lot to the players, who made comments throughout last season about how much it spurs them on. We'll need the same off the supporters again.
"The players have taken a lot of confidence from the game and result against St. Pat's. We will now look to get our first league win of the season and also a victory over Drogheda, which we didn't get last year.
"The odds were stacked against us with the penalties and red cards in the first meeting but we managed to get away with a point. We then lost the game down here. When we played them the last time in Drogheda we weren't in a great place; the balance wasn't there as it was before Samuel Oji came in. We let ourselves down that night but, hopefully, we can make up for that this Friday."
Ahead of the game, Taylor will continue to monitor a number of his more experienced players who are battling injury.
Last season, the first meeting of the teams at United Park in March ended in a 2-2 draw. Drogheda's two goals came through Declan O'Brien penalties while Aaron Brown and Shane Tracy scored for Limerick who finished with nine men.
At Thomond Park in May, Paul O'Conor scored the only goal on the half-hour in a game where Limerick finished with ten men. And back in Louth in August, O'Brien, Gavin Brennan and a Ryan Brennan spot-kick secured a comfortable 3-0 win for the Boynesiders.
Referee for the game is Graham Kelly, his assistants are Allen Lynch and Emmet Dynan and the fourth official is Padraig Sutton.
Preview Date: Thursday 27 March 2014