Limerick FC TV: U19 Reaction: "We Weren't At Our Best" – Barrett
---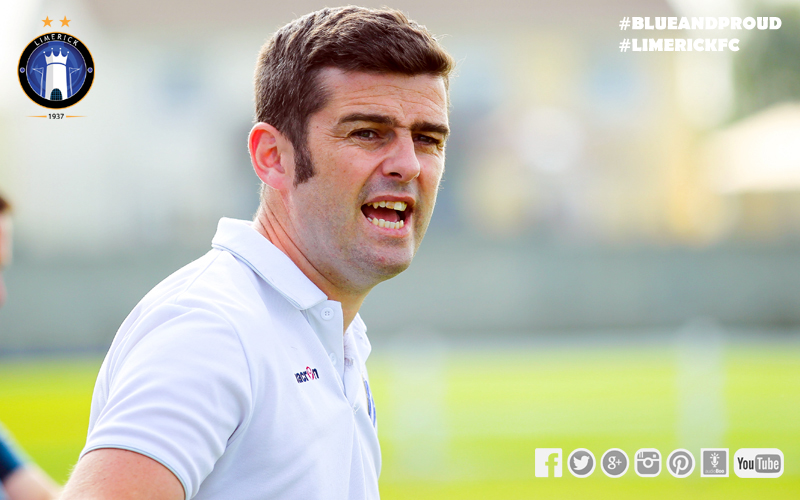 Limerick Under-19 manager Tommy Barrett felt his side "were not at their best", as they exited at the semi-final stage of the Champions Knockout Phase at home to Saint Patrick's Athletic on Sunday afternoon.
Watch our interview with Tommy on Limerick FC TV, below.
The young Shannonsiders had the better of the first half at Hogan Park but they saw their ten-game unbeaten run come to an end after the break, with an own-goal, Paul Bracken and substitute Stephen Ball seeing the Saints through to the decider.
That left Limerick having to be content with the Southern Elite Division title which they won last month, and Barrett says they "have got to be happy" with the overall campaign.
Still, the former Blues captain was "disappointed" with their exit from the competition. And while they will continue to train through to May, the boss has a clear view of his approach for the new season.
"I'm disappointed with the result but the boys have done well all year – these things happen," Barrett told Limerick FC TV.
"St. Pat's might have had only three or four chances in the game, probably four. They took three chances. They were clinical. We probably had twice as many corners if not more. We played in their third a bit more than them, but they took their chances and we didn't.
"We made it easy for them with our finishing. But that happens sometimes. That's the way it goes – that's football.
"I don't think it was a great game. I don't think they played too well. We weren't at our best. But they just took their three chances. We didn't take ours. It was just one of those games. It just wasn't a great game. There's not much more I can say on it.
"The lads have done very well this year. We have players in around the first team as well. Overall, you have to be happy. In winning the Southern Division and getting to the semi-final of the All-Ireland. We've got to be happy with that.
"We still have 18 lads underage next season. We might have a look at one or two others and we'll see if we have to let any go. We'll probably bring in a bit more quality in the attacking third; just somebody that will put the ball in the back of the net if the day isn't going great for you.
"We need to be more clinical. But the lads that we have are all good lads and we can work on that with them as well.
"We probably need a striker that will get 10-15 goals a year. We haven't got that this year. We've had lads that were scoring five and six, but again, that's probably down to the fact that we don't play everyone every week. We change the team a lot. A bit of it could be due to that as well."
Limerick finished the season with defender and captain Conor Maguire (one in the National Cup) and forward Seán McSweeney as their top marksman with six goals each.
Date: Sunday 19 April 2015