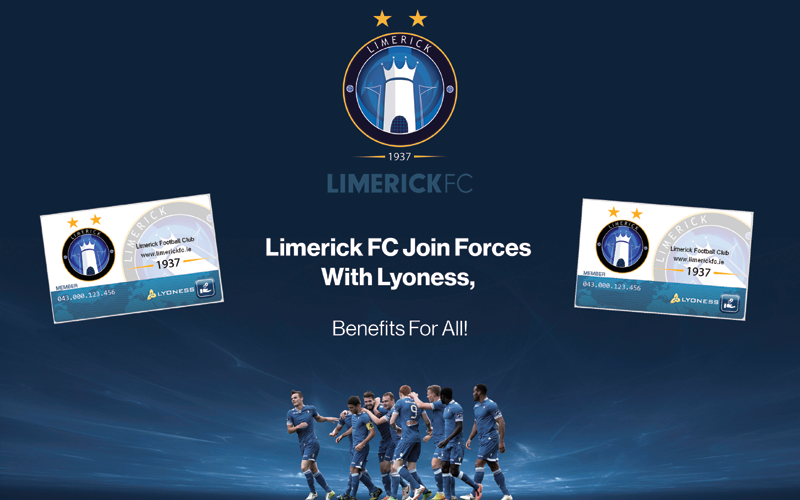 Limerick Football Club Sign Lyoness
Limerick Football Club has teamed up with the Lyoness international loyalty programme to give over 5,000 Limerick FC supporters the Lyoness cashback loyalty card.
The loyalty programme was launched to Limerick FC supporters this week in advance of its big match with Shamrock Rovers this Friday.
Limerick Football Club have been looking at ways to reward the loyalty of their supporters and with the Lyoness cashback card they will become the first League of Ireland team to offer cashback and discounts to their supporters every time they buy match tickets or club merchandise.
At the launch of the Lyoness loyalty card programme Limerick FC Chairman Pat O'Sullivan said: "We loved the idea of the card as our supporters will get discounts and uniquely cashback whenever they shop with us and also at a range of Lyoness loyalty merchants locally. Our club has close ties with the Limerick business community and this card will encourage our supporters to shop locally which is very important for the people of Limerick."
Michael English, Managing Director Lyoness Ireland, said: "We are delighted to have signed up Limerick FC to be our first League of Ireland football team to the Lyoness shopping community. Limerick FC supporters will get cashback with every purchase from local member shops and the shops will be able to offer loyal supporters special offers and further deals. Supporters will also benefit from shopping at a range of online stores through the Lyoness website."
Lyoness currently operates in 45 countries, with four million members choosing from 40,000 participating businesses. In Ireland there are over 300 loyalty merchants and over 20,000 Lyoness members with more coming on-board every week. Members can shop locally or choose to shop with a range of online stores where they can avail of cashback and other loyalty benefits.
Lyoness was founded in 2003 as an international shopping community, designed to increase the buying power of members by working together. Lyoness members receive up to 2% cashback and other rewards with each purchase they make, while Lyoness merchants are able to offer these rewards as they benefit from growing a loyal customer base.
Log on to www.lyoness.ie or ring 00353-1-7917700 to find out more and download the Lyoness App to locate your local merchants.
Further Information: Pauline Crowley, Marketing Ireland – Lyoness Loyalty Ireland Limited, pauline.crowley@lyoness.ie / +353-1-7917700, www.lyoness.ie.
Media information: Eimer O'Keeffe, PR contact / 086-8249040 / eimer.okeeffe@gmail.com.
Note to Editors: Lyoness currently operates in 45 countries, with four million members choosing from 40,000 participating businesses. Lyoness members receive cashback and loyalty benefits on their purchases and merchants get access to a loyal member base which enables them to offer a variety of further deals and special offers for regular shoppers.
Members: New members can join for free by registering with a participating SME when they make their purchase. They can also register, online through the Lyoness website or be recommended by a friend. New Lyoness members receive their free cashback card plus access to their personal online office, detailing their purchases and benefits. By using the card they can begin generating cashback of as much as 2% of their purchase values from the minute they sign up. Shoppers enjoy four ways to shop and earn cash back and loyalty benefits – online, in-store, with merchant gifts cards and via the Lyoness mobile App. www.lyoness.ie
Merchants: For Merchants to join the Lyoness Loyalty programme, they can apply through the website and a Lyoness representative will get in touch or they can call the office directly on 01-7917700.
Date: Monday 28 July 2014