Limerick FC Honoured At Civic Reception
---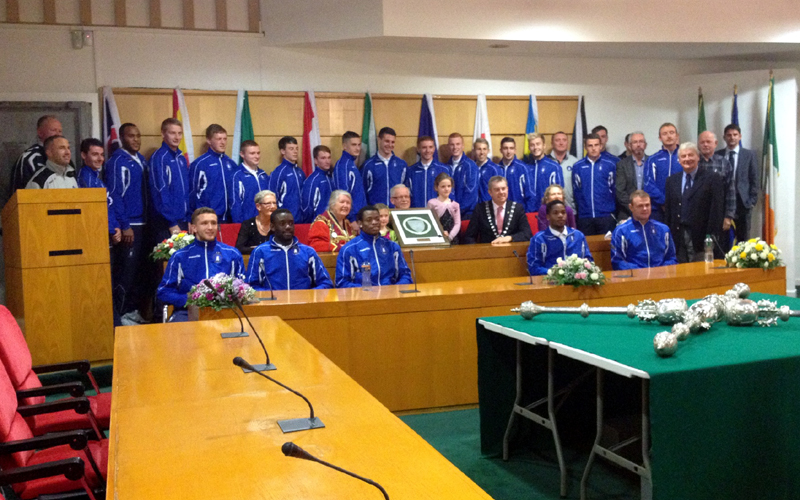 On Thursday last, 24 October, Limerick FC were Honoured with a Civic Reception by Mayor, Cllr. Kathleen Ledden at City Hall.
The Civic Reception is the highest honour that the City Council can bestow and Limerick FC were delighted to share the honour on the night with the Irish Women's Rugby Team and Richmond RFC, all three organisations being recognised for their sporting achievements over the past 12 months.
In her opening remarks, Mayor Leddin commented on the importance of sport in "trying times" and stated that the club was "a great source of pride for all involved in soccer and in sport in Limerick". She paid particular tribute to Chairman Pat O'Sullivan and the building of the academy and community sections of the club in recent years.
Tributes were also presented by a number of Councillors present on the night including Cllr. Diarmuid Scully who credited Limerick FC's "sheer commitment to the community, through the academy" and Cllr. Maurice Quinlivan who added that "Limerick FC have done great work promoting the most popular game in the region".
Accepting the honour, Chairman Pat O'Sullivan thanked his family for their support in recent years, stating his wife Helen "kicks every ball with [me]" as well as the staff, players, sponsors and volunteers and the LDMC.
He highlighted the success of our growing academy and our links with schools and third level institutes opening "the pathway for player education through football, instilling a discipline in our young players to challenge themselves on and off the field".
Mr. O'Sullivan also challenged the council, on a night where three sporting organisations were being honoured, to recognise and support the good work that sporting organisations are doing in the community and to further encourage cross-sport co-operation.
Ger Duffy, President of Richmond RFC, and Niamh Briggs of the Irish Women's Grand Slam-winning rugby team accepted the honour on behalf of their own organisations.