LFCTV: U19 Preview: "There Is A Kick Of A Ball Between Most Of The Teams" – Barrett
---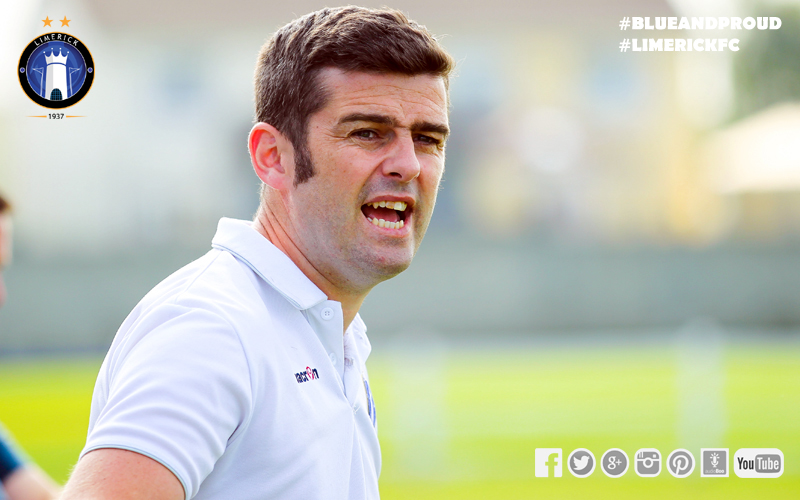 Limerick Under-19 manager Tommy Barrett knows just a "kick of a ball" is likely to separate the teams when they face Saint Patrick's Athletic in the Champions Knockout Phase semi-finals at Hogan Park on Sunday afternoon (kick-off 3pm).
Limerick FC TV spoke to Tommy after Wednesday evening's training session. Watch below.
The Southern Elite Division Champions came back from the brink when down to ten men at home to Shelbourne in last weekend's quarter-final at the same venue, snatching a last-gasp equaliser from Shane Lowth in extra-time before going on to win on penalties.
That extended their unbeaten run since Christmas to ten games and it keeps their dream of winning more silverware alive.
The previous day, St. Pat's had sealed their place in the last four with an impressive 3-1 win at Waterford United, a result which Barrett says will earn them "an awful lot of respect" from his players.
"St. Pat's are a good side; we've watched them a couple of times now," Tommy told Limerick FC TV. "They're a typical Pat's side; they're very good footballers and play good football. They're all comfortable on the ball and a good technical side.
"Any team that goes to Waterford and wins 3-1 earns an awful lot of respect because Waterford are a good side.
"We gave the boys Tuesday off. We usually train then but we trained on Wednesday instead. They just needed that bit of extra rest, some of them. But they'll be fine. They're fit boys – they'll be well able for it.
"Technically, if you look at it, it wasn't a brilliant game last Sunday, because when you go down to ten men it's more of a battle than anything. That's what it became at times in the last few minutes.
"In the first half, I thought both teams tried to play the best they could play. The pitch cut up a small bit I thought in the second half; just looking back on the video there's a bit of a bobble on it.
"But it's as good as what we're going to get this time of year anywhere. I'd be happy enough with the pitch at the same time, especially if there is more work going on it this week. I really like Hogan Park as a venue – it's a good venue. Hopefully, we can continue there and win again.
"We don't practice penalties at all. We didn't practice them. I just think on the day you go pick your spot and don't change your mind. You go and score.
"We don't expect to go to penalties all the time. Hopefully, it doesn't go that way but if it does, at least we have a win under our belt with penalties now.
"We're always confident that we can win. We'll have a game-plan – if everyone sticks to it I don't see any reason why we won't win.
"But obviously there is a kick of a ball between most of the teams in both divisions. I think it will be very tight. It will be very close and it will go either way. But again, all we can do is try our best."
St. Pat's finished third in the Northern Elite Division – three points off winners Bohemians – after losing just three of their 18 games. Their last defeat was at home by Sligo Rovers (1-2) in early March.
Midfielder Jack Lynch misses the game after his first-half red card against Shels.
Admission is €5 (includes Match Programme); Under-16s go free. Get along and support our young players!
Preview Date: Thursday 16 April 2015