Kelly Expecting "Tough Game" As Drogs Visit
---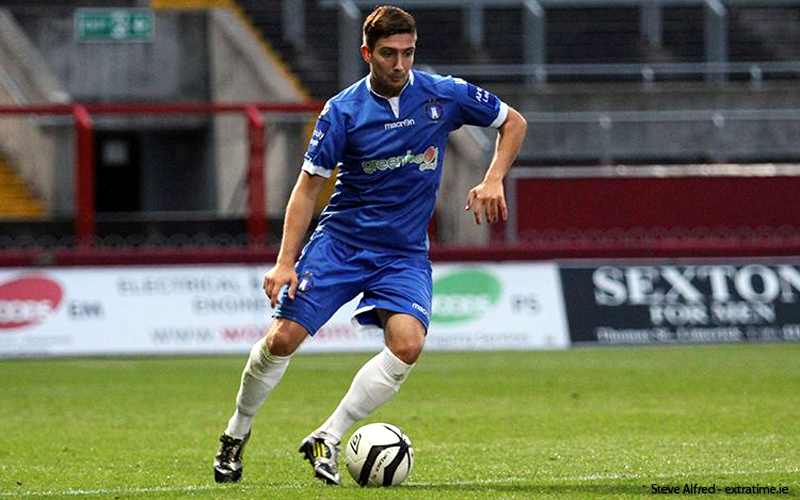 KELLY EXPECTING "TOUGH GAME" AS DROGS VISIT
Limerick defender Shaun Kelly is expecting a "tough game" from Drogheda United at Thomond Park on Friday night (kick-off 7.45pm), as the Superblues go in search of their first win of the season.
Press Play To Listen
Limerick have taken two points from their opening three league games, through draws against Bray Wanderers and Saint Patrick's Athletic, with an unlucky defeat by Dundalk coming in between.
Having opened their campaign with the visit of the Seagulls three weeks ago, Stuart Taylor's side were faced with back-to-back away games against last season's top two, where they put in two very encouraging performances.
Last weekend, their efforts were rewarded when James McGrath grabbed a 77th-minute equaliser to cancel out Christy Fagan's early second-half opener for the reigning champions at Richmond Park.
But it was the save 12 minutes earlier from Barry Ryan to deny Chris Forrester a second goal that changed the outcome of the game, with Kelly going on to heap praise on the veteran 'keeper who was appearing for the first time in 2014.
And now the 25-year-old wants to build on that draw by securing their first win of the season against Drogheda, a team he had close encounters with during his Dundalk days.
"We want to get our first win on the board," Shauny told LimerickFC.ie. "It's going to be a tough game. Drogheda are a good side, but hopefully we can get the three points.
"It was a great point to get last week. Obviously, you want to go into games and win them, but we know going to a team like St. Pat's that a draw is a good result and we were delighted with it.
"When you go to the Champions, you know you're going to be in for a tough game. We rode our luck at times. They put us under pressure but I thought we dealt with it very well.
"They had a lot of corners but it shows how well we defended them when they didn't score from any. They had a few free-kicks as well. That's another good defensive point for us.
"It was a good finish from Christy Fagan for them but we didn't let it get us down. I think we showed good character to come back and get the goal.
"James took his goal very well. When I saw him going through, I could see the corner and I was hoping he'd go that side of him and lucky he did. It was a great finish into the corner of the net.
"I asked him after it could he remember much but he couldn't – he was just delighted with the goal. He got us the point in the end."
Before the game, there was a late change as Ryan was called on to start ahead of the ill Shane Cusack. And Kelly praised the 35-year-old's display, particularly his fingertip save from Forrester's rising long-range shot.
"Barry is back to his best again after missing the last few weeks and it's good to have him back in," Shaun said. "Cusack has done brilliantly when he's been in as well. He had to pull out before the game with illness.
"The two of them are great 'keepers and Baz showed his quality picking that shot out of the top corner. I don't think there are many other 'keepers that would have saved that.
"We had a laugh with him afterwards. He knows himself that he kept us in the game because it would have been 2-0. It was a great save.
"He must be about 50 now! He's still going strong and still doing well, even in training. Since he's come back in, he's a voice around the changing room. He's an experienced fella. I think it's 500 games he's got now. He's the most experienced of all of us and he showed that experience."
Last Saturday's result came eight days after a disappointing loss in Dundalk, who snatched a late winner through Kurtis Byrne after Limerick had taken an early lead in the game.
"I think it's played its way around," the Donegal native said. "We were unlucky to come away with nothing last week, having gone 1-0 up. We knew going to St. Pat's that a draw would be a good result and we'll take it.
"After the game in Dundalk, where it was an awful disappointment, it was great to get a point. St. Pat's were Champions last year and Dundalk finished second. To say that we should have had a point in Dundalk and got a point against St. Pat's is great to see.
"Especially with the likes of Robbie (Williams), Craigy (Curran), Danny (Galbraith) and Mick (Leahy) all missing. For the boys coming back, there is competition for places and it's looking good."
Article Date: Friday 28 March 2014