"I've Made The Right Decision" – O'Donnell On Return
---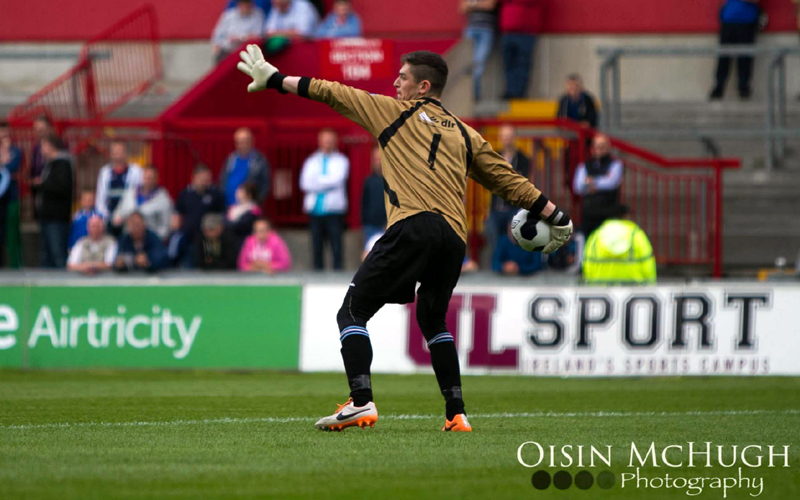 Young goalkeeper Conor O'Donnell believes he made the "right decision overall" having left Ipswich Town and turned down an Italian job in favour of his education.
Press Play To Listen
The stopper, who turns 21 in January, departed Ipswich in 2012 and played for UCD's Under-19 team while completing his Leaving Certificate.
The Buncrana man then started a Business and Law Degree on a sports scholarship having moved into the first-team setup with the Students, under Martin Russell, playing 39 Premier Division games over the past two seasons.
Education was at the forefront of his mind despite showing much promise between the posts. But now with that base behind him, the youngster is hoping to push on with his career again after rejoining forces with his former boss at Limerick this week.
"Game-time is so crucial, I think, for a goalkeeper," O'Donnell – who turned down other top-flight interest – told LimerickFC.ie. "Usually you don't get playing until you're older.
"But if you can get game-time in senior football when you're at my age it's really key. It improves you more than training will in any way. Playing games is very important.
"There was a choice when I came back from Ipswich whether I was going to stay in England and sign a professional deal, or I had another choice to go over to Italy actually and play Serie B.
"I think I made the right move coming back because I made it in terms of education, and I got it. I did my Leaving Cert, which I was disappointed not to have going over. At the same time I was able to play football which is really good. I think I've made the right decision overall."
On his move to Shannonside, Conor added: "Martin is a very good manager. He's a good man-manager as well, which is important.
"You need someone that will look after you. Being a young player coming into a senior team is a big move for me and I know I can trust him, so that's important for me as well.
"It took a while to go through; I didn't know where anything was going after the end of the season. I'm delighted that Limerick came in for me and overall delighted that I've signed here.
"Staying in the Premier was the main decision that I had to make. I didn't want to drop a level of football. I think it's too big of a drop. Limerick are not only in the Premier Division but they seem to be gaining yards in the Premier Division, which is key.
"It's a great move for me. I think the last two years are the biggest improvement I've made. It has been gradual. I've been consistent in every year but I think the last two years, after I came home from Ipswich, training with UCD I really took off. It has been class training more full-time and I've done well."
O'Donnell was part of a UCD team that suffered relegation from the top flight in October, losing to Galway in the playoff, and the 'keeper was "sad" to see them demoted.
"It was really difficult and really sad as well," he said. "We had a good bunch of lads there but unfortunately obviously quality wasn't at the right level for the league and we got relegated. It was devastating – really bad."
With Seán Russell and Dean Clarke also penning deals on Thursday, O'Donnell immediately has familiar faces in the dressing-room.
"The lads helped me to settle into UCD actually once I moved over from England," he said. "We know each other really well now, so I might be even living with them next year. We'd be pretty close, so it'll be good.
"I'm based in Dublin the past couple of years. I've never really gotten home to Donegal but I'll be based in Limerick now, possibly Castletroy. I'm looking forward to pre-season since the league ended. I didn't want it to end, really, but it did and I'm buzzing to get back playing again."
O'Donnell, a former Republic of Ireland underage international, had been at Buncrana Hearts before moving to Ipswich – then managed by Roy Keane – on a two-year contract in April 2010.
Date: Friday 19 December 2014