Irish U19s: Mann Called Upon For Azerbaijan Friendlies
---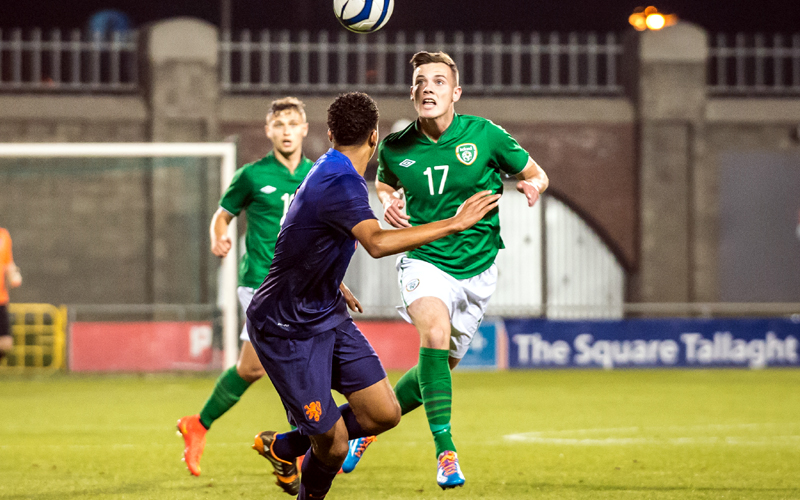 Limerick forward Ross Mann has been included in the Republic of Ireland Under-19 squad to face Azerbaijan in two friendlies later this month.
The Kilcornan native, who turned 19 in January, will join up with Paul Doolin's side in the capital on Monday 23 February ahead of the two matches at Tallaght Stadium on the 25th and 27th.
This is the final preparation for the Irish before the UEFA Under-19 Championship Elite Phase which takes place in March.
Mann recently took part in a two-day training camp with a home-based squad, setting up the goal for teammate Val Feeney in their win over Bohemians. He had previously played against the Netherlands in a friendly win last September.
Now, Ross is back alongside fellow Limerick man Joel Coustrain – formerly of Corbally United, now at Sheffield United – for the tests against the Azerbaijanis.
"Hopefully we can get all the players in that we've selected. We've a couple of new players in," Doolin said.
"I watched Billy Murphy playing for Bristol City, he can play centre-back or midfield. It's also good to see that Josh Cullen has returned from his injury. I'm looking forward to seeing Shaun Donnellan back again after he also had an injury."
Doolin's side have been impressive throughout their campaign and the Irish boss wants to give his side his best chance of progressing to the finals in Greece this summer.
The Elite Qualifying Round fixtures take place next month when the Irish travel to Germany to face the hosts, Czech Republic and Slovakia.
"We're hoping we can build on the very positive results we've achieved this season," Doolin said. "We played Azerbaijan in Sweden last year and they've progressed. The national team programme gets a lot of support financially over there and so it's set for two good games for us.
"The Elite Phase is three months earlier than usual. Azerbaijan also qualified for the Elite Phase and are in with England. So this is very important preparation for us.
"I appreciate all of the clubs letting us have access to their players. It's the first time I've asked for clubs to release players outside of a FIFA week since the UEFA finals in 2011. I understand that there will be potential issues with access to some players but hopefully we will get in the players we need to prepare for the Elite Phase.
"We had a very good first phase in Waterford when we were expected to progress. You still have to go out and beat the opponents. We played particularly well against the Swiss with ten men for a long time."
U19 International Friendlies: Wednesday 25 February: Republic of Ireland v Azerbaijan, Tallaght Stadium (7pm); Friday 27 February: Republic of Ireland v Azerbaijan, Tallaght Stadium (3pm).
Republic of Ireland Under-19 Squad:
Liam Bossin (Anderlecht)
Harry Doherty (Brighton & Hove Albion)
Kevin Toner (Aston Villa)
Billy Murphy (Bristol City)
Fiacre Kelleher (Celtic)
Timmy Murphy (Cork City)
Harry Charsley (Everton)
Noe Baba (Fulham)
Eoghan Stokes (Leeds United)
Ross Mann (Limerick)
Cieron Keane (Notts County)
Ryan Manning (QPR)
Reece Grego-Cox (QPR)
Seán Heaney (Shamrock Rovers)
Connor Dimaio (Sheffield United)
Joel Coustrain (Sheffield United)
Jamie McGrath (Saint Patrick's Athletic)
Shaun Donnellan (West Bromwich Albion)
Jack Hallahan (West Bromwich Albion)
Josh Cullen (West Ham United)
Date: Tuesday 10 February 2015