Irish U17s: Brouder Targets "Improvement" On Training Camp
---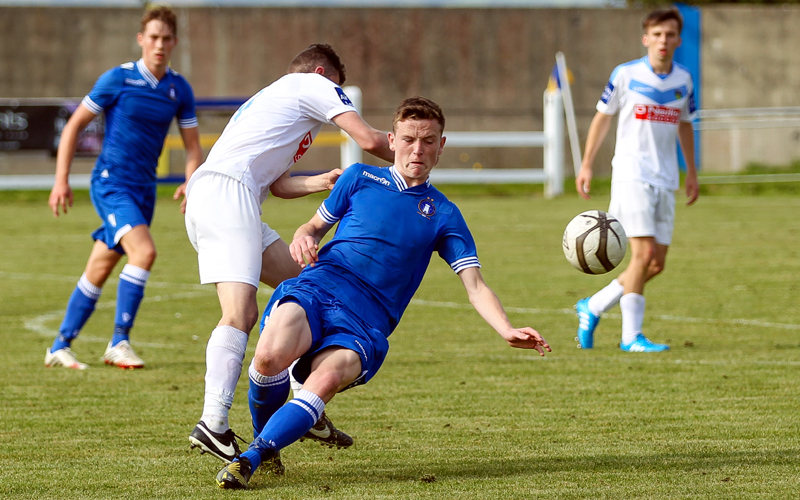 Limerick defender Killian Brouder is "hoping to improve" and "take on board" what comes his way in a two-day training camp with the Republic of Ireland Under-17s this week.
Press Play To Listen
Brouder will join up with Tom Mohan's squad on Wednesday afternoon and have a training session that night before taking in a game against Bohemians Under-19s at the AUL Complex on Thursday evening, kick-off 6pm.
The former Newcastle West centre-half has stepped up to Under-19 level this term having turned 16 last August and he has settled into the Southern Elite Division well, with the young Superblues currently well placed in third.
This week's call-up, which came at Christmas, offers him another chance to impress former Finn Harps midfielder Mohan having worked with him briefly back in August. And he is relishing the opportunity.
"I'm looking forward to it," Brouder told LimerickFC.ie, "getting the chance to play in front of the Under-17 management. Hopefully I can do a job and get picked again.
"I'm hoping to improve and take on board whatever Tom says. Hopefully it will stand to me anyway and something will come out of it.
"I've enjoyed my time with Ireland. I would say it's making me a better player as well. Training with the Under-19s before that was a good thing as well. It made me know the game more and I learned a lot from it.
"I've found it great with the Under-19s. I was with the Limerick Under-16s and I trained with the Under-19s the year before I came up. Playing with better players, like Tony Whitehead, seeing him play was very good and I picked up a lot playing with them."
Limerick recorded a fine 1-0 win over UCD in Dublin last Saturday as they claimed a first clean-sheet in seven outings, and Brouder has been impressed with the standard of the league this season.
"It's good alright," he said. "Waterford and Cork are good teams; they have good players. I think our team is not too far behind them and the way we use our players is very good. I'd say we will do well.
"I'm happy with my performances. I've improved this year. Just getting game-time is the main thing for me. I'm born in '98 and I have two more years after this so hopefully I get more game-time.
"It was a good win against UCD. I was happy with it. The performance was good and we kept a clean-sheet which was a good thing as well. That was the first thing that came into my head anyway, and Seán (McSweeney) is only back from injury as well so it was good to see him getting a goal."
Having progressed from the Under-16 team at the club, Brouder is making good strides since joining and he has been pleased with his progress to date.
"It has been great, to be fair," he said. "I feel I'm improving, improving, improving. That's the key of it. We'll see where it goes after this."
Brouder had recently been involved in trials and matches for the Under-18 Irish International Schools.
Back in August, he was involved in an Irish Under-17 squad – alongside teammates Tommy Holland and Stephen Nolan – and prior to that had featured in the same age group for the Emerging Talent Programme in an International friendly.
The club wishes Killian the best of luck in the two-day camp.
Date: Tuesday 20 January 2015