Interview: Barrett: "We Have Got To Be More Creative On Friday"
---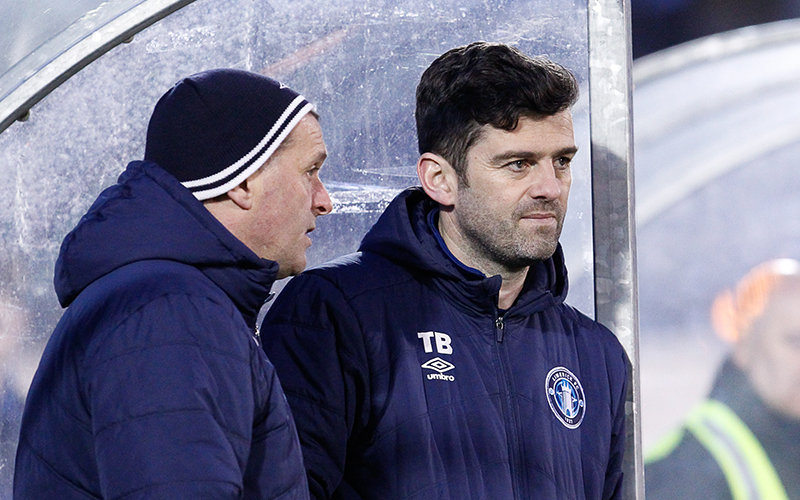 Tommy Barrett says that Limerick must be "more creative" and is exploring the idea of playing two up front, although he is likely to stick to the game-plan when Finn Harps arrive for their playoff decider at the Markets Field this Friday night (7.45pm).
The Shannonsiders should have been ahead in the tie at Finn Park on Monday before Paddy McCourt's 36th-minute penalty ultimately settled matters on the evening, where Barrett's team dominated possession for long periods.
Now he wants his players to take the openings that come their way, while remaining cautious against the threat of the Harps counterattack, as Limerick look to save their season and top-flight status by overturning the 1-0 deficit.
Speaking on Tuesday evening, the manager reflected: "It was disappointing. I thought we played well. We had plenty of possession and created the majority of the chances.
"We should have created more with the amount of ball that we had, but it's really difficult because Harps are a good team. They're well organised and very solid defensively. They look to counterattack and they counterattack very well – you have to be careful not to leave yourself open too.
"We worked hard. We just have to create more opportunities, better ones, and finish them – we need to be more clinical, as well as trying to stop them scoring."
Asked if he now knew more about Harps, Tommy added: "No, I don't think we do, really. We had seen enough of them. We know how good they are and how well organised they are. They defend very well and they're lively up top.
"They have Paddy McCourt in the middle and another energetic lad in next to him. We know a lot about them, but it doesn't change the fact that they are really difficult to break down. We will try our best but we have got to be more creative on Friday."
Barrett expects Harps to park the bus in the deciding leg. "They kind of did that in the second half," he said, "and they still looked dangerous on the break, which is probably the right thing to do from their point of view.
"We have to be a bit better, move the ball quicker and shift them a bit more and be a bit cleverer around the area. Hopefully we can do that."
On the possibility of playing two up front, Tommy said: "You have to be careful that you don't get caught on the break. That's very important. We were thinking about that before the away match and we have been thinking about it since.
"With the narrow three they have, at times it's five at the back, I'm not sure about two up top – we're not a really direct team. We need to play and we need to play through the thirds.
"If we go two up top, are you putting more balls in the box? You probably are. Are you going longer? You probably are. That's not the way we play, really. We look to get the ball down, play through the thirds and see can we get our clever midfielders on it like Barry Maguire and Shane Duggan, and create things that way. We'll probably have to stick to our formation.
"In saying that, I played a 4-4-2 against Waterford – I know we lost 4-1 – and I played different formations this year to suit. It depends who is available – we have a few injuries as well."
Goalkeeper Tommy Holland was stretchered off with an ankle injury on 70 minutes on Monday while winger Billy Dennehy had suffered a hand injury during the opening period. "Tommy is struggling," Barrett confirmed. "He's a bit sore today, in the ankle and the calf area. Billy Dennehy hurt his hand in the first half – we're hoping it's not a break or a fracture. They are both doubts for Friday."
All you need to know for Friday:
Tommy Barrett Interview Part 2 (passionate support): Here.
Important Matchnight Information: Here.