Gaffney Wants Place Among "Best Strikers In Ireland"
---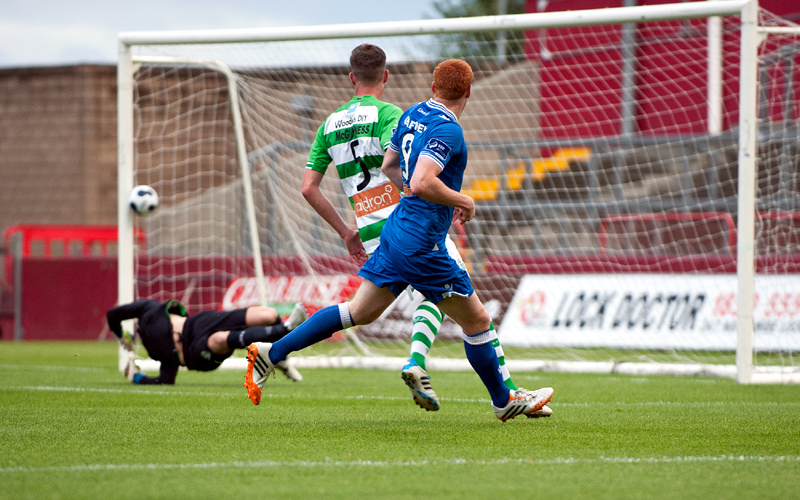 GAFFNEY WANTS PLACE AMONG "BEST STRIKERS IN IRELAND"
Limerick's top scorer Rory Gaffney says he wants to develop into "one of the best strikers in Ireland", speaking in a feature on RTÉ's Soccer Republic on Monday night.
Watch the feature on the RTÉ Player now, from 40:00, here.
The Galway native, who turns 25 on Thursday, has netted 16 goals in all competitions this term including 11 in his last 12 league appearances, making him the fourth hottest marksman in the Premier Division.
But the former Mervue United man is aiming to do it on a more consistent basis throughout the season, and he is confident manager Martin Russell can further improve him.
"On a personal level, it's not going too bad," Gaffney said. "I've managed to get into double figures in goals, which was a goal at the start of the season.
"I had only scored four goals up to the break and I had kind of put a bit more pressure on myself to try to get a few more goals. Then we beat Shamrock Rovers 4-1 and I got the first goal which was a nice finish. Overall, it was a great performance from the team. It's a pity that we couldn't put that performance on show more often.
"I'm the only one that's playing up front at the minute so I suppose I have a responsibility to get the goals, but the fact that I have so many players behind me working to try to get chances for me and create chances is a good thing. I suppose I don't have to do as much defensive work as they do. They help me an awful lot.
"When a new manager comes in they open your eyes to different things and that's what I've noticed from Martin – he has made me think about the game slightly different than other managers have.
"He has developed a lot of players at UCD that have gone on to be top players now across the league, so we'll keep listening to him and I'm sure we'll all improve.
"When I signed over three years ago, they showed me the plans for the Markets Field and there was a lot of talk about it.
"And from talking to the local Limerick lads, who would know a lot more about it, they said that they feel the crowds will pick up once the club moves back there. I just want to keep working hard, try to keep improving myself and try to make myself one of the best strikers in Ireland."
Analyst on the show, former Shelbourne and Drogheda United midfielder Stuart Byrne – a league winner on four occasions – praised Gaffney for his attitude.
"He's a very focussed young man," Byrne said. "You can tell from listening to him that he's got a goal in his head. He wants to develop as a player and that's a wonderful attribute in a young player.
"That's what you want to hear all the players speaking about. You don't want to hear about the limelight, you just want to hear about players wanting to improve and getting better and better. That's what he has done all year; he has gotten better and better all year.
"Physically, he's a top player – he's got pace. Really, it's very hard to see any kind of a flaw in his game. And if he has that attitude as well, he's going to be a serious prospect."
Also available on the RTÉ Player are the highlights of Limerick's win over Sligo Rovers last Friday, starting at 33:10, and the Goal of the Month for September competition – which feature's Gaffney's second strike against UCD – starts at 45:15.
Date: Tuesday 21 October 2014