"Every Game Is A Family Occasion" – Chairman On Markets Field
---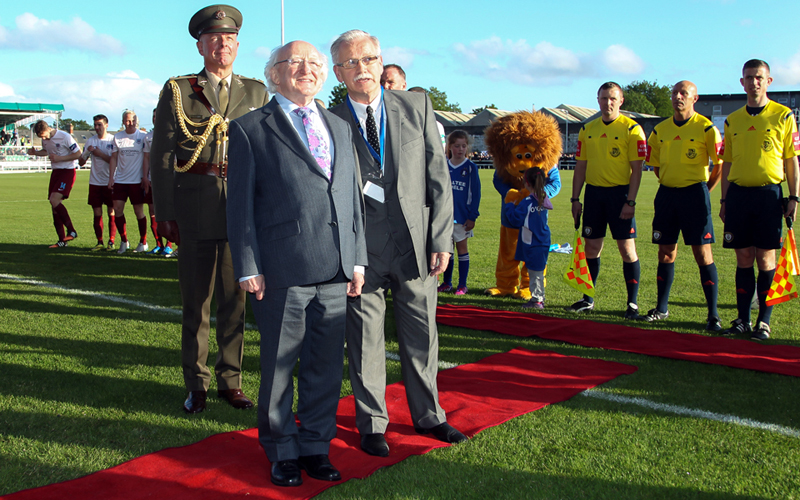 Limerick FC Chairman Pat O'Sullivan is confident that the Markets Field on matchnight is the place to be for young and old alike.
"We are seeing countless families come through the turnstiles for our home games of late and it's a pleasure to see it all beginning to pay off," the Chairman said.
"It took us a long time to get going this season but now I feel we are well on our way; this is down to a massive effort from our players and staff. But also due, in no small part, to the army of supporters we now have coming to our home games.
"We're a good choice for a family evening out, and with our games kicking off at 6.30pm we don't have anyone out travelling too late.
"At the last home game against St. Pat's I was filled with pride to see the happy faces filling the stand wearing the blue of Limerick. There is something really special happening here at present and I have every faith that Martin (Russell) and the lads will reward the supporters by keeping us in the Premier Division.
"We've had a very topsy-turvy season but picking up 17 points from the last 21 has given us every chance of turning our fortunes around. I made a commitment when we returned to the Markets Field that it would be a family affair – and that's what it has turned out to be."
The club moved back to its spiritual home on 5 June last and this coincided with a turn in fortunes on the field soon after. Attendances have increased, with the last two games totalling over 3,500 through the turnstiles.
"This Saturday we have Dundalk as our visitors and I know the supporters will be out in their numbers to cheer us on and be that all-important 12th member of the team," Pat said.
"Every game is a family occasion; there are smiling faces all over the Markets Field. This was my vision; this is why I put so much commitment into Limerick FC. The city and surrounds deserves a club with the ethics that we have, and the players deserve the support we have been getting.
"I'd like to thank everyone who makes the effort to come and watch us play. Without you, our season wouldn't have turned so dramatically. And I urge anyone who hasn't yet been to the Markets Field to change that on Saturday for the visit of Dundalk."
Limerick welcome reigning Champions and league leaders Dundalk to the Markets Field this weekend, Saturday 26 September, kick-off 6.30pm.
Tickets are on sale from Gleeson Sports Scene, Upper William Street and Paddy McMahon & Son Butchers, Athlunkard Street until 6pm on Saturday, and from 5.30pm at the Markets Field on matchday.
Date: Thursday 24 September 2015