Dennehy: "Once You Work Hard The Rest Will Look After Itself"
---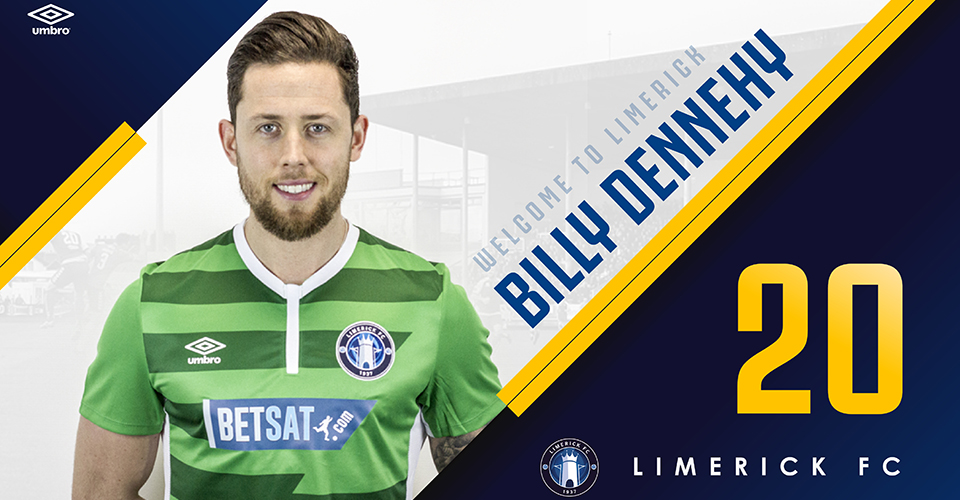 Billy Dennehy believes a strong work ethic will be the key to success for Limerick this season, with the experienced two-time league winner saying that "a different challenge is something that I always look forward to".
Listen to the interview, below.
The 30-year-old Kerry-born winger – a back-to-back Premier Division winner with Shamrock Rovers in 2010-11 – joined up with the Shannonsiders squad for his first training session on Friday, having penned a deal for the 2018 season the previous day.
And Dennehy – who has also played for Derry City, Cork City and most recently Saint Patrick's Athletic in the League of Ireland – is relishing the challenge ahead under Tommy Barrett.
"I'm really looking forward to getting started," Billy told LimerickFC.ie. "We have a lot of very good young players. A lot of them are looking for an opportunity to play and here's a big chance for them now.
"It's a hard league, especially now going down to ten teams, it's going to be very competitive. All we can do is all get together as a group of players, work hard every day in training, push each other and be ready for when the start of the season comes.
"As a player, you get dealt different challenges in your career. A different challenge is something that I always look forward to.
"It's a great club Limerick, what they have done off the field in the last couple of years – it's phenomenal, with the Markets Field back and the training facilities here in UL. It's a club that has made massive strides off the pitch. It's unbelievable work.
"It's about a group of players coming together now and really pushing each other, trying to get the best out of each other for the season ahead. Once you come in every day and work hard then the rest will look after itself. Hopefully, we can all work very hard for pre-season and see where that takes us come the start of the season."
Asked what supporters can expect to see from him in the coming campaign, Dennehy added: "A lot of hard work. As a player, you're going to have your good days and your bad days, but I think if you turn up every game and you do your best and work your hardest for your team, then I'm sure all the supporters appreciate that.
"I think if you have that as a team then you know you'll be competitive in every game – that's all we can do. I'm raring to go now – I really am."
Dennehy will wear squad number 20.
Date: Friday 19 January 2018