Coerver Coaching Announced As Official Partner Of Limerick FC
---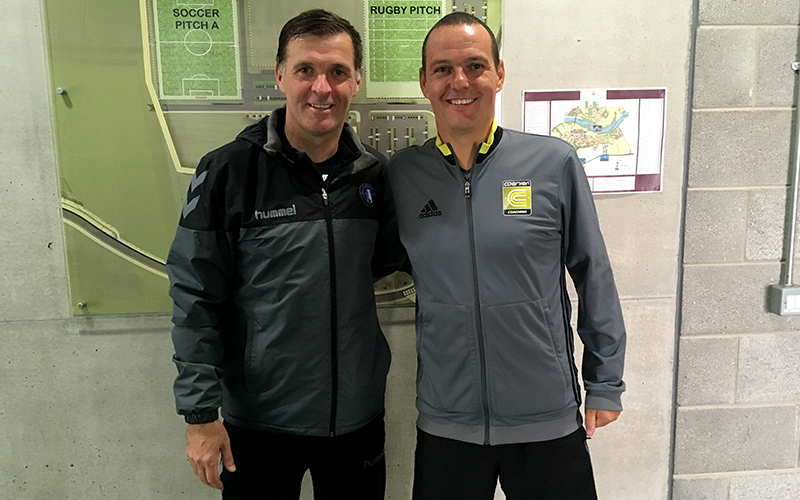 Limerick FC and Coerver Coaching are delighted to announce an official partnership which will see the football coaching programme aiming to improve the skillset of the club's younger players.
The partnership was announced at the University of Limerick on Tuesday, and will see Coerver Coaching working with players both in the Limerick FC Academy and as part of a Soccer School Programme which will be rolled out in Bruff for the first time later this month.
Limerick FC Academy Manager Willie Boland said: "We are delighted to partner with Coerver Coaching and work with Jason, who has vast experience, and his fellow coaches. It's an exciting partnership and will undoubtedly benefit all of the young players both at the club and in the region."
Coerver Coaching Munster Technical Director Jason Brown said: "Coerver Coaching started back in 1984 and since then it has developed into a global brand. It's recognised as the world's leading soccer schools training programme. We have got a base in Munster and we're delighted to be coming on board as an official partner with Limerick FC.
"We're working closely with the club to look at the development of the younger players, looking at their technical skills. The aim is to get more players involved, and to improve the quality of the coaching so hopefully we will develop better players for Limerick FC's first team for the years to come."
The first Limerick FC Coerver Coaching Soccer School will take place at the club's base in KOS Park, Bruff from Monday-Friday 21-25 August, with full details to be announced shortly.
On that, Jason added: "It's going to be fantastic. The facilities in Bruff are brilliant and it's going to be the first of many projects that we are going to be doing there."
For more on Coerver Coaching, check out http://coerver.ie/.
Date: Tuesday 1 August 2017