History

2000 Onwards
---
The 1990-91 season saw Limerick lose the League Cup Final to Derry in the Brandywell and they were also relegated for the first time. A new manager, Sam Allardyce was appointed and Limerick won the First Division title by five points. Allardyce departed Limerick to take up a position as manager of Bolton with whom he was very successful.
The following 1991-92 season saw Limerick win the League Cup by defeating St Patrick's Athletic. The joy was short-lived as relegation followed in the 1992-93 season. This was the beginning of a long turbulent decade.
The new millennium saw little change in the fortunes of Limerick FC. Financial problems plagued the club and eventually they moved, for one season, to rented accommodation in Crossagalla belonging to Pike Rovers FC. Father Joe Young departed as chairman. The new chairman, Danny Drew brought the club back to Rathbane with hopes of reviving their fortunes. A brave effort was made to revamp the grounds in Rathbane and while this was taking place they opted to play their home games in Jackman Park, the home of junior soccer, while continuing to train in Rathbane.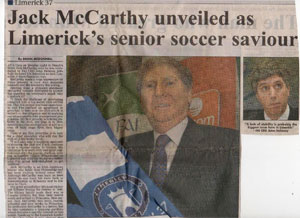 A slight glimmer of hope came in the 2001-02 season when the team won the League Cup but the next couple of seasons saw no improvements. In the 2006 –07 season, due to new licensing laws brought in by UEFAand implemented by the 14FAI, Danny Drew and Limerick FC were refused a license due to lack of amenities in Rathbane. A new committee, Soccer Limerick, was formed in order to keep senior football alive in the city. Soccer Limerick applied to the FAI for a license to run senior football under the name of Limerick 37 (1937 being the year Limerick entered senior football). Having been granted the license by the FAI in 2007, Limerick is now going into its second year of football and is currently owned by American, Jack McCarthy. The 2008 season has ended with Limerick FC finishing a very respectable fifth in the league. The spiritual home of Limerick soccer is now Jackman Park and the club will be reverting back to the name of Limerick FC.