Clarkey Returns: "I'm Really Excited About It"
---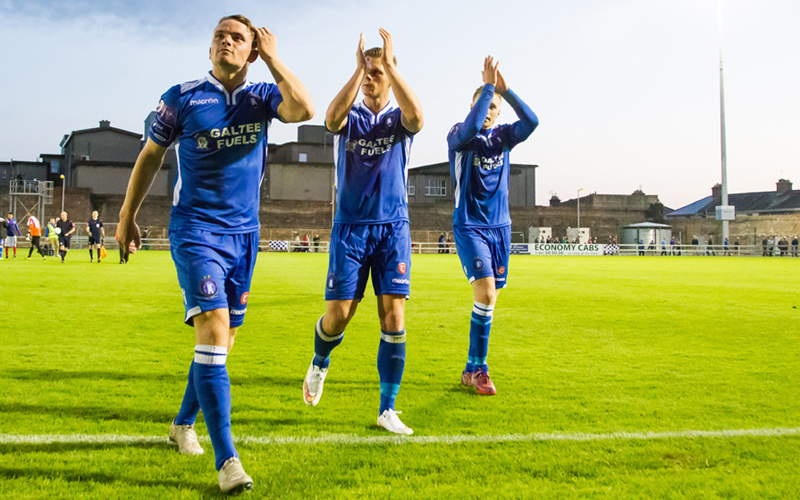 Limerick FC are pleased to confirm the return of forward Dean Clarke who says he is "really excited" by the challenge ahead in 2017, after spending a season at Shamrock Rovers where he felt he "matured" as a player.
Clarkey (top picture, left) became a fans' favourite on Shannonside during the 'Great Escape' attempt in the second half of the 2015 season, and though it ultimately ended in disappointment through the playoffs, he felt he played "some of his best football" during that run.
The 23-year-old admitted it was a "difficult" decision to leave Limerick in favour of remaining in the Premier Division back in his home city of Dublin, where he netted three times in 29 league appearances as Rovers secured European qualification – and he says the Blues should be "ambitious" in aiming for that very target.
"I'm happy to be back. I obviously had a great year here. We didn't have a great finish, but I really enjoyed playing here and I thought I played some of my best football here so I'm looking forward to another year like that," Dean – who started all but one of Limerick's 33 league games in 2015 – told LimerickFC.ie.
"It was a tough beginning but it was probably one of my favourite years ever in football, bar the end of it, because the team came through so well, we played some really good football. I enjoyed some of my best times here. I'm hoping I can hit the ground running when we start again.
"I went into Limerick not knowing a lot about the club so I didn't know what to expect. I know the place quite well now. I know the city a lot better, I know where I'll be living and I know the fans as well so that will make it a lot easier for me. I'm actually really excited about it because I know how good the buzz is around the team and the Markets Field, and how good the fans are, so that's what I'm really looking forward to.
"I think all the lads have made it clear that they want to make a push for the top four. The lads obviously went close last year to winning a Cup and I know Martin is very interested in achieving that. I'd love to do that as well – I saw the buzz of the Cup final with a few thousand at the Markets Field. There's a good team here so we may as well strive to be as ambitious as possible."
Clarke felt his year at Shamrock Rovers provided a valuable learning curve, but he remained in constant touch with his old teammates' and club's progress as they sauntered to the First Division title, losing just one game along the way.
"It was difficult to leave Limerick," he admitted, "because I knew a lot of the lads were planning on staying. I had an awkward time where I had a lot of travelling coming up and I was leaving a couple of days after that Finn Harps playoff. I didn't have that much time to make a decision on where to go because I wasn't back until late December so I wanted to be straight back into it when I got back.
"I wanted to make sure I had something done before I went. I had to make the decision fast – I wouldn't say I regretted it, because I learned a lot in the year at Rovers. I think I've become a better player from it and I think I've matured as well. It was a tough decision but it was great to see the lads have such a good year and hopefully I can become part of it again.
"I still spoke to the lads very regularly last season. Like anyone I always saw the scores and I knew how much the lads were enjoying themselves. It was great to see. It was kind of hard not to be a part of, because I still felt part of it even though I wasn't. I'm looking to settle back in very quickly."
Clarke will join up with the squad when they commence pre-season training in the first week of January.
Image thanks to Conor Wyse Photography.
Date: Monday 19 December 2016