Audio: Stuart Taylor Speaks
---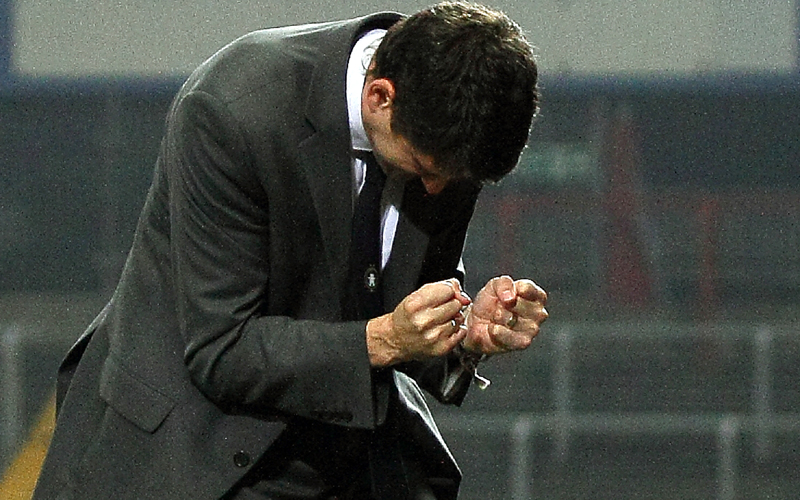 "Fantastic performance from start to finish" – Taylor
Limerick manager Stuart Taylor hailed a "fantastic performance from start to finish" as his side ended Dundalk's long winning home run thanks to Rory Gaffney's first-half brace at Oriel Park on Friday night.
Press Play To Listen
In the process, the Superblues secured Premier Division football for 2014 as they made it six points in 72 hours and seven from the last nine available, to remain within touching distance of a top-half finish.
Limerick jumped above Drogheda United into seventh and stayed three points behind Cork City with their latest victory, after Gaffney struck on 18 and 35 minutes, his opening goal a superb volley from Stephen Bradley's lofted pass.
And having comfortably put Shamrock Rovers away on Tuesday evening, Taylor was delighted with his players' showing in Louth, where the team had just one enforced change to that that beat the Hoops.
"It's a fantastic result. Again, I thought the performance was great. Every single one of the players were absolutely superb," the 38-year-old Scot – whose side inflicted a first home defeat on Dundalk since May – told LimerickFC.ie.
"Rory took his two goals fantastically well. He's just showed exactly how good a player he is and he's showed the quality that he's got in front of goal. He has done brilliant for us in the last couple of games that he's come in.
"He's now starting to get over the injury problems that he's had in the past, but to be fair to him, he has played through a lot of pain.
"Now we're starting to see the best of him. Just unfortunately, it's coming to the end of the season. But he's done great for us.
"I'm not one for singling out people. I think the whole team were great. Again, we played the same back four for another game and they've looked solid.
"We've played three of the so-called top teams in the league, with the most firepower and who are very strong in their attacking force with the amount of goals that they've scored over the course of the season, and in those three games we've been great.
"I think tonight, as much pressure as they had in the second half – they really had to go for it and hit us with everything – we stood up very strong to it.
"They got a soft penalty. It wasn't a penalty from the way I was looking at it. But again it's one we'll take on the chin and our mental strength after that was absolutely brilliant.
"All credit to the players again. As a backroom team staff, we're fully delighted with it and we're extremely proud of every single player at the football club at this moment in time.
"It's great for the supporters, it's great for the club and it's great for the backroom team staff and those at Boardroom level, and great for everybody from Limerick."
Gaffney followed up Tuesday's wonder strike against Rovers with a stunning volley to open the scoring in Dundalk.
"It was a fantastic finish – it really was," Taylor said. "But again he has shown that composure in front of goal and he has done really, really well.
"But taking away the two goals that he got, the rest of his play was brilliant and he just needs to keep going and go from strength to strength, and he's doing that."
The 23-year-old's second goal was met with loud offside appeals from the home side as Gaffney ran clear of the Dundalk defence and finished coolly past Peter Cherrie.
"There was a huge crowd here today obviously supporting Dundalk in their title push," Stuart said, "and they were claiming for everything – free-kicks that weren't free-kicks and corners that weren't corners.
"They were basically claiming for everything, which you expect from your home support. They were also claiming quite a lot of the offside decisions.
"But Rory timed his run really well. As I said to Rory, he doesn't need to go and play on the shoulder, because he's that quick and he's that strong, he just needs to go and find the space to go and run through.
"He did very well and he showed the defenders a good clean pair of heels and again, as I said, had great composure to go and finish it.
"It was a fantastic performance from start to finish and we just need to go and keep doing that."