Arrivals: Russell Expects "Positive Contribution" From Trio
---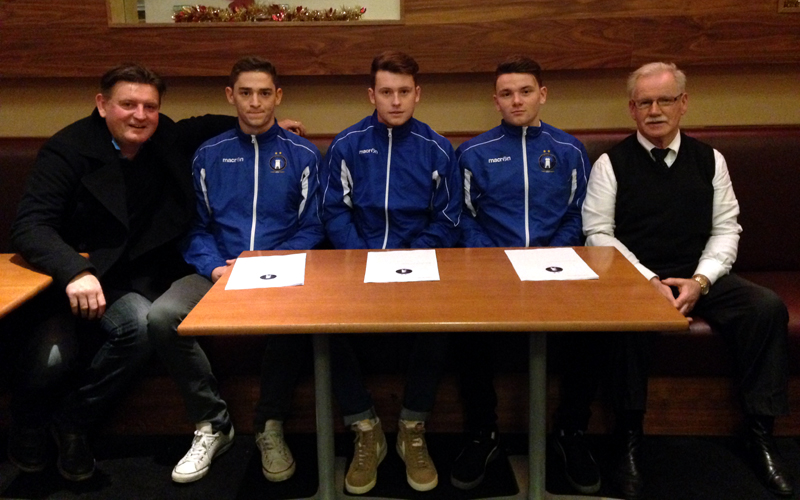 ARRIVALS: RUSSELL EXPECTS "POSITIVE CONTRIBUTION" FROM TRIO
Limerick manager Martin Russell expects his new trio to "contribute very positively" to the team in the coming season, after Conor O'Donnell, Seán Russell and Dean Clarke completed their moves on Thursday evening.
Press Play To Listen
Goalkeeper O'Donnell (20), versatile midfielder Russell (21) – most recently with Shelbourne – and forward Clarke (21) all previously worked under the boss at UCD.
They join midfielder Paul O'Conor – who signed last week – among the new faces set to line out at the Markets Field next term, while captain Shane Duggan is also a former Student.
And Russell is excited at the prospect of coaching the three players again, with particular high hopes for O'Donnell who he says can show he is "on his way up as a top 'keeper".
"I'm very pleased that we've managed to sign Conor, Dean and Seán," Russell told LimerickFC.ie. "I have experience working with these young players and they are still young.
"That's a good, positive thing because they want to do well and I'm sure they will all contribute very positively this season at Limerick.
"In Seán's play, there is a lot of creativity. From the experience that I've had when I've worked with him before, he's a willing lad that gets on with the game.
"He tries to create things but also he has played some defensive positions as well and has a bit of versatility that he can play in a couple of different positions, which is positive as well.
"Everywhere that he has played his football so far, I think all he wants to do is try to progress. He's still, along with the other two lads, developing. But I think what he has got to offer at the moment will contribute in a positive manner at the club.
"If you're choosing a young 'keeper in the country Conor is the one you would choose. That's what we've done. We're happy to give Conor an opportunity again in the Premier Division that he can go and grasp and run with, and prove that he is on his way up as a top 'keeper.
"When I was at UCD, Dean came up through the Under-19 ranks and I gave him his debut in the first team. The problem for Dean last season, unfortunately for him, was he had an injury which set him back.
"But what is still there is that he's a top young striker that has got plenty of pace, he's got an eye for goal and again I can see him contributing in a very positive way.
"We're still assembling a squad. Until that happens and we get our full squad together, there are a couple of different permutations of ways we can play. I'm still not looking at that until we've got our full quota of players together.
"We'll want to play a passing style and we'll want to play attractive football which is competitive. Depending on formations, we'll see when we get the final squad together."
Russell is slowly but surely putting a squad together for pre-season training which begins on Wednesday 7 January, and he is hoping his side will be "competitive" come the league opener in March.
"It's one of those things with the way the landscape is in the country," he said. "There are other things going on in the club. It's a bigger picture; it's not just the first-team squad, it's the club, the Bruff Development and moving back to the Markets Field. That all impacts.
"There's a big picture but what we want to do, as I said, is get as competitive a team as we can, going in the right direction. If we can get more investment and people coming to the games, which will help things, then we can grow even more.
"There will also be a window in pre-season where we may invite one or two people in that can finish off and complete the squad before our first game."
Reflecting on the fixture list, which was released on Tuesday, Russell added: "The league will be competitive. The likes of Galway coming up will have improved their squad, the fact that they're back in the main division in the country.
"Everybody wants to stay there and they will be eager to do as well as possible. But I'm confident that by the time the league kicks off that we'll have a competitive Limerick side that hopefully is on the way up."
Chairman Pat O'Sullivan was also delighted to welcome the three players on board and has backed Russell to get the best out of them.
"We are delighted to welcome Conor, Seán and Dean on board," Pat said. "The signings stick with our philosophy of wanting to develop young players and Martin sees a lot of potential in these three boys.
"When we appointed Martin, one of his standout attributes was his track record of working with and developing young players, and we look forward to seeing their progress here at Limerick."
Date: Thursday 18 December 2014