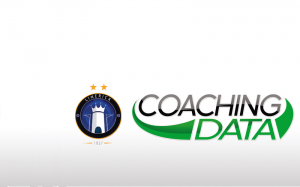 Limerick Football club are pleased to announce a new partnership with one of Limerick's Greatest Sporting success stories, Coaching Data. The local company, only six years old is already well established with the Coaching Data system used by top Premier League clubs such as Manchester City, Everton and Fulham, as well as Bayern Munich in Germany. Limerick FC will begin use of  the Coaching Data software for the 2013 season.
Coaching Data's Managing Director Damien Lee explains the benefits of the High Tech system; "data will be collected from all areas of the club such as football and fitness training sessions, fitness testing, match stats, injuries and treatments and this data is then combined to provide a full picture for manager Stuart Taylor to review the performance of each of his players. Data that was previously kept in paper format or separate electronic documents is now combined in one powerful information system. Limerick FC are the first Irish based club to take the system on board and we feel this highlights the forward thinking, progressive nature of the club. We are looking forward to a very successful partnership on and off the field this season!'"
The Club intend to extend the system down through the different age groups at the club over time, to build a coherent database which will track player progression, injury and which will allow the Senior management team to gain a thorough understanding of the entire football structure and all players at the club.
CEO John O'Sullivan was quick to compliment the Coaching Data team "This is an exciting venture for the club, not only because of the huge benefit that the system will bring to the club, but also because it allows us to partner with a real local success story. Having seen the system in action, Stuart Taylor and I have been hugely impressed and the scope within Coaching Data to help the club improve structures and traceability is immense."
For more information on the Coaching Data System, visit www.coachingdata.com